3.6 Ac Close to Some Creeks & Lakes
Ronson Ln : Edwards, MO 65326
Benton County, Missouri
Expired Listing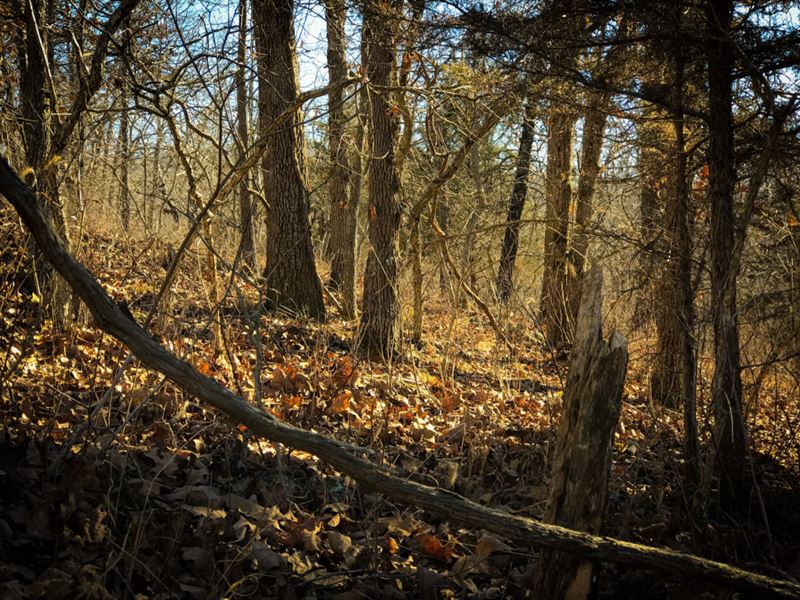 Land Description
3.6 Acre Wooded Property in Benton County, MO - Close to Several Creeks & Lakes. Only a Month.

Edwards, Benton County, Missouri

Now is your chance to become a property owner. This 3.6 acre lot in Forbes Park is the perfect place to escape for the weekend and enjoy some quality time in the Ozarks. Get some fresh air, go fishing, and hike in the beautiful surroundings. Check out all that you get when you become part of the land owner association below. Its the perfect vacation retreat, or retirement dream.

Here are just a few of the things Camden/Benton Missouri is home to:

- Lake of the Ozark's State Park - Lake of the Ozarks State Park is a Missouri state park on the Grand Glaize Arm of the Lake of the Ozarks and is the largest state park in the state. The park includes 85 miles of shoreline on the lake; two swimming beaches with imported sand, 12 trails, the Ozark Caverns, a boat launch, and the Lee C. Fine Memorial Airport which has a 6,500-Foot runway. In addition there are campsites and cabins within the park.

- Harry S Truman State Park - Harry S Truman State Park is a public recreation area occupying 1,440 acres on a peninsula on Truman Lake, a 55,600-Acre impoundment of the Osage River, near Warsaw, Missouri. The state park offers boating, fishing, swimming, hiking trails, and campgrounds.

- Ha Ha Tonka State Park - public recreation area encompassing over 3,700 acres on the Niangua arm of the Lake of the Ozarks. The state park's most notable feature is the ruins of Ha Ha Tonka, an early 20th-century stone mansion that was modeled after European castles of the 16th century. The park also features caves, sinkholes, and bluffs overlooking the lake.

- Bridal Cave & Thunder Mountain Park - Bridal Cave is a cave located near Camdenton, Missouri, in Lake of the Ozarks. This cave system offers tours and weddings.

- Big Surf Waterpark - Outdoor water-sport park to enjoy no matter what age you are.

- Seven Springs Winery - Winery, vineyard, lake, wine and wine tasting.

Not to far from town when you need to stock up, or make it a weekend getaway spot.

Warsaw, MO - 33 min (22.3 miles)

Springfield, MO - 1 h 42 min (84.8 miles)

Kansas City, MO - 2 h 18 min (127 miles)

St. Louis, MO - 3 h 36 min (216 miles)

Forbes Park, Missouri Info

The Park has 148 miles of graveled and grass roads that will meet the needs of walkers, hikers, and horseback riders. As a Wildlife sanctuary, you undoubtedly come across a variety of animals, both large and small, during your walk. The Park is located on the Principle Mississippi Migration Flyway. This Flyway brings a wide variety of birds to the area. The Missouri River Bird Observatory is within easy driving distance. Another must see, located just a few miles northeast of Warsaw, is the Lost Valley Fish Hatchery. It's the largest state owned, warm water hatchery in Missouri and one of the largest in the nation.

As a land owner in Forbes, you have access to our interior lakes and to Lake of the Ozarks. For those of you who would like to fish or just take a boat ride, our Park has four to choose from.

Forbes Lake of the Ozark Park has 3 private lakes and one pond dedicated for the Landowners use and enjoyment. Each lake has a common area with picnic and sanitation facilities. Boat ramps allow access to the lakes from these common areas. Several lakes have fishing platforms, or you can fish from the bank in the common area. Properties around the lakes are owned by Forbes land owners and is considered private property. You can also fish from your boat. Outboard motors are not permitted, but electric trolling motors can be used. Portable toilets are provided during the summer months at each lake and at Turtle Pond.

Forbes R/V Park

Please Note as of 1/1/2021 there is now a per night charge for the RV Park.

The Forbes RV Park is a gated area that borders the Deer Creek Arm of the Lake of the Ozarks.

It is available to all LOA members and provides all the conveniences that the weekend or long term camper would need for a quiet, relaxing outing.

Some of the features include:

266.15 Acres of greenbelt

Ranch Pavilion

Bathhouse with showers

Tennis/Basketball court

11 Camping slips with electrical hookups, water, picnic tables, & a wood burning grill

2 Playgrounds

Fire pits

Gated

Clean out station for RV's

Walking trail along Deer Creek

Forbes Land Owner's Association was formed in 1983 in a country setting that is inhabited almost exclusively by wildlife. The center of Forbes Lake of the Ozarks Park is located 19 miles from downtown Warsaw Missouri. Warsaw is 93 miles north of Springfield, 125 miles southeast of Kansas City, and 223 miles southwest of St. Louis.

Missouri's state capitol is located in Jefferson City, Missouri and is just 100 miles northeast of Park. The maximum altitude of the Park is 953 feet, with its heavily-forested slopes extending down to the Lake. The lowest altitude is 659 feet at the water's edge.

Forbes Lake of the Ozarks Park is a private gated residential and recreational community located in the heart of Central Missouri; in Benton and Camden counties along Lake of the Ozarks between Truman Dam to the west, and, Bagnell Dam to the east. The Park has over 12,800 acres and spans five miles of shoreline property along the Lake; with four private Lakes dedicated to our landowners. The scenic beauty of the Park is enhanced by its natural wooded setting throughout that includes oak, walnut, hickory, elm, sycamore that brings with it the beauty of Missouri Wildlife all within a stunning lake setting and views. The topography also includes beautiful rolling hills, narrow valleys and rugged outcroppings of limestone. There are many excellent views of the four inland lakes, Missouri countryside and of course, Lake of the Ozarks. Welcome Home to Forbes Lake of the Ozarks Park.

Pricing:

Discount Cash Price: plus a document fee, or alternatively…

Owner Financing Price: plus interest, down for the doc fee ( non-refundable ) plus in equity for a total of down. Monthly payment as low as /Mo. NO prepayment penalties and NO hidden fees.

We are a small family business. Our owner, Dave Denniston, enjoys making land ownership available for families like yours who want to create memories that last a lifetime. He is flexible and can make this property fit any budget as long as our minimums are met. Choose owner financing with a land contract or we can transfer with a warranty deed and always guarantee a clean title.

Property Details

Street Address: Ronson Ln

City: Edwards

State: Missouri

County: Benton County

Zip Code: 65326

Size: 3.60 acres

Legal Description: LOT 1671, Unit M 1 FO Rbes Lake OF The Ozarks Park

Coordinates:

Nw Gps: 38.20865, -93.14363

Ne Gps: 38.20842, -93.14237

Sw Gps: 38.20755, -93.14385

Se Gps: 38.20730, -93.14262

Annual Taxes: Taxes are or No zoning in Benton County. 1,000 sq ft minimum on main floor area 30 foot setbacks. Camping is not permitted. RV recreational use is prohibited. RV living is prohibited.

HOA/POA: Yes. Forbes Lake of the Ozark Park. Road

Sewer: Would be septic

Water: Would be well or water delivery

Utilities: Power on SE 960 BC and on Lee Dr

Contact today.