15.87 Acres, Land in Cochise County
East Saddle Drive : Willcox, AZ 85643
Cochise County, Arizona
Expired Listing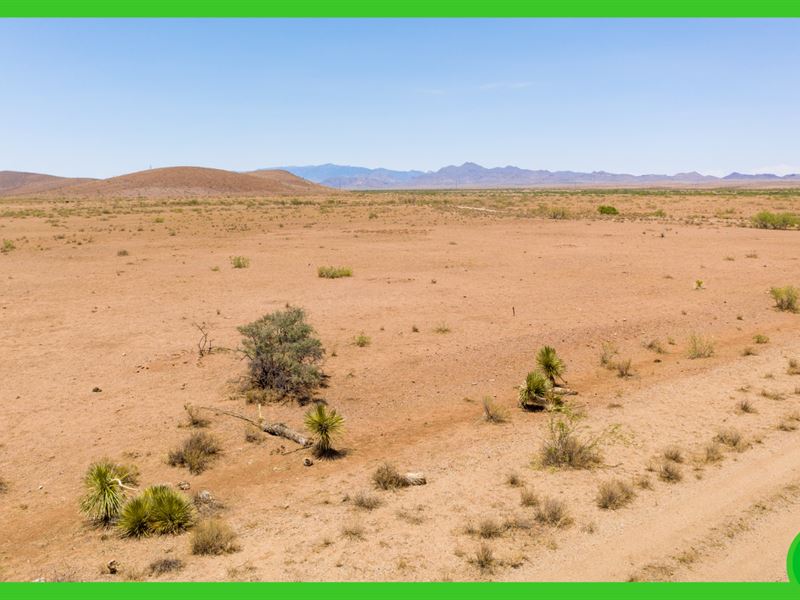 Land Description
Owner Financing Available. Terms: down and per month at 7% interest. OR for all cash. No Credit Check.

Almost 16 Acres of privacy and seclusion near Willcox, Arizona. The sun setting in the desert plains is an experience few have seen let alone own and now is your chance to own 15.87 acres of respite in this enchanted desert wonderland. Located at 4200' above sea level you can be away from it all. Just northeast of Willcox Arizona, you will have an unrestricted view of the mountains in the east.

This lot is located in the Arizona Bell Ranch Subdivision, only 8 miles outside of Willcox, AZ. It's SO affordable, and power is at the street saving you thousands when you build.

You'll love the off-grid seclusion of this subdivision while enjoying all the amenities of nearby Willcox, including the public pool, great school district, and Twinlakes Golf Course.

The kids will love visiting the many parks and Apple Annie's You-Pick Orchard, all within 10 miles of your new home. Outdoor lovers will enjoy bird watching at Cochise Lake or heading to one of the 3 nearby peaks for hiking, climbing, and mountaineering among the scenic desert views. Plus you'll never get tired of the perfect Arizona weather.

For wine lovers, Coronado Vineyards is only 4.3 miles away and Zarpara Vineyard is less than 25 miles away.

Total off-grid living is here for you. Make that jump now before someone beats you to it.

All Property Details

County: Cochise County

Street: 0 East Saddle Drive, Willcox, AZ, 85643

Size: 15.87 acres

Apn: 202-76-214A

Legal Description: Arizona Bell Unit 5 Lots 262, 265, 266, 280, 282, 283, 319, 320,321, 322, 323, 324, 325 & 326 2-09 LV MAP Book

Terrain: Leveled

Access: Dirt rd

Property Zone: Single Family Residential

Is the property buildable? Yes

RVs: RV's allowed with permitted principal use up to 6 months in a year

Mobile Homes: Allowable if ALQ conditions are met

Camping: Camping is allowed.

HOA: None known

Electric: Available in the area

Water: Would need well or tank water/cistern

Sewer: Would need to install septic system

Taxes: (2019)

Elevation: 4300 ft

Flood Zone: Not in a flood zone area

What is the minimum build size / square footage for a home? One dwelling unit per 43,560 ft. with maximum site coverage of 65%

Any setbacks to be followed? 20 ft. from the front, 20 ft. from the rear, 20 ft for each sides

Center GPS Coordinates: 32.330611, -109.786806

Nearby Schools:

School District: Willcox Unified District

Elementary School: Willcox Elementary School

Middle School: Willcox Middle School

High School: Willcox High School

Area Attractions:

Apple Annie's You-Pick Orchard - 4.7 miles

Coronado Vineyards - 4.3 miles

Quail Park - 6.1 miles

Keiller Park - 5.8 miles

Rex Allen Arizona Cowboy Museum - 8.1 miles

Twinlakes Golf Course - 9.4 miles

Fort Willcox RV Park - 10.4 miles

Cochise County Airport - 9.4 miles

Inde Motorsports Ranch - 16.8 miles

Willcox Playa Wildlife Area - 17.8 miles

Dos Cabezas Peaks - 36.6 miles

Cochise Lake - 20.2 miles

Bodega Pierce Vineyard & Tasting Room - 21.1 miles

Zarpara Vineyard - 23.4 miles

Mt Graham - 65 miles

Reiley Peak - 36 miles

Bassett Peak - 48.2 miles

Chiricahua National Monument - 42.4 miles

Fort Bowie National Historic Site - 37.1 miles

Heart of Rocks Loop - 50.3 miles

"Refer someone who buys land from us and we will pay a referral fee."

We are a real estate investment company. We buy and sell land throughout the country, so we are unable to meet you at the property. We are not utilizing the services of a realtor, so you are welcome to visit the property at any time. We encourage you to visit the property at your convenience to make sure the property suits your needs.

Disclaimer: We have not been to this property. Everything we know is in this ad. No warranties are stated or implied. Land is being sold as is. Buyer is responsible for doing all due diligence and verifying accessibility, utilities, build-ability and all other information contained herein prior to purchase.

Cheap Land for Sale.

Low Down payment.