Awesome, Utilities, Historic Area
Calle Utah : Cochise, AZ 85606
Cochise County, Arizona
Expired Listing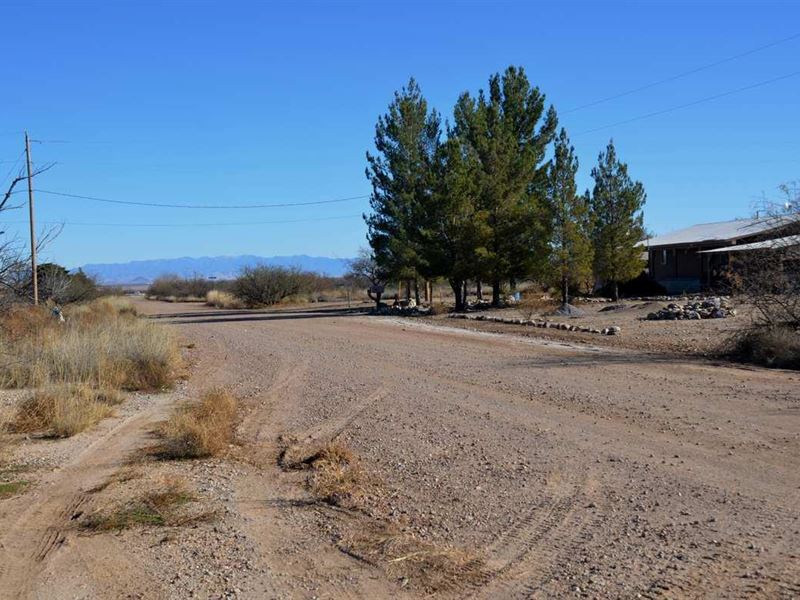 Land Description
Here's a great 0.37 Acre Build-Able Vacant Lot on Calle Utah, 2 minutes from Historic Cochise Town-site.

The parcel is also about 15 minutes from the City of Willcox.

This is a rare find, and a Great investment for your retirement or vacation Home-Site in beautiful southeastern Arizona.

Nice Bonus. The parcel borders 320 acre of AZ State Trust Land on it's north side.

There are neighbors on the parcel next door as well as several other nearby homes.

Power is right near lot line and connecting to a small Community Water Company is available.

I was told meter charge is and monthly bill thereafter is right up to the lot in any type of car, literally a minute from Hwy 191

This is a unique Southern Arizona parcel at a bargain price.

Picture were taken at the property, and intersection of property location, as well as misc pictures I've taken around the tiny Town of Cochise, right across Hwy 191.

Please be sure open all maps attached in files at the bottom of the listing, under Land Maps & Attachments.

Utility infrastructure greatly enhances the value and desirability - as well as Resale Value.

Cochise County is now designated as an ''opportunity zone'', as many areas have throughout all 50 states. This should potentially re-energize the county, increase desirability for developers and investors, and ultimately resulting in increased land values.

Property Details:

Lot dimensions are 111' X 145' feet.

Every lot here was marked with Re-Bar pins on 4 corners back when subdivision was created.

Cochise County Apn: 204-16-007

Legal Description: LA Playa EST 1 Lot 7 BLK 1

Coordinates SW corner: 32.122190, -109.907756

Zoning: Residential, for ANY Type of Site Built Home, Mobile Home, Cabin, Tiny Home (must be a minimum of 296 sq. ft.), and Modular Home.

There is no time limit to build and no HOA fees.

Road Access: Calle Utah.

Power: Overhead power.

Water: Community Water Company.

One can also haul water if they choose not to connect. There is a water delivery guy right in Cochise.

Sewer: By installing a septic system upon county approval. Septic systems are not a problem as the soil in the whole region does well for the soil analysis test required for a septic system.

Yearly property taxes are and paid current.

I can finance this purchase on a Contract for Deed at the following terms:

Purchase price was reduced to only get started: A Down Payment of + Closing Costs shall be paid via Paypal.

I will send the buyer a Paypal invoice upon being notified you are 100% ready to purchase this property.

I will owner finance the remaining balance of in 16 monthly payments of per month.

Buyer will add per month for prepayment of property tax.

Upon completion of payments, I will record a Free and Clear Warranty Deed. No Back Taxes, Guaranteed.

When/if ready to buy, these are the steps of the purchase process:

1. Buyers email me their full name and address to be on contract.

2. I prepare the contract and email it along with a Paypal invoice for the initial amount to get started That payment must be submitted promptly, and I then mark the Listing Sold.

A little bit of history...

Cochise is an unincorporated community located in Cochise County, Arizona, United States.

The town was created alongside the Southern Pacific Railroad in the 1880'S, and was primarily a stop for coal and water which were needed for trains at the time. At its peak, the town had a population of approximately 3,000 people. Today, only 50 people still live in Cochise. The town is home to several historic locations. In 1899, Big Nose Kate, the famed sidekick of Doc Holliday, lived in Cochise while she was working at the Cochise Hotel after Holliday's death.

Note:

I encourage my buyers to use the land while on contract, enjoy it, make small improvements, etc.

To be perfectly clear, in no uncertain terms... I am selling "vacant Land" - not entering into a "Landlord-Tenant" relationship...

That being said, if your intention is to start developing or living on this land right away - then you must also pay for it in full right away - 100% use requires 100% ownership.

I need to mention this because I've had a few folks who presumptuously assumed since they paid a few hundred dollars to get into a land contract, they can now "move right in" and do as they please...