Beautiful Lake Of The Ozarks Lot
28761 Clearwater Rd : Stover, MO 65078
Morgan County, Missouri
Expired Listing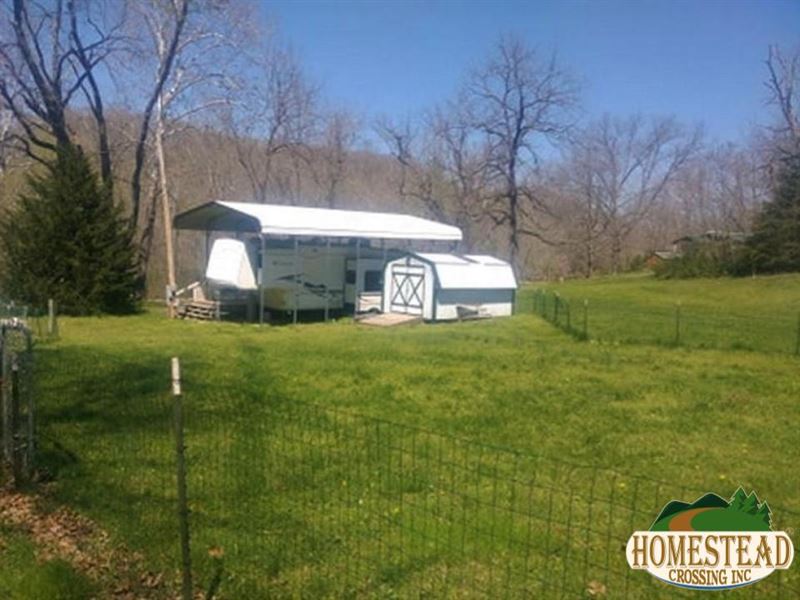 Land Description
Lease/Purchase: per month with down payment of Total purchase price: to your new getaway at Lake Of The Ozarks. Located in the Buffalo Township of Morgan County, sits this approximate 0.75 acres lake lot. Already set up and ready to go for that weekend lake warrior, is a 2002 Keystone 5th wheel with two slide-outs. There is a private bedroom, full bathroom, stovetop, oven, refrigerator, freezer, dining room table, and couch included in this very well maintained 5th wheel. The 5th wheel and huge front deck are covered by a carport. There is a storage unit as well as storage space at the well house. The yard provides plenty of space for the grand-kids to run around, and is fenced so you don't have to worry about them. Along the south line, there is a seasonal creek, and a cove of the lake is on the southwest corner. A public boat ramp is located just 5 minutes down the road. Electricity, a drilled well, and septic are in use on this property, so all you need to enjoy this property is, bring your family.

Lake Of The Ozark is a great lake located in central Missouri. This is a resort town, with a beautiful lake. Come enjoy world-class fishing, boating, swimming, and attractions in this one of a kind town.

Come enjoy the Lake Of The Ozarks, with Homestead Crossing today. Give us a call at or text us at to join the Homestead Crossing family today.

Location: 28761 Clearwater RD Stover, MO 65078

Taxes: Approximately per year.

Zoning: None

Restrictions: None

Terrain: Mainly Level

Access: Clearwater Rd

Utilities: Electric, Septic, and Drilled Well

Lake

Views

Rv

Owner Financing Terms

No credit checks, no-prepayment penalties, and no balloon payments.

To get started, all that is needed is the down payment in addition to the first month's payment due together. Then the payments are just your monthly payment, and the payment amount normally never changes.

1st Year Interest-Free for 1st Time Buyers: All payments paid during the first year, including the down payment and any additional payments, will be deducted from the total sale price. In the first year will be interest-free and directly applied to the principal balance. These terms apply to first time clients within the first year of purchase.

Interest Rates

8.75% for homes.

9.75% for land.

After three years of payments being paid as scheduled or 25% of the sale price has been paid off, the buyer will have the option of going to a Deed Of Trust. Upon completion of the contract, the buyer will receive the deed specific to their property. In most cases, it will be a General Warranty Deed. (Please make sure to ask, what kind the deed is specific to the property that you are purchasing.)

Restrictions Specific to Homestead Crossing Inc: No mobile homes (unless specified), junkyards, dumps, more than 5 dogs and pit bulls.

You may live in a travel trailer/RV, cabin, or tiny home on our properties unless specified.

Payment Options

Cash (In person only. Do not mail cash payments.)

Cashier's Check, Money Order, or Wire Transfer

Pay with credit/debit card over the phone

Payment can be made online through our secure website, with the PAY NOW tab above.