2,000 Feet Creek Frontage And More
Houston, MO 65483
Texas County, Missouri
Expired Listing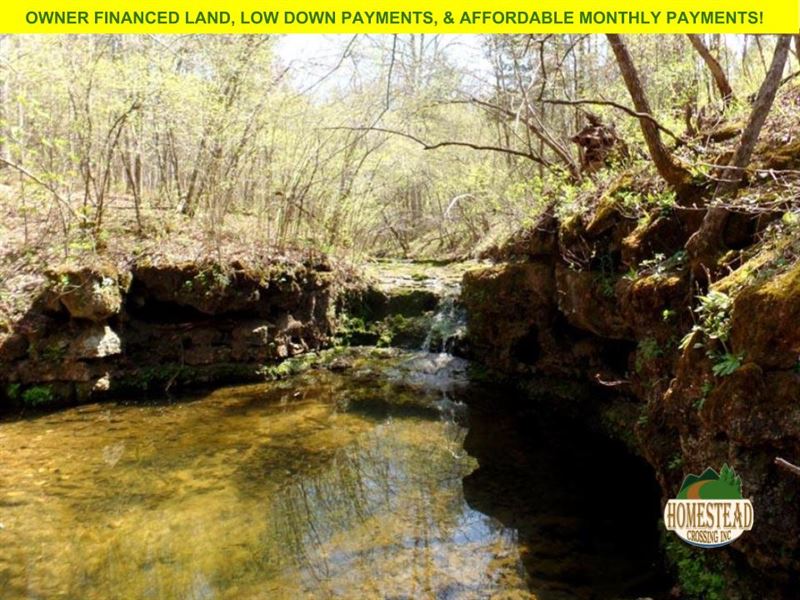 Land Description
Property Terms & Pricing

Lease/Purchase: per Month with Down payment. Total purchase price: Financing Terms:

No credit checks, no prepayment penalties, and no balloon payments.

To get started all that is needed is the Down Payment in addition to first month's payment due together. Then the payments are just the monthly payment.

This property is indeed one-of-a-kind. It's located near Houston, Missouri, in the Piney Township of Texas County. The parcel is approximately 40 acres and has nearly two thousand feet of a year-round creek that cuts through the property. The creek enters the land about 760 feet from the South-East corner and runs near North-West, before turning and heading Near North, where it runs about the center of the parcel before turning North-East and heading off of the land where it connects to the recreational area and spilling into the Big Piney River. The adjoining property to the North where the creek runs into is Government land known as the Mineral Springs Access. The Mineral Springs Access is approximately 4.5 acres and has over one thousand feet of Big Piney River frontage. With this land adjoining the property, this means that you have direct access to the beautiful Big Piney River. There are also several unique land features on the property including caves, waterfalls, and springs.

There is a beautiful waterfall about near center of the parcel that is approximately six feet tall and spills into a beautiful large pool below. The bed of the creek turns into stone right above the waterfall, and just up from there a natural spring flows from the west (on the property) and runs East spilling into the main body of the creek. There are plenty of old growth Pine Trees on the land and several trails the start off of the Mineral Drive access Road and run all the way past the waterfall and spring where there is a beautiful rolling clearing overlooking the creek and the spring. There are two private entrances off of Mineral Drive with one being the trail that leads down to the lower section(where the creek is located) and the other climbing uphill to another large clearing just atop the hill overlooking the creek below.

Electric service is available to the West, South, and East but is several hundred feet away and will be very costly to bring into the property. Rural water is also available but is several hundred feet away, so it may be just as cost effective to drill a well. The land is far outside the city limits and therefore has no building restrictions or codes. You are free to use any alternative energy method such as solar, wind, and water. Also, there are several approved methods for waste management such as septic, lagoon, outhouse, and composting toilets. Give us a call today to make this property your own.