Northern AZ Highlands Homestead
Saint Johns, AZ 85936
Apache County, Arizona
Expired Listing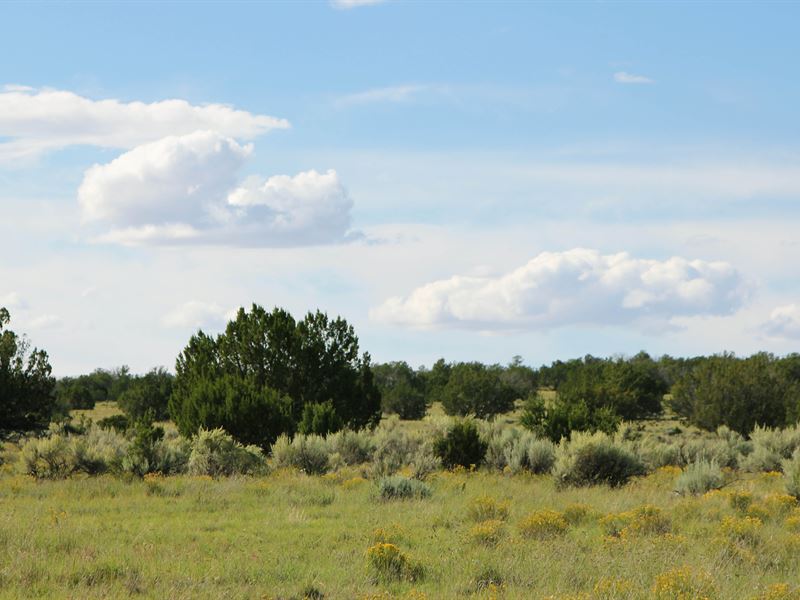 Land Description
Northern Arizona Highlands Homestead.

Situated in a quiet-tranquil setting at a cool clear 6,525' elevation, this spacious 14.17 acre off grid homestead is an exceptional value in high country living. This is a very secluded location and best suited for people seeking large acreage ownership well away from neighboring owners and who place a premium on the freedom to use and work their land in a quiet and peaceful wilderness setting free of urban noise and pollution. The residential, recreational and agricultural zoning allows livestock, camping and RV use at the owner's discretion. The land blends areas of evergreen woodlands with lush grassy meadows set amid its gentle contours. A selection of elevated building sites afford uninterrupted long range views of the surrounding wilderness in all directions. The best of the building sites are situated atop a gentle rise which crosses through the center of the land. Homes, cabins and RV's will enjoy scenic views from all points along the crest of the rise. Your privacy is enhanced by the property's alignment with 640 acres of uninhabited State Trust woodlands that form a quiet scenic backdrop to the land's eastern boundary. Cabin decks positioned along an east /southeast alignment will command scenic views into these neighboring woodlands. The land surface is blanketed with a fine tillable sandy loam soil, ideal for the raising of vegetables and fruit trees. Apples, cherries, plumbs, pears and a host of garden vegetables thrive in this soil. Area gardeners produce abundant yields of corn, tomatoes, carrots, beans, peppers, squash, and lettuce throughout the area's warm spring and summer growing seasons. Livestock can comfortably graze the land's nutrient rich native grasses free of harmful surface rock. Outdoor work is rarely curtailed due to the weather. The winters here are mild, typically producing less than 18 of snow most of which falls at a rate of two to three inches per storm and melts into the soil within a day or two. The land is blessed with an average of 327 days of sunshine a year. The average high temperature in the coldest month of January is 50 degrees under clear sunny skies. Summer temperatures are mild with daytime highs averaging in the upper 80's. The summer lows average in the 70's. Summer temperatures see additional cooling with the arrival of the seasonal monsoon rains. Typically arriving in mid-July, these refreshing afternoon rains bring forth a profusion of colorful wildflowers and turn the ranch's lush native range grasses vivid green. Private wells are allowed. The land has a secure groundwater supply from its positioning over the massive Coconino Sandstone Aquifer. Wells tapping this aquifer are capable of producing domestic quality water. In addition, a free access well located a short distance from the land is available to the property owner 24/7 for water hauling.

The property is located a 20 minute drive east of the of the community of St. Johns. St. Johns is a charming pioneer town founded in the 1870'S and serves today as the County seat of Apache County. You'll find everything you need for your rural homestead there including grocery stores, hardware stores, automotive stores, banks, restaurants, pharmacy, schools and churches. The 1,200 acre Lyman Lake is located 10 minutes south of St. Johns and features outstanding fishing, boating and hiking trails. Access from town to the land is via a County maintained gravel road very suitable for family cars, RV's, as well as construction and delivery vehicles. The land is home to free roaming herds of elk, pronghorn antelope, and mule deer all of which graze within this area's meadows. No qualifying seller financing is available with down and monthly payments of only Lower interest rate and price discount available with increased down payment. This is one of three nearly identical properties just released for private deeding. Similar pricing and terms are available for the adjoining tracts.

Enjoy incomparable quiet and seclusion on this remote yet easily accessible land where dark sky nights and fresh clean air can be yours forever. Land in this area is selling at a record pace. Don't miss out on this outstanding property. Make an appointment now to walk this land by calling.

Please call for more information or to set an appointment to walk this land and others similar to it.