Off Grid in Mohave Desert
Kingman, AZ 86401
Mohave County, Arizona
Expired Listing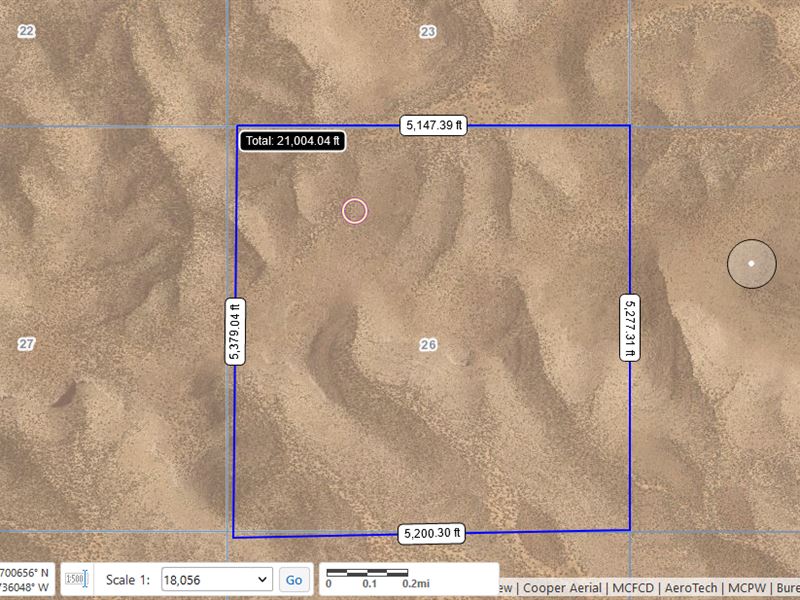 Land Description
Price: + Documentation Fee

Kingman sits on the eastern edge of the Mojave Desert, but it is located in a cold semi-arid climate (Köppen BSk) due to its plateau location. The BSk climate type receives slightly more precipitation than the BWh hot desert climate found to the south and west, and the wintertime low temperatures are significantly colder.[8] Kingman's higher elevation and location between the Colorado Plateau and the Lower Colorado River Valley keeps summer high temperatures away from the extremes (115 °F (46 °C) or more) experienced by Phoenix and the Colorado River Valley. The higher elevation also contributes to winter cold and occasional snowfall. Summer daytime highs reach above 90 °F (32 °C) frequently, but rarely exceed 107 °F (42 °C). Summertime lows usually remain between 60 to 70 °F (16 to 21 °C). Winter highs are generally mild, ranging from around 50 to 60 °F (10 to 16 °C), but winter nighttime lows often fall to freezing, with significantly lower temperatures possible, and occasional snow.

Parcel: 313-09-044

Lot size: 1.325 acres

Gps: 35.310562, -113.892400

Property Taxes approx.: a year approx.

Legal Description: Mohave County Industrial Center BLK A Lot 44

Power: Electric in the area

Phone: Cell phones.

Water: Need a well or a water storage tank

Sewer: Need Septic

Gas: Need propane

Access: Dirt road frontage.

Zoning: Gen. Manufacturing,

Property Use: Manufacturing Bldg, Commercial Bldg, Junkyard

Topography: Level

Conveyance: Special Warranty Deed

This land/house is being sold in as is condition. Seller makes no representations, warranties of any kind whatsoever, expressed or implied regarding the nature, value, source, authenticity, fitness, merchant-ability or any other aspect or characteristic of this property. Seller makes no warranty of the home or buildings if there is any. Seller makes no representation as to future prospects for increases in value of this property. All prospects buyers are urged to do their own due diligence to their own satisfaction prior to purchase of this property. All information contained in this listing page has come from reliable sources and is accurate to the best of our knowledge. We make no guarantee expressed or implied as to the location, condition, accessibility, terrain, build ability or information contained in this listing. As seller, we guarantee that there are no liens on the property and that we will provide the buyer with a Deed upon payment in full.