1.75 Acre Mountain Top Lot
Blairsville, GA 30512
Union County, Georgia
Expired Listing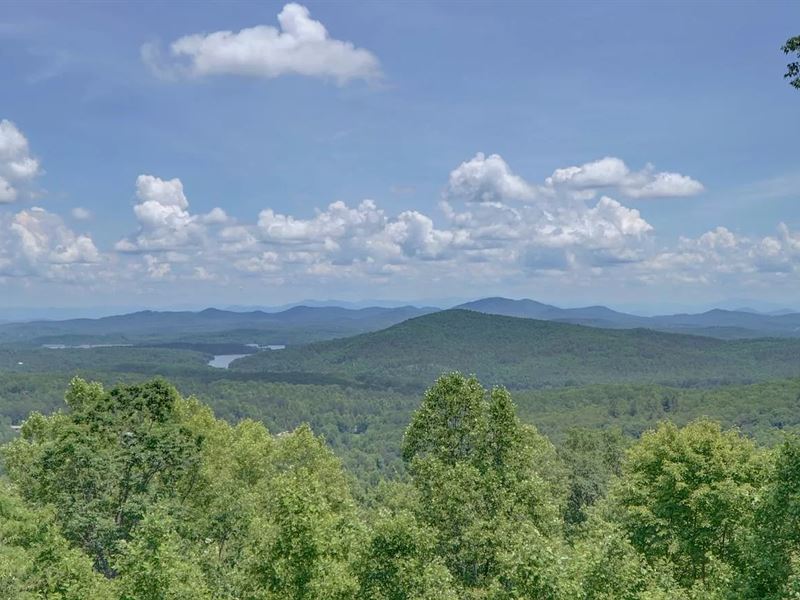 Land Description
Amazing Lake Vista Mountain Views. Very Private 1.75 Acre Lot At The End On The Road On Top Of The Mountain. Great Gated Community, Convenient Location To Blairsville, Murphy, NC, And Blue Ridge. Perfect Location For Your Mountain Home. Owner Financing Available.

On a clear day you could see forever. Beautiful long range mountain views year around. Friendly neighbors, paved roads, underground utilities, public water, & spectacular views of mountains & Lake Nottely. Whether you want full-time living, or a vacation cabin in the mountains, Laurel Brooke is near Lake Nottely with fishing, free boat ramp, miles of scenic shoreline, & convenient to Murphy, NC. Just as important, Laurel Brooke Community has reasonable regulations to protect your values. Come see.

Land Data

Account or Geo: 19474

Property Address: BLAIRSVILLE, GA, 30512

County: Union County

State: GA

Lot Number: LOT 119

Legal Description: LAUREL Brooke III Lot 119

Parcel Size: 1.75 acres

Subdivision: LAUREL Brooke

Approximate Dimensions: 163.99 ft x 552.69 ft x 359.44 ft x 284.16 ft Approx

GPS Center Coordinates (Approximate): 34.910199, -84.125592

Gps Corner Coordinates (Approximate): 34.909596, -84.126024

34.909592, -84.125475

34.911064, -84.125060

34.910369, -84.125913

Elevation: 2313.0 ft

Access to the property? Paved (Croft Mountain Rd)

Is there a Structure on the property? None

Additional Land Info

Closest Property with Numbered Address: 283 Croft Mountain Rd, Blairsville, GA 30512, Usa

Closest major city: Atlanta, Georgia, USA - 2 hr 12 min (108 miles)

Closest small town: Brasstown, North Carolina 28902, USA - 32 min (19.2 miles)

Nearby attractions: Bear Creek Adventures Mini Golf and Gem Mine - 24 min (15.3 miles)

Huck's Lost Mine - 29 min (17.5 miles)

World's Largest Amish Chair - 29 min (18.0 miles)

Cupid Falls - 37 min (24.3 miles)

Vogel State Park - 39 min (25.4 miles)

Chattahoochee National Forest - 41 min (30.5 miles)

Hamilton Gardens at Lake Chatuge - 45 min (30.7 miles)

Bell Mountain - 57 min (35.2 miles)

Helen Tubing & Waterpark - 1 hr 11 min (42.4 miles)

Hardman Farm Historic Site - 1 hr 12 min (47.5 miles)

County Data

Electricity Company Name - Georgia Power Co

Water Company Name - Blairsville Water Department

Gas Company Name - Ferrellgas / Proflame Gas

Waste Company Name - Advanced Disposal

How much is the annual property tax? 2020 annual tax amount was is the zoning of the property? (Residential/Commercial/Agricultural/etc) No Zoning - Hoa and Deed Restrictions govern

Is the land cleared? (Yes/No) Wooded

Is the property buildable? Yes

Can we camp on the property before we build? No

Notes on Camping: Camping is not allowed

Are RV's allowed on the property as the main residence or only if there is already a main residence built? No

Notes on RV's: RV's not allowed

Are Mobile homes allowed on the property as the main residence or only if there is already a main residence built? No

Notes on mobile homes: Mobile homes not allowed

Are tiny houses or small cabins allowed on the property as the main residence? No tiny houses allowed

Is there a County or City Impact fee required to build and if so how much does this cost? None

Is the property in a flood zone and if so what needs to be done to the lot in order to build? Not in the flood zone area

County Operator Details who Confirmed the Information: Building & Development, Ms. Olivia.