Beautiful Mountain Views
26586 N Palo Christi Road : Meadview, AZ 86444
Mohave County, Arizona
Expired Listing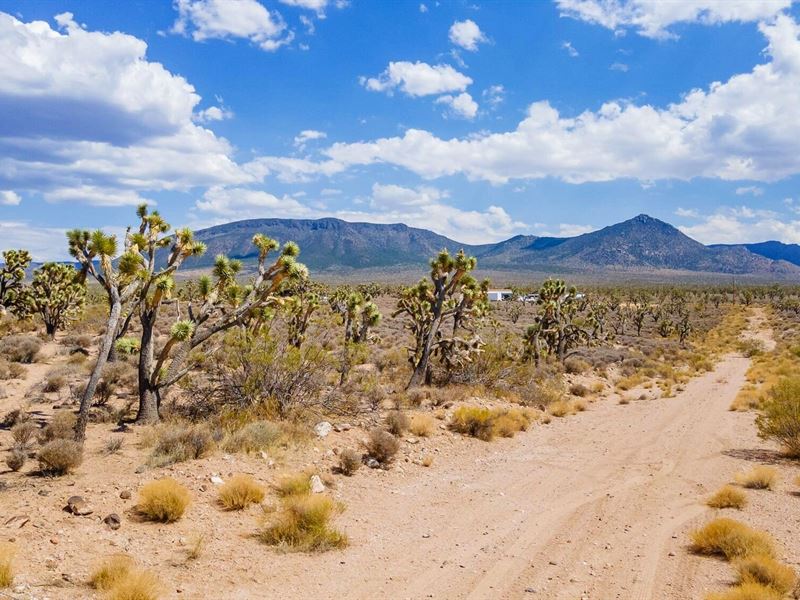 Land Description
Please visit our website for video, more pics & the most current status.

Explore the wonders of Lake Mead- Just a short drive away.

Beautiful 1.15 acres w/electric near. Only 2 miles from paved Hwy 25. Mobiles/Manufactured homes are allowed. Breathtaking views of the Grand Wash Cliffs, Grapevine Mesa & tons of Joshua Trees.

What a perfect getaway with tons of outdoor activities - Just bring your boat - only 16 miles to Lake Mead South Cove or see the sights of the Grand Canyon West Rim & Grand Canyon Skywalk-both only 20 mile Per Month-Finance Terms-Instant Approval/No Credit Checks

Interest Rate 0%

Loan Term: 43 months

Monthly Payment (plus a note servicing fee, yearly taxes & HOA fee)

Document Fee: In Full Cash Price Fee: biking, hiking, Atv-Ing, fishing, boating, kayaking or just exploring the Lake Mead National Recreation Area or the Grapevine Mesa, the world's largest Joshua Forest established in 1967 containing 3,206 acres. Find never ending landscapes as you drive to this hidden "best kept secret".

Meadview is situated in northwest Arizona and is located on the Arizona side of Lake Mead, at the extreme western end of the Grand Canyon National Park. The Meadview Civic Association includes a swimming pool, play ground, miniature golf, tennis court, pool tables and more.

Experience the breathtaking sunsets & the night skies lit up with millions of stars in Northern Arizona.

- This parcel enjoys a four-season climate, Joshua trees and picturesque views of the Grand Wash Cliffs & Grapevine Mesa.

- Fish Lake Mead for Largemouth bass, Striped bass, Channel catfish, Crappie, and Bluegill

- Northwest Arizona secret hideaway. Lot is treed with Joshua Trees and dry brush scattered throughout.

- Stunning views of the Grand Wash Cliffs as high as 6,000' to the east and the distant glow of Las Vegas to the west.

- Plenty of wildlife- flocks of Quail and birds to watch, roadrunner, deer, badger, wild horses, burros and desert big horn sheep.

- Mobiles/Manufactured allowed.

This area is a great basecamp to:

- Enjoy fishing, boating & kayaking on Lake Mead

- Visit the Grand Canyon West Rim, Grand Canyon Sky Walk & Hoover Dam

- Explore Lake Mead National Recreation Area w/the worlds largest Joshua Forest

- Photograph stunning views of the Grand Wash Cliffs

Miles To

- 17.3 miles to Lake Mead South Cove

- 27.8 miles to Grand Canyon West Rim & Grand Canyon Sky Walk

- 63.6 miles to Kingman, AZ (Walmart, Hospital, Starbucks, Home Depot)

- 78.4 miles to the Hoover Dam

- 95.2 miles to Henderson, Nv

- 110 miles to Las Vegas, Nv

- 115 miles to Lake Havasu

- 197 miles to Flagstaff, Az

Land Details:

- Address: 26586 N Palo Christi Road, Meadview, AZ 86444

- Int 21-034

- Legal Description: Keystone Unit 13-29-17 BLK P Lot 22

- Road Access: Dirt road

- Terrain: Flat

- Property Type: Residential

- City: Meadview

- State: Az

- Zip Code: 86444

- County/Area: Mohave County

- Size: 1.15 Acres, Approx. 161' X 314'

- Yearly Taxes: Approx.

- Yearly HOA Fee: Approx.

- Deed Type: Warranty Deed

Utilities:

- Electric- Electric Pole located 1 parcel away on street

- Water - from a locally owned water tank where you can haul it, install well/Cistern

- Septic - Would need to install system

- Mobile/Manufactured Homes- Yes-Allowed. NO RVS or camping

- Please contact the Mohave County Planning and Zoning for details and questions.