Peaceful Place Far From City Lights
California City, CA 93505
Kern County, California
Expired Listing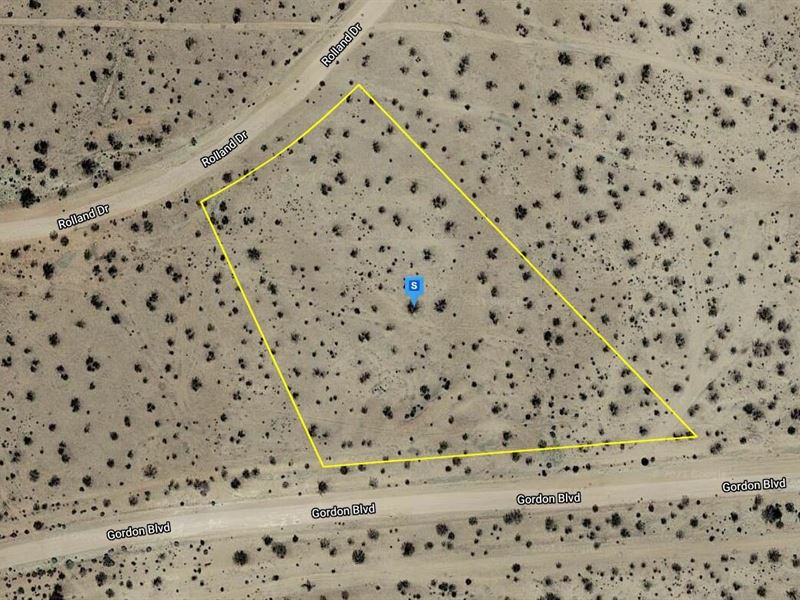 Land Description
The serene beauty and tranquility of the desert will clear your head, make you relax, and live harmoniously. Let the possibilities wash over you as you explore a stress-free and peaceful life at this quiet location in California City. It's high time to allow yourself to get rid of the modern-robotic life and embrace the brand new simplified lifestyle that you deserve.

As the famous Will Rogers said:

"Buy land. They ain't making any more of the stuff."

This 2.26 Acres Lot, is in California City, CA which is a great location from where you get easy access to everywhere. Away from the polluted city, its specific location is the reason for its fresh air. If you are looking to Invest, Develop, or build your own home, so this property is perfect for your plans because this Lot is Residential Zoned Land. This spot is also loaded with captivating scenes of Mountains and not so far from the Willow Springs International Motorsports Park. This land is perfect for you. What are you waiting for? Stake your claim Now.

Distance to Nearby Attractions:

Bakersfield, CA - 1 hr 34 min

Riverside, CA - 2 hr 5 min

Los Angeles, CA - 2 hr 12 min

Las Vegas, NV - 3 hr 26 min

San Diego, CA - 3 hr 37 min

San Jose, CA - 5 hr 19 min

Willow Springs International Motorsports Park, CA - 1 hr 2 min

Same size lots in this area are going for much more... Don't wait till it's gone.

Easy Monthly Payments: Only Down and Doc Fee.

33 Monthly Installments of , 0% Interest.

(No Monthly Note Fee, Only Annual Pro-rated Taxes into Monthly Payments)

(Limited Time, Only 1 Property Available)

We accept Credit Cards, Cashiers Checks, Wire Transfer.

Key Features:

Property Type: Vacant Land

Financial Terms: Finance Only

State: California

County: Kern County

Property Location: California City, CA 93505

Property Street: Rolland Dr.

Total Lot Size: 2.26 Acres

Legal Description: Tract 3193 197

Electricity: Off-Grid, Would need Solar or other types of Alternative Energy

Primary Road: Well Maintained Dirt Road Access

Water: Would be by Alternative Sources

Zoning: R4

Annual Taxes: 1 Property Available. Call Or Text Now.