Make This 3.2 Acre Paradise Yours
Sanders, AZ 86512
Apache County, Arizona
Expired Listing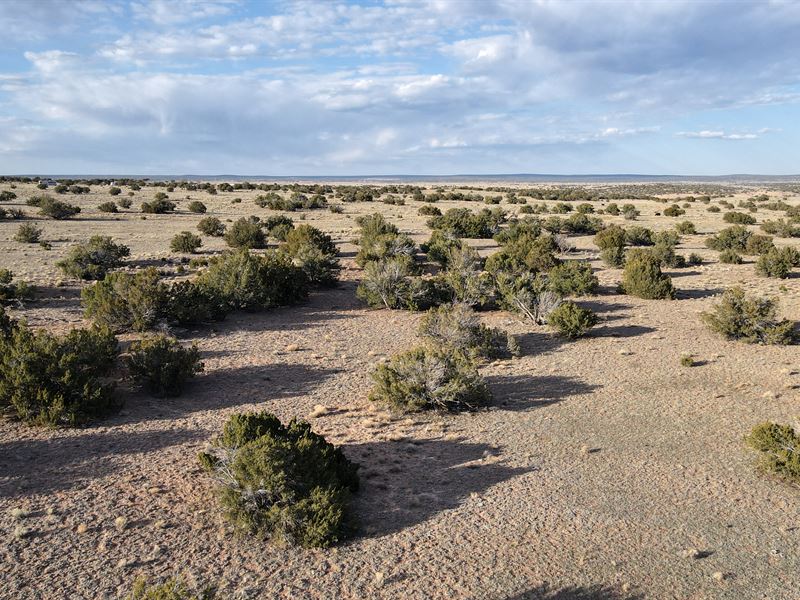 Land Description
Pricing:

- Down Payment + Doc Fee

- x 72 months (+ prorated taxes and note servicing fee)

Parcel Size (acreage): 3.2 Acres

GPS Coordinates: 35.2490, -109.4320

Gps Coordinates (4 corners):

-Nw: 35.2496, -109.4322

-Ne: 35.2495, -109.4303

-Sw: 35.2490, -1094323

-Se: 35.2489, -109,4303

This is a sprawling 3.2 Acre Campers Paradise located in the Bell Brand Ranches Subdivision of Apache County. Located right near Chambers, off of US 191, this property's limitations are up to your imagination. Come explore this magnificent property with your friends and family, a place to call your second home.

Imagine you turn off 191 onto the gravel, dirt kicks up behind you in he rearview. You can feel the excitement of everyone else in the RV knowing you are close. You make a left and slowly pull up as the GPS states "you've arrived at your destination." And there you are, as the dust settles and its silent and scenic. Flat land with juniper trees off in the distance, your RV door swings open and your dog takes off into the distance appreciating the ultimate freedom. 3.2 Acres are yours to roam and explore without any restrictions. Night falls, and you look up at the sky, speechless at the miraculous wonder this property has delivered.

Not only will you invest in the perfect camping ground, but you will be increasing your net worth, and creating a legacy to pass down for generations to come. Isn't that what we all want? Security and peace of mind that the land is yours free and clear.

Enjoy the beautiful site of cedar trees and sage from the comfort of your new home. It's the perfect spot for a retirement home as you can always enjoy the therapeutic effect of nature's elements right from your closet. Moreover, the area is perfectly placed at the center of the Chambers, AZ community and very close to a Walmart supermarket in Gallup. Bell brand ranch is a worthy escape from the main city with adequate schooling facilities for your kids. The area is just around the Sanders Unified School district which helps to organize education in the community. Kindergarten kids learn their rhymes at the Sanders Elementary School while Sanders middle school and Valley High provide higher learning.

The area is flanked by the sanders district which plays home to numerous married couples as is highlighted by a recent statistic. There is also a high percentage of the older population residing in the community and all these are pointers of a peaceful and harmonious environment. The numerous museums and art galleries indicate the love for art in the district. These spots which include Archeological, Historical, technological and science museums; help to enlighten and attract several visitors to the region. More so, the area has a handful of architectural attractions for those who love a phenomenal edifice. The exquisite outlay of the Church of Jesus Christ Latter-Day Saints is always worth a visit. And the yellow house gallery displays numerous artistic paintings and sculptures for art lovers. Furthermore, you can consider this area home if you are on the democratic side of American politics.

The area takes its spot on the Sanders Unified District which hosts a whole lot of exciting amenities. It's a 1-acre land in Bell Brand Ranch domiciled in the heart of Chambers, Apache County, Arizona. it is close to a supermarket in Gallup, New Mexico which flanks it to the east. To the west, it's bound by Holbrook and St. John's to the south. The District is close to the Nahata Dziil Health clinic and St. Michaels Clinic as well as a multi-company shopping center. This mall combines the Bashas supermarket and Pizza Edge restaurant.

Placed at over 5,865 ft above sea level, the flat land exposes you to a pure cool breeze. The sparsely populated area is surrounded by fresh green vegetation of junipers, pinon pine, and amazing varieties of the sage bush. Moreover, you wouldn't need to leave your patio to enjoy the vast wildlife available in the area. There are mules, deer, and Elks scattered around the region. Flagstaff, which is the closest large city is just about two hours away while the closest gas station is less than a mile away from the property. The area is among the 1.5 million acres protected by The Nature conservancy for wildlife preservation.

The property is flat 1-acre land with the possibility of an extension if required. It's surrounded by nature's lovely scenery. It's famous for its attractive cedar tree deposit as well as admirable sand. It's good for your new housing project and also a great investment plan for your kids. You'd love the view and the proximity to many exciting places scattered over Apache county. Bell Brand Ranch in Sanders District of Arizona holds a lot of special attributes that suit both proletarian and Bourgeois. Transportation has never been easier with the Interstate 40 and Bnsf Railway just some minutes away.

Nearby Attractions:

Closest Gas Station: Shell - 12 minutes (11.8 miles)

Pizza Edge - 12 minutes

Subway - 12 Minutes (11.8 miles)

Petrified Forest National Park - 34 minutes (40 miles)

The 505 Burgers & Wings - 50 minutes

Grand Canyon National Park - 3 hours 41 mines (232 miles)

Call me today to lock up this lot before its gone.