Super Nice, Ru-4 Zoning, $300/Month
Catclaw Road : Sunizona, AZ 85625
Cochise County, Arizona
Expired Listing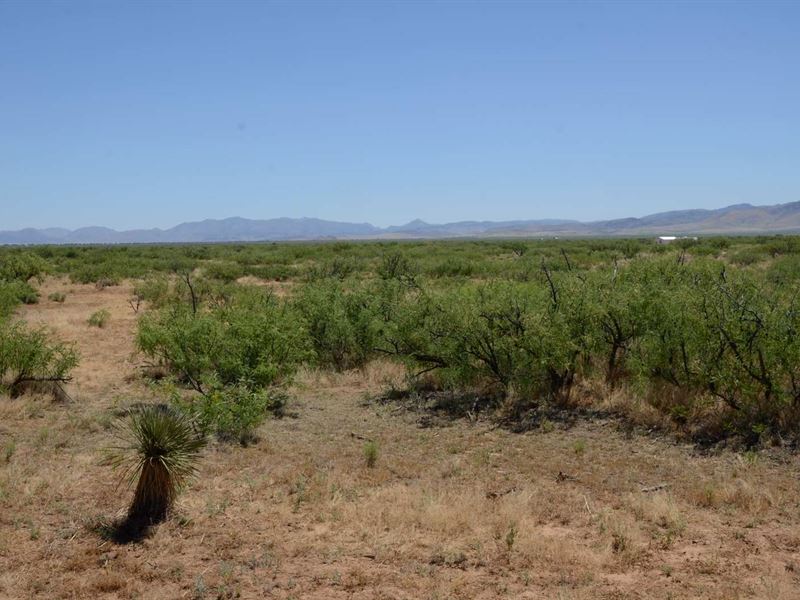 Land Description
Attention: Please read the entire description thoroughly to avoid redundant questions.

Here's a fantastic 5.03 Acres of vacant land in Sunizona.

Lot 17 was just sold so here is my very last parcel.

The land is located 2.25 miles north of AZ Hwy 181 in Sunizona.

The parcel has road frontage on Catclaw Road along the west side of the parcel.

Parcels here are rare to come by, and I've been selling them fast...don't miss out - this is the last one.

Buy with confidence...I'm a Pro - not a novice. I've been in the land business for close to 20 years, with thousands of properties sold.

This is a truly magnificent location for a small off-grid ranch.

There are no Street signs, street lights, or sidewalks.

The land was driven to in a 2WD Pickup Truck. A high clearance vehicle is a "Must Have".

This land is easy to find - providing you are capable of:

A. Entering coordinates onto your google maps app.

B. Following the directions given at bottom of listing.

C. Have a high clearance vehicle.

The parcels are zoned R U-4 so there are NO restrictions.

As already mentioned, the land is only 5 minutes north of Hwy 181, but offers great privacy in a scenic serene location. Be sure to open all the maps attached at bottom of description, right under "Land Maps & Attachments".

I was told by a local resident/realtor this land is within the zone recently approved for Medical Cannabis Growing. Do your due diligence on this subject and be aware that can only be done once land is paid for in full.

Pictures were taken AT The Lots last summer, of the road in front, and looking in various directions.

I know this area very well and have several friends living within a few of miles from this lot.

I only buy land I'd be happy with to keep for my own. I'm certain, whomever the lucky buyer is, they'll will be ecstatic about owning this property.

Property Details:

APN: 401-53-136 Cochise County

Legal Description: Lot 24 Block 35, Sun Sites Ranches 3

Lot 24 is the northern parcel - Lot 17 is the southern parcel.

Coordinates:

NW corner of lot 24: 31.91063, -109.56142

Dimensions lot: 331' X 662' feet.

No time limit to build. No restrictions. Build anything you want. Zoning is Ru-4.

This land is totally off grid - Solar is the option for power. Water by well or hauling. Sewer by Septic.

Annual taxes are per parcel, and paid current.

Free and Clear Marketable title is guaranteed.

If you need financing here are the terms:

Purchase Price is get started: Buyer shall pay a Down Payment of + Closing Costs of via Paypal.

I will email the buyer an invoice upon being notified you are 100% ready and able to purchase this property and make that initial payment promptly.

Down Payment will be deducted from Purchase Price and I will owner finance the remaining balance of in 20 monthly payments of per month shall be added for prepayment of property taxes.

A Contract for Deed will be promptly sent to the buyer upon receipt of initial Payment.

The lot will be Deeded to your ownership by a Warranty Deed upon completion of payments.

A discount is offered to cash buyers or for payoff within 3 months.

When/if ready to buy, these are the steps of the purchase process:

1. Buyers email me their full name and address.

2. I then prepare the contract and email it along with the Paypal invoice for the initial amount to get started.

3. That payment must be submitted promptly, and I then mark the Listing Sold.

Note:

I am semi-retired and under no pressure to sell. Please take all the time you need, whether it's doing your due diligence, going see the property if possible, consulting with those you need approval from on buying, etc, etc...

P L E A S E don't send an email saying you are ready to proceed, if in fact you're not..."Drills" are unwelcome and unnecessary.

Also note:

I encourage my buyers to enjoy the land while on contract, make small improvements, etc.

However, To be perfectly clear, in no uncertain terms... I am selling "vacant Land" - not entering into a "Landlord-Tenant" relationship...

That being said, if your intention is to start developing or living on this land right away - then you must also pay for it in full right away - 100% use requires 100% ownership.

I need to mention this because I've had a few folks who presumptuously assumed since they paid a few hundred dollars to get into a land contract, they can now "move right in" and do as they please.