Island Life, Golf, Lake, Amenities
Bandy Drive : Holiday Island, AR 72631
Carroll County, Arkansas
Expired Listing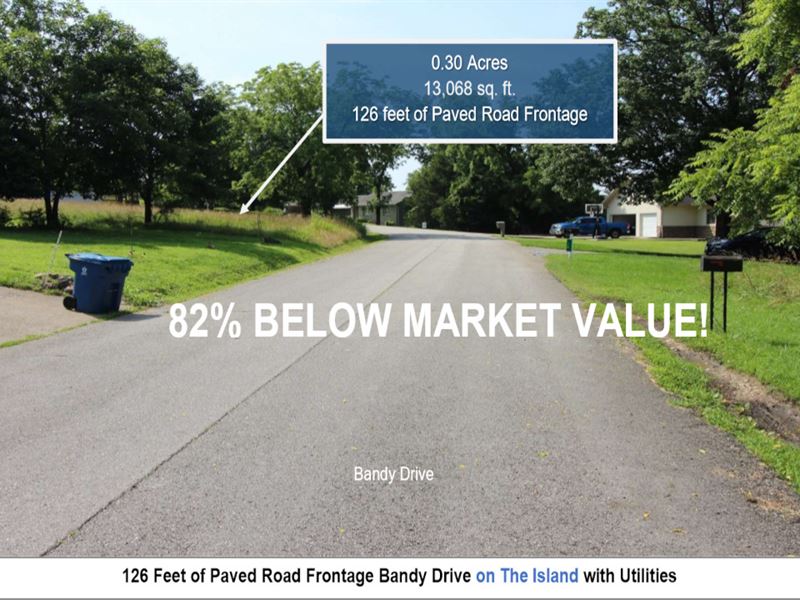 Land Description
WE Finance. NO Credit Check. Cash OR down, 9 monthly payments of There are NO Additional Closing Costs or Fees. We pay your current Assessment and Taxes. There is NO cancellation or prepayment penalties. We accept check (personal, cashier's or money order), credit/debit card, and Bank Account ACH Direct Payment. below Assessed Value... great Equity.

We pay All Closing Costs. The annual Assessment/HOA fee is per year. We pay your 2020 Assessment fee and Taxes. Your first Assessment fee and Taxes will not be due until October 2021.

Landyouown is a family-owned land investment company. Offering you Instant Equity with Wholesale Discounted Prices. Affordable land for you to enjoy, to build your Retirement Home, Vacation or Weekend Getaway home or to keep for an investment property. We own all the properties on our site, so you are working directly with the landowner. We have built our business on integrity, honesty and customer service.

This Island Lot located two streets above White River, Near Golf Course, Recreation Center, Table Rock Lake and Marina. Underground Utilities, Central Water and Sewer and Internet on site for your new home. Just a few blocks from the Island's 9 Hole Executive Golf Course and Recreation Center with all its amenities. Underground Electricity, Central Water and Sewer and Internet on site for your new home. 13,068 sq. ft of land consisting of 0.30 acres and 126 feet of paved road frontage on Bandy Drive.

Near beautiful Table Rock Lake with its 43,000 surface acres, Close to Arkansas Hwy 23 and The Park which is Holiday Island's Shopping and Business Center. White River Lane is a quiet and peaceful neighborhood.

Enjoy this peaceful but active lifestyle community with all its Amenities. Holiday Island, 2,300 population, a great place to build your dream retirement, weekend getaway or vacation home.

With an 18 Hole Professional Golf Course, 9 Hole Executive Course, Country Club, most unique Driving Range, Campground, Marina, Walking Trails, Recreation Center with Tennis Courts, Basketball Court, Two Swimming Pools, Picnic Area, Children's Playground, Miniature Golf, Horseshoes, Shuffleboard, Pickle Ball Courts, Softball Field, Rental Facilities and more. Clubs and Organizations galore to join. First Southern Baptist Church, Holiday Island Community Church, Holiday Island Presbyterian Church, Grace Lutheran Church, and Holiday Island Baptist Church.

The natural beauty of the surrounding Ozark Mountains and activities regardless of age. Holiday Island maintains Full time Fire, Roads, Water and Sewer departments.

Arkansas is known as the Natural State with all its beautiful Mountains, Lakes, Rivers, and laid-back peaceful settings with great down-home people. 600,000 acres of lakes and 9,700 miles of streams and rivers. The State has 3.1 million acres of Wildlife Management Areas, 6 National Parks, 52 State Parks, 7 National and 3 State Scenic Byways including the Nation's first National River, The Buffalo River.

Situated between Northwest Arkansas Metro Area of Rogers, Bentonville, Springdale and Fayetteville, population 535,000, 46 minutes away and only 57 minutes to Branson, Missouri, and Silver Dollar City family entertainment.

Arkansas Ranked 2nd with the Lowest cost of living 2019 and 2020

Holiday Island is the Birthplace of beautiful Table Rock Lake's 43,000 surface acres with 745 miles of shoreline, which runs all the way to Branson, Missouri. Offering all water sports & great fishing. Enjoy swimming, boating, kayaking, canoeing, parasailing, skiing, wakeboarding, tubing, sailing, scuba diving and more.

Table Rock's great fishing offers Largemouth Bass, Smallmouth Bass, Spotted Bass, Stripped Bass, White Bass, Walleye, Flathead Catfish, Channel Catfish, Paddlefish, Black Crappie, White Crappie, Bluegill, Warmouth and Longear Sunfish.

The White River which begins at Beaver Lake Dam just 12 miles away flows around Holiday Island creating Table Rock Lake.

The Property is only 0.4 miles to the Island 9 Hole Executive Golf Course and Recreation Center with all its amenities. 1 mile to the Marina with Table Rock Lake access.

5 miles to the Country Club with the 18 Hole Professional Golf Course and 5.4 miles to the Holiday Island Entrance and The Park, Holiday Islands Shopping and Business Center.

Across from Holiday Island's entrance on AR Hwy 23 is The Park Shopping & Business Center, with its Retail and Service Stores, Large Supermarket Grocery Store with Deli/Café, Hardware Store, Restaurants, Banks, Medical Clinics, Fitness/Wellness Center, Fire Station, Post Office, Business Offices, Auto Repair, Gas Station/Convenient Store with Deli and more.

There are more Nearby Lakes, Rivers, National Forest, Wildlife Management Areas (with almost a million acres to enjoy hunting and nature), State Land and Parks. AR has 115 Wma's with 3.1 million acres. Enjoy Hunting, World-class Trout Rivers, all Lake & River Sports, Great Fishing, Kayaking, Scuba Diving, Hiking, Camping, Cycling, Horseback Riding, Canoeing, Bird and Nature Watching and more.

Property ID: Carroll_AR_00108

Parcel Size: 0.30 Acres M/L

City: Holiday Island

State: Arkansas

County: Carroll

Address: White River Lane

Zip: 72631

Apn: 320-04506-000

Water: Central Water & Sewer

Sewer: Central Water & Sewer

Power: Carroll Electric

Zoning: R-1 Residential

Assessment Fee: - /Annual

Gps: 36.487709, -93.778694

Phone: Land Line and or Cell by Cox Communication

Access: Paved Road Frontage

Title: Free and Clear

Conveyance: Special Warranty Deed

Taxes: per Year

Terrain: Sloped with trees

Elevation: Approx. 1,000 feet

Legal: Unit: 110-1-6

There is NO time limit to build on the property. The building covenants are a minimum of 1,200 square feet enclosed, heated and finished living area.

Visiting the property at your convenience - GPS coordinates:

Northeast Corner: 36.487943, -93.778430

Northwest Corner: 36.4877519, -93.7789641

Southwest Corner: 36.487501, -93.778752

Southeast Corner: 36.487872, -93.778360

Center Point: 36.487709, -93.778694

Nearby Cities, Points of Interest, Attractions, and approximate distance

10 minutes to Eureka Springs, Arkansas: Population 2,000

12 minutes to Mark Twain National Forest, Missouri

17 minutes to Roaring River State Park, Missouri

19 minutes to Kings River, Arkansas

22 minutes to Beaver Lake & Wildlife Management Area (Wma)

26 minutes to Berryville, Arkansas: Population 5,300

27 minutes to Dogwood Canyon Nature Park Lampe, Missouri

31 minutes to Cassville, Missouri: Population 3,300

39 minutes to McIlroy Madison County Wildlife Management Area (Wma)

53 minutes to Northwest Arkansas Metro: Population 535,000

53 minutes to Hobbs State Park & Wildlife Management Area (Wma)

59 minutes to Branson, Missouri & Silver Dollar City: Population 11,400

1 hour 3 minutes to Wedington Wildlife Management Area (Wma)

1 hour 6 minutes to Harrison, Arkansas: Population 13,000

1 hour 16 minutes to Buffalo National River and Wildlife Management Area (Wma)

1 hour 17 minutes to Ozark Wildlife Management Area (Wma)

1 hour 18 minutes to Neosho, Missouri: Population 11,800

1 hour 36 minutes to Illinois River and Kayak Park, Arkansas

1 hour 40 minutes to Springfield, Missouri: Population 167,000

1 hour 41 minutes to Joplin, Missouri: Population 52,500

2 hours 7 minutes to Bull Shoals Lake and the world class trophy White River

2 hours 55 minutes to Tulsa, Oklahoma: Population 401,000

3 hours 37 minutes to Kansas City, Missouri: Population 491,000

3 hours 46 minutes to Little Rock, Arkansas: Population 198,000

4 hours 26 minutes to Oklahoma City, Oklahoma: Population 649,000

4 hours 43 minutes to Wichita, Kansas: Population 390,000

4 hours 44 minutes to St. Louis, Missouri: Population 308,000

5 hours 30 minutes to Memphis, Tennessee: Population 652,000

Any questions about purchasing this property call or text us. May you and your family be blessed.