Off-Grid Unrestricted 2 Acres
Co Rd 141 : Streetman, TX 75859
Freestone County, Texas
Expired Listing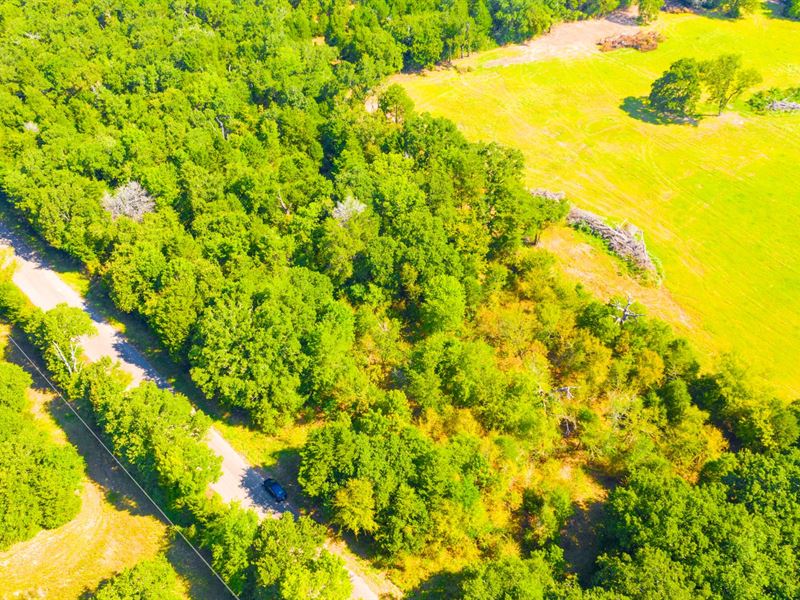 Land Description
Only 2 miles off i45, you'll find this beautiful and flat two acre property, that's just hit the market in Freestone Texas. Live only 5 miles from the 5th largest lake in texas on this unrestricted and easy to access property. I can't wait to show you some amazing things about this property and surrounding area, so let's jump right into it.

Richland Chambers Lake is the 5th largest lake in texas, and is an incredibly fun place to get out on the water, or try your luck catching dinner from shore. This lake boasts abundant catfish populations and multiple species of bass. You'll only be a few minutes form multiple different boat launches to get out on the water, and many have no fees. The Richland Chambers Lake website has great information about the different types of fish, the conditions of the lake, and some tips on finding and catching the underwater inhabitants of this large reservoir.

Just up the creek from the lake, you'll find Richland Creek Wildlife Area. This beautiful managed wildlife area has breathtaking views, abundant wildlife, and great hunting opportunities. Public hunting is permitted for white-tailed deer, feral hog, squirrel, mourning dove, waterfowl, woodcock, gallinule, snipe, rabbits, and hares. Check their website for information and their permit requirements.

Fairfield Lake State Park is only 30 minutes from the property, and is the perfect place to set up a tent, get out on the lake, or reel in some fish. This 2,400 acre lake might not be as big as Richland Chambers lake, but if you're looking for a change of scenery, Fairfield Lake State park offers some great outdoor fun. Reel in a bass, catfish or perch from a boat or the fishing pier, and stay at one of the of the dozens of campsites, including sites with electricity, camping near the water, and they even have primitive camping sites available if you're looking for a little more wilderness.

If you're looking for a taste of history, head on down to Freestone County Historical Museum. They have an amazing collection of local artifacts, and documents to explore. Many locals use the museum for genealogical research, and historians love looking through the museum's catalogue of newspapers dating back to the 20s.

As you can see, this 2 acre property is near some amazing adventures. But just because you're out in the country doesn't mean you're too far away from civilization. This plot is only two miles from i45, meaning you have easy access to Dalas, only an hour and a half north, or Houston, 2 and a half hours south. And you aren't far from town, with Freestone, and Coricana offering great shopping and restaurants.

Now let's check out more details about this beautiful 2 acres.

This flat property is shaded with big cedar and oak trees, giving you a private and cool experience. If we take a look at the interactive map, we can see all the great road frontage, just waiting for a driveway.

This land is unrestricted, meaning this land can be used however you like. Move your mobile home or trailer onto the property, or bring your builder and build your dream home, with plenty of potential space for your boat. This is a great opportunity for someone who's looking for an easy commute into Dalas, and wants to be close to the lake on the weekends. This private plot has no Hoa, no city taxes, and is only minutes away from i45.

This Property is offered at discount Cash Price of with all closing costs covered.

Electricity Service: Brazos Electric Co-Op

Water Service: Streetman Water

How To Find The Land

To best help you find the property and any of the boundary line corners, please copy and paste any of these GPS coordinates into Google Maps on your computer or smartphone with your GPS turned on:

Nw Gps: 31.870278, -96.269444

Ne Gps: 31.869444, -96.268611

Sw Gps: 31.870000, -96.268056

Se Gps: 31.870556, -96.268611

For example: copy and paste "31.870278, -96.269444 " (with the comma and the dash) into the search bar in Google Maps to find the exact location.

We recommend this method as the best way to locate the property because the land will be un-marked with no signs or survey stakes.

Please understand we do not normally accompany property visits due to our low-cost business model.

How To See The Land

Call Us to make your appointment to see the land and to ensure it's still available before you make the drive. We do our best to give you as much information as possible upfront.

When making an appointment, we will provide you with a map of the property lines, directions to get there, GPS coordinates and any access or gate code instructions (if they apply) so that you know where to go and how to get in. Please be aware that we typically do not accompany property visits because of our low-cost business model.

Pricing

Our cash price is with no closing fees and only down to secure the property until closing.

Financing is available with a down payment + doc fee. We offer Flexible monthly terms with payments as low as per month. Choose your term at 12, 24, 36, 48 or 60 months depending on what you can afford each month. There are no pre-payment penalties, no closing expenses, and you choose the monthly pay date. Interest and processing fees apply, qualification required with proof of income.

We offer several ways to pay including debit, credit card, cashier's check, money order, bank transfer and PayPal. Each of our properties also includes a "Buy Now" link on our website to put down a deposit or to pay in full. If paying online, you will receive an auto-mated receipt confirming your deposit upon payment.

We cover all closing costs when you close direct with us. Title Insurance and Surveyor referrals available if you prefer to pay to close through an escrow service.

Call us anytime to chat or if you have any questions.

How To Buy

We offer several ways to pay including debit, credit card, cashier's check, money order, bank transfer and PayPal. Each of our properties also includes a "Buy Now" link on our website to put down a deposit or to pay in full. If paying online, you will receive an auto-mated receipt confirming your deposit.

After you've made your payment, please be sure to send me your full name, address, and marital status so that I can prepare our sales contract for closing and draft the deed to your property.

You can also call us anytime for a walk-through of the payment process.

Thank you for your business.

Bbb Accredited Business

We believe you should only have to do business with a reliable, transparent seller. That is why we are proud members of the Better Business Bureau of Greater Houston & South Texas. As a member, we uphold the BBB Code of Business Practices that form the foundation of how we do business. Our goal is to ensure our customers have a seamless buying experience built on mutual trust. To verify our BBB credentials, please visit our member webpage at We Are

- Real Estate Dreams made Affordable

My name is and I live in Houston, Texas the multi-cultural center of the country. I live here with my wonderful wife and family in one of the more affordable metropolitan areas you can find in the country.

I started about 3 years ago after learning about land investing when I started to search for alternatives to traditional investments like Stocks and Savings Accounts. I wanted a place to store my hard-earned savings that could be protected from the high volatility and uncertainty on Wall Street and the dangerously escalating national debt.

So I found land. I was really attracted to it because it's a fixed resource and Still relatively cheap compared with other high-cost investments like rental homes, apartment buildings, and so forth. But I really love it because land is like a blank slate - You can really do anything with it. And this is how my passion grew into a business because it gives me a connection to other people that share in my excitement for endless possibilities.

Our business model is all about acquiring vacant land at wholesale prices and passing along the savings to you (our customer). This helps us to keep the costs low and bring additional savings through our unique marketing channels and streamlined sales processes.

Our goal is to get you the best deal possible and we provide a 90-Day Exchange Policy - if you decide one of our properties you bought isn't what you wanted, we will exchange it for any another property in our active inventory - you only need to cover for any differences in the price.

Call us today to get the ball rolling, ask any questions about our ad or business processes and what we can do to help you find the land of your dreams.