Handyman Special 4 Bedroom/2 Bath
6 Powhatten Rd : Cherokee Village, AR 72529
Sharp County, Arkansas
Expired Listing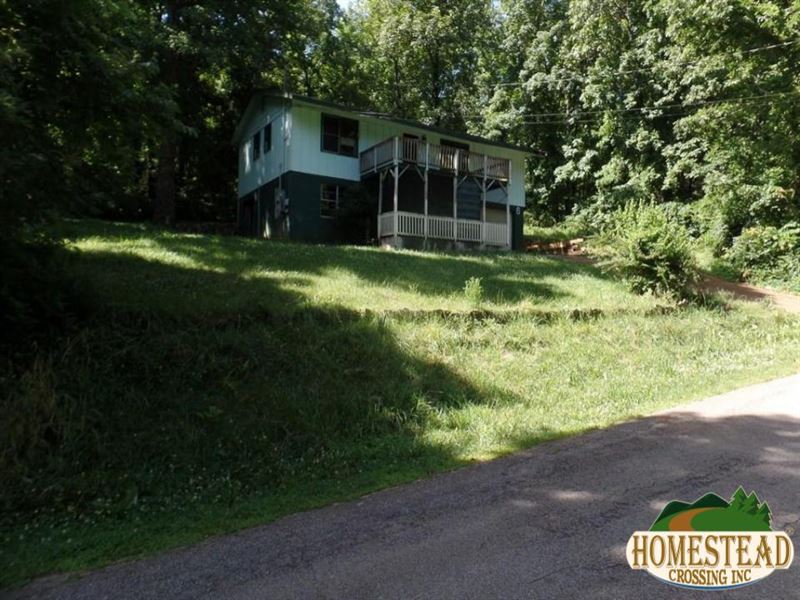 Land Description
Lease/Purchase: per month with down payment of Total purchase price: this two-level home, located in Cherokee Village, AR. You will find that this lot sits on a hill overlooking the valley below, and is approximately 0.3 acres. A cement driveway leads you to the attached garage and parking spots. The lower floor can be entered in the front and the top floor can be entered on the backside. There is a front deck and back deck as well. Both floors are set up for separate living spaces, a kitchen, 2 bedrooms, and 1 bath.

As you can see, this is a fixer-upper. You can fix one level and live in it while you are fixing the other level. Some work has been done, but it is ready for you to finish your way.

Omaha, Thunderbird, Sequoyah, Chanute, Cherokee, Navajo, and Aztec Lake call Cherokee Village home. Lake Omaha is the biggest one at 139 acres. All types of boats are very popular here. The lake is very clean, spring-fed, and well maintained with an excellent swimming area. All lakes have been stocked with catfish, black bass, largemouth bass, crappie, bluegill, and other species native to the area. A total of 6 swimming pools can be found all throughout Cherokee Village. You will also find 2 golf courses, a community center, fitness center, stage, meeting rooms, miniature golf, spa facilities, marina, and a small regional airstrip. There is also an RV park for landowner guests.

Give us a call at or feel free to text us at for more information.

Location: 6 Powhatan St Cherokee Village, AR 72529

Taxes & HOA Fees: Approximately per year.

Zoning: None

Restrictions None

Access: Powhatten Rd

Utilities: Electric & Rural Water

Lake

Views

Near Town

Owner Financing Terms

No credit checks, no-prepayment penalties, and no balloon payments.

To get started, all that is needed is the down payment in addition to the first month's payment due together. Then the payments are just your monthly payment, and the payment amount normally never changes.

1st Year Interest-Free for 1st Time Buyers: All payments paid during the first year, including the down payment and any additional payments, will be deducted from the total sale price. In the first year will be interest-free and directly applied to the principal balance. These terms apply to first time clients within the first year of purchase.

Interest Rates

8.75% for homes.

9.75% for land.

After three years of payments being paid as scheduled or 25% of the sale price has been paid off, the buyer will have the option of going to a Deed Of Trust. Upon completion of the contract, the buyer will receive the deed specific to their property. In most cases, it will be a General Warranty Deed. (Please make sure to ask, what kind the deed is specific to the property that you are purchasing.)

Restrictions Specific to Homestead Crossing Inc: No mobile homes (unless specified), junkyards, dumps, more than 5 dogs and pit bulls.

You may live in a travel trailer/RV, cabin, or tiny home on our properties unless specified.

Payment Options

Cash (In person only. Do not mail cash payments.)

Cashier's Check, Money Order, or Wire Transfer

Pay with credit/debit card over the phone

Payment can be made online through our secure website, with the PAY NOW tab above.