Bear Gulch Ranch
8150 Highway 7 : Allenspark, CO 80510
Larimer County, Colorado
Expired Listing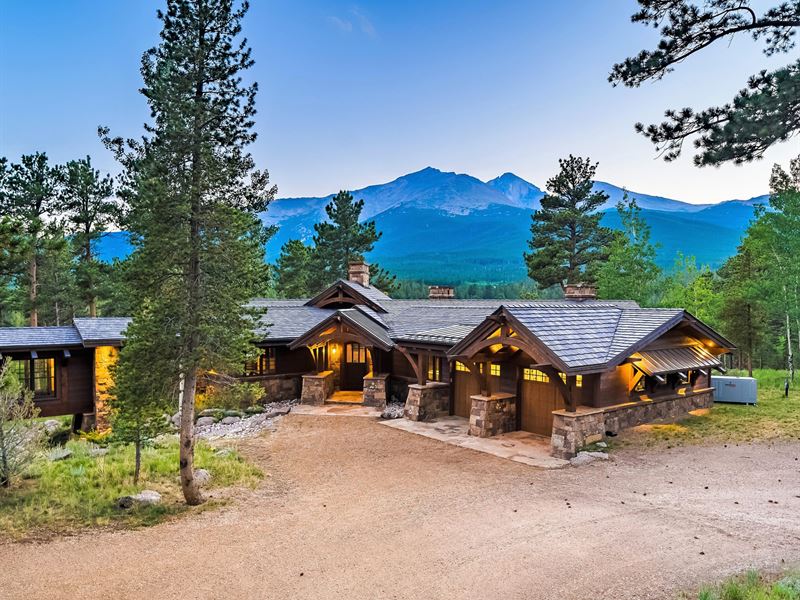 Land Description
Situated at the gates of the majestic Rocky Mountain National Park, along the Front Range of the Colorado Mountains, Bear Gulch Ranch lives up to its name. Named after two bears cubs Johnny and Jenny that were raised on the ranch, the ranch is extremely unique in just about every sense imaginable. 3 incredible homes, a trout lake, 320 meticulously maintained acres, and hands down the most incredible views in Colorado, of the iconic Longs Peak. The ranch will afford you an outstanding outdoor lifestyle, with convenient access to thousands of miles of trails & recreation through Rocky Mountain National Park.

Access - Possibly one of Bear Gulch's most underrated qualities is how easily accessible it is, while still being secluded and hidden from the outside world. With close vicinity to multiple airports with private jet capabilities, the ranch is easily reachable from anywhere. Denver and Fort Collins, CO are 1 hour away and downtown Estes Park is just 15 minutes away, offering fine dining, and many other quality amenities. A private gated entry along Highway 7 welcomes you to the ranch.

Improvements - The improvements on the ranch are absolutely the best of the best, from the finest materials & finishes, to the magical setting they embrace. The three homes total 9,629 square feet, 9 bedrooms and 10 bathrooms. All have their own distinct features, making each home unique. In addition, the improvements are doomsday proof with Generac generators that allow for full, uncompromised electrical function. All homes are being offered fully furnished.

Main House - The main house offers 5,285 square feet of richly appointed finishes. Chosen carefully to frame the incredible views of Longs Peak, custom masonry and millwork warm every room. A large master suite and 5 piece master bath will absolutely take your breath away. The gourmet chef's kitchen features top of the line appliances, and is open to the living room and outdoor patio. The patio is great for entertaining, offering its own built in grill and outdoor fireplace. An enclosed walkway leads to a multipurpose room, that is currently setup as a personal gym. With floor to ceiling windows overlooking the aspen grove outside, this is the perfect place to be present, reset, motivate and inspire. One more unique feature you will find throughout the home is the ranch emblem, a black bear with longs peak silhouetted along it's back. The emblem is a great reminder of the setting in which the home sits.

Bunkhouse - Undoubtedly a guest favorite, the bunkhouse has the ability of easily sleeping 12 and offers an incredibly unique living space. Finished to look rustic, the home is brand new and was completely renovated in 2017. Custom millwork, pieced together from a barn purchased in Nova Scotia, this cabin has characteristics most cabins do not. Unique features include barbed wire outdoor railing, a pale bucket sink, 6 bunkbeds, bar room, and a bathroom that is designed to look like a traditional outhouse door. The bunkhouse overlooks the lake, and of course has great views of Longs Peak.

Modern Home - The modern farm home, is currently being fully remodeled. Grand windows expands the living space into the outdoors and creates the sense of living outside. The focal point of this home is the back deck and the master suite upstairs, with floor to ceiling breeze windows. The feeling of being in a treehouse, with nature right at your fingertips, best describes this home.

Outbuilding - The large equipment barn has abundant storage and concrete floors. The oversized RV doors allow for large equipment storage. Equipment included in the sale backhoe, bobcat/skid-steer, 2017 Dodge Ram Truck, and Big-Tex hydraulic dump trailer.

Land Details - Rich in history and established in 1909, Bear Gulch Ranch was settled by Enos Mills who is largely responsible for Woodrow Wilson proclaiming lands west of Estes as Rocky Mountain National Park. The property is blanketed by a Conservation Easement, to protect it for future generations. Agriculturally zoned, the land has very low property taxes, gently sloped and usable. Three additional building envelopes allow you to build more home s / improvements if one so desires. With elevations ranging from 8600 to 8900, Bear Gulch Ranch has an endless supply of activities to do. Fishing on the 2 acre lake for rainbow trout, while looking up at Longs Peak is a good place to start. The lake is fed by water rights, protecting its pristine beauty. 8 miles of hiking trails are marked on the property. Some trails lead high through the aspen trees, like the trail to lookout rock. While other trails stay low, following Tahosa Creek, which meanders through the property for over a mile. Incredible stands of spruce, fir, aspen, lodgepole and ponderosa pine trees can be found along the way. Rich undergrowth on the forest floor enhances the property with colorful wildflowers and lush mountain meadows. As if the property itself wasn't enough Bordering not only Rocky Mountain National Park but also Roosevelt / Arapahoe National Forest and the Twin Sisters State Wildlife Area, makes the outdoors activities truly endless. The trailhead to climb longs Peak, a Colorado 14er is just across the street. Trailheads to Wild Basin, located in the Rmnp offering huge waterfalls hikes, are also right out your backdoor. The list goes on and on

Conclusion - Bear Gulch Ranch is a very special place, with qualities that are quite frankly impossible to match. The ranch would make an incredible corporate retreat, great celebrity retreat, family getaway or year round residence. If you are looking for the very best of the best, Bear Gulch Ranch will absolutely blow your expectations see for yourself by contacting Dax Hayden or Zack Wiese.