Prime, Access, Views, Ru-4, $175/Mo
N Vista Del Cerro Drive : Douglas, AZ 85607
Cochise County, Arizona
Expired Listing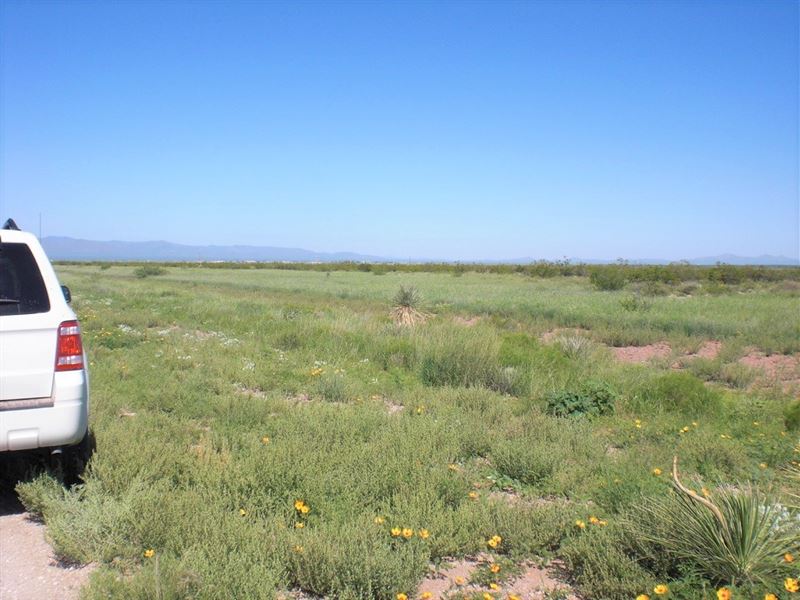 Land Description
Liquidation price on a super nice parcel on N Vista Del Cerro Drive, just off Calle Principal.

A worthy investment in your future small ranch, or just a Home-Site with a lot of elbow room :)

This is Zoned R U-4. It is the best zoning here, is as there are No Restrictions.

This is an awesome off grid parcel.

See Picture Gallery for several actual pictures of the property taken by me on 2 occasions.

Be sure to open all the maps attached in files at the bottom of listing, under Land Maps & Attachments.

Super Easy Access in any type of car, 3 minutes off paved Leslie Canyon Road.

Douglas is now designated as an ''opportunity zone'', as many areas have throughout all 50 states. This should potentially re-energize the county, increase desirability for developers and investors, and ultimately resulting in increased land values.

I am certain you'll be very happy owning this nice property, and you can't beat the price :-)

Property Details:

APN: 406-30-110, Cochise County.

Parcel size: 4.3 acres+- Lot dimensions are 517' X 389' X 298' X 581' feet (see maps attached in files below).

All parcels here had Re-bar pins placed at the corners when subdivision was created.

Coordinates to Northeast corner: 31.448603, -109.528586

Zoning: Residential R U-4. Site Built or Mobile Homes. RV's are allowed on temporary basis. There is no time limit to build and no HOA fees.

Road Access: Easy Access in any type of car.

Power: by solar.

Water: By drilling a well. Other common options for household water here is having it hauled from Maddux and Sons in Douglas, cost around for 3,000 gallons. And/or installing a Low-water-use Rain Catchment system which is becoming more popular as well as a very inexpensive option to sustain a home.

Sewer: By installing a septic system upon county approval. Septic systems are not a problem as the soil in the whole region does well for the soil analysis test required for a septic system. Composting toilet are also allowed.

Yearly property taxes are - and paid current.

Free and Clear marketable title is guaranteed.

This property is available with easy owner finance via a Contract For Deed:

Purchase price is get started: A Down Payment of + Closing Costs of is to be paid via Paypal.

I will email the buyer a Paypal invoice upon being notified you wish to purchase this property.

Remaining balance of financed via Contract for Deed for 26 months and a month.

A discount of will be given to a Cash per month to be added for prepayment of property tax.

A Contract for Deed will be promptly sent to buyer upon receiving the initial payment.

A Warranty Deed will be issued upon completion of payments.

Note:

I encourage my buyers to use the land while on contract, enjoy it, make small improvements, etc.

To be perfectly clear, in no uncertain terms... I am selling "vacant Land" - not entering into a "Landlord-Tenant" relationship...

That being said, if your intention is to start living on this land right away - then you must also pay for it in full right away - 100% use requires 100% ownership.

I need to mention this because I've had a few folks who presumptuously assumed since they paid a few hundred dollars to get into a land contract, they can now "move right in" and do as they please...