Northern AZ High Country Homesites
Cooper Lane : Snowflake, AZ 85937
Navajo County, Arizona
Expired Listing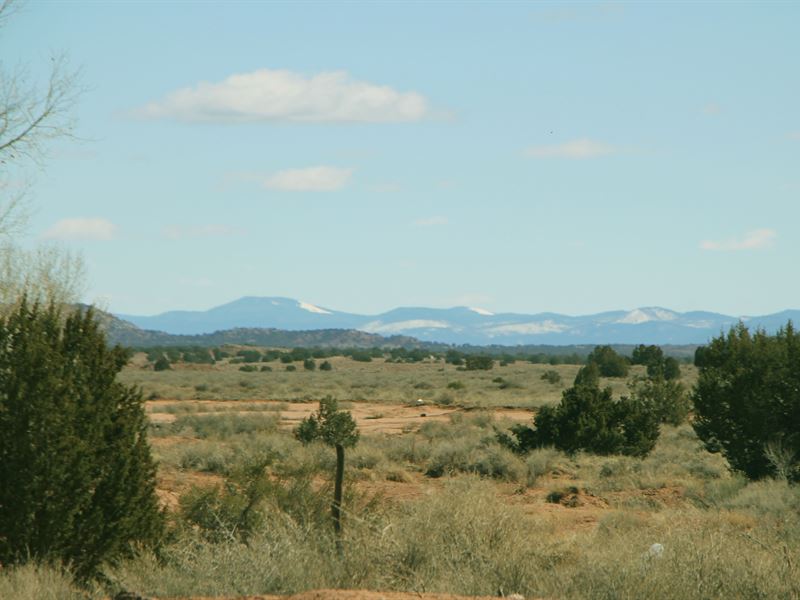 Land Description
Northern Arizona

High Country Homesites

3 Prime 1.6 Acre Homesites In Northern Arizona's Silver Creek Valley Just Released

The Land

These spacious 1.6 acre homesites are situated at the end of a quiet country lane within the Snowflake city limits and are protected by fire and police services. The approach to the lots is along Copper Lane a quiet seldom used lane which dead ends at the properties. As you drive along Cooper Lane you pass by lush fields of corn, alfalfa, and wheat which thrive in the Silver Creek valley's rich garden soils. Silver Creek itself is only a few hundred yards from the properties and has contributed to the unusually shallow water table beneath the land. Each tract is level and very easy to build on and to fence. To the east, expansive views of the hundreds of acres of uninhabited adjoining range land open up. Pastureland borders the land to the north and irrigated farmland to the west. A large home on 5 acres and additional pastureland lie to the south. Power service is located at the southwest corner of lot A and is within a short extension to lots B & C. The local power supplier, Aps, will extend the power for next to nothing with their generous extension credit. These properties overlie the massive Coconino Sandstone aquifer which produces abundant yields of domestic quality water from private well installations. Well drilling costs in the area's shallow water table are very affordable. A well located on the residential property to the south was drilled to a depth of 265'. The water rose in the well casing to a depth of 120' after puncturing the aquifer. Wastewater is handled by septic tanks. The soft absorbent sandy loam soil will easily accommodate a standard system. There are no deed restrictions attached to the land and no Property Owners Association rules, regulations or assessments. The liberal zoning allows owners to use their land for residential and agricultural uses. Livestock are permitted and RV's can also be used. The corners of each tract have been monumented by a registered surveyor and a gravel surfaced private driveway provides access to each lot. Priced from with down and monthly payments of using the no qualifying seller provided financing. There are no closing costs, no prepayment penalties and the monthly payments are handled by First American Title as account servicing agent. Call Tracey Osment for more information or to make an appointment to walk the properties.

About the Area

In the summer of 1878 Erastus Snow & William Flake rode into the lush Silver Creek valley in east central Arizona and founded the charming - historic community of Snowflake. Positioned ideally atop the Colorado Plateau at 5,600 above sea level, Snowflake offers some of the finest year-round weather available anywhere in the American southwest. Outdoor work is in Snowflake is rarely curtailed due to the weather. The winters here are mild, typically producing less than 18" of snow, most of which falls at a rate of two to three inches per storm and melts into the soil within a day or two. The average high temperature in the coldest month of January is 50 degrees under bright sunny skies. Snowflake receives over 300 days of sunshine per year accompanied by 11" of rainfall. Summer temperatures are mild with daytime highs averaging in the upper 80s and evening lows in the mid 60's. In mid-summer the annual monsoons rains arrive, bring with them refreshing afternoon rains that cool the air and bring out a profusion of native grasses and colorful wildflowers.

Traditionally Snowflake has been coveted as cattle and farming land due to the land's rich sandy loam garden soil and variety of nutrient rich range grasses. Great weather, rich soils, and unmatched outdoor recreation are reasons enough to own land here, but it's the abundance of pure shallow groundwater from one of the Southwest's largest underground aquifers that assures land owners of long term water supplies. Wells are relatively shallow and inexpensive to drill. Water is a priceless resource that will continue to add value to this land for generations to come.

Today Snowflake (population 5,800) offers its residents all of the modern shopping conveniences while still maintaining the slow paced easy going small town feel. Recreation is in abundance. Snowflake is positioned on the edge of the 2 million acre Sitgreaves National Forest and its miles of free flowing streams, crystal clear fishing lakes, and unmatched big game hunting.