Nice, Scenic, Camp, Build, $246/Mo
Lucerne Valley, CA 92356
San Bernardino County, California
Expired Listing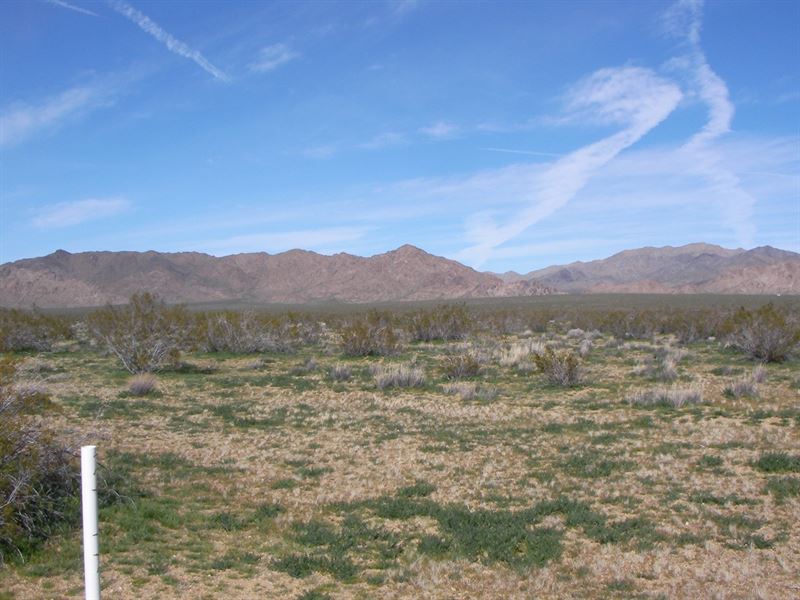 Land Description
Here's an awesome 10 Acres "Corner Lot" off Hwy 247. between Barstow and Lucerne Valley.

Price has been sharply reduced...don't miss out.

The City of Barstow Is 17 Miles north of the Property - Lucerne Valley is 13 Miles south of it.

This is a very scenic location - See actual pictures in gallery above.

Be sure to open all the maps attached in files at the bottom of listing, under Land Maps & Attachments.

This wonderful 10 acres is located just a couple of minutes from Hwy 247. There are just a handful of residences in the vicinity - none right next to the parcel hence plenty of privacy. There's a primitive dirt road frontage on the north and east sides of the parcel. High Clearance vehicle is best.

Terrain is level to very mildly rolling, and offers magnificent views to every direction.

Parcels of this quality are rarely seen at this low price.

Terms of sale:

Purchase Price: get started: A Down Payment of + Closing Costs shall be paid via Paypal.

I will send the buyer a Paypal invoice upon being notified you are ready to purchase this property.

We will owner finance the remaining balance of at one of the following 3 options:

A) 12 Months with 0% interest, monthly payment of 24 Months with 3% interest, monthly payment of 36 Months with 5% interest, monthly payment of per month for prepayment of property tax shall be added to monthly payment.

Property Information:

Apn 0464-0000 San Bernardino County

Coordinates Northeast Corner: 34.620371, -116.982129

Legal Description: SW 1/4 NE 1/4 SE 1/4 SEC 9 TP 6N R 1W 10 Ac

Size: 10 Acres. Lot dimensions are 660' X 660' feet.

Terrain: Level to slightly rolling.

Access: Dirt Road off Millberry Street.

Zoning: Residential.

This land is off-grid. There are no public utilities.

Water: Common options for household water would be: A) Drilling a well. B) Have it hauled to a storage tank.

Sewer: By installing a septic system.

Electric: Via Solar system.

Time Limit to Build: None

Association Dues: None

Title: We always guarantee a free and clear marketable title.

Annual taxes: Taxes are paid current.

Note:

I encourage my buyers to use the land while on contract, enjoy it, make small improvements, etc.

I am selling vacant land - not entering into a "Landlord/Tenant" relationship...

That being said, if your intention is to live on this land right away - then you must also pay for it in full right away - 100% use requires 100% ownership.

I need to mention this because I've had a few folks who presumptuously assumed since they paid a few hundred dollars to get into a land contract, they can now "move right in" and do as they please...