Gold Fork River Frontage
176 Davis Creek : Donnelly, ID 83615
Valley County, Idaho
Expired Listing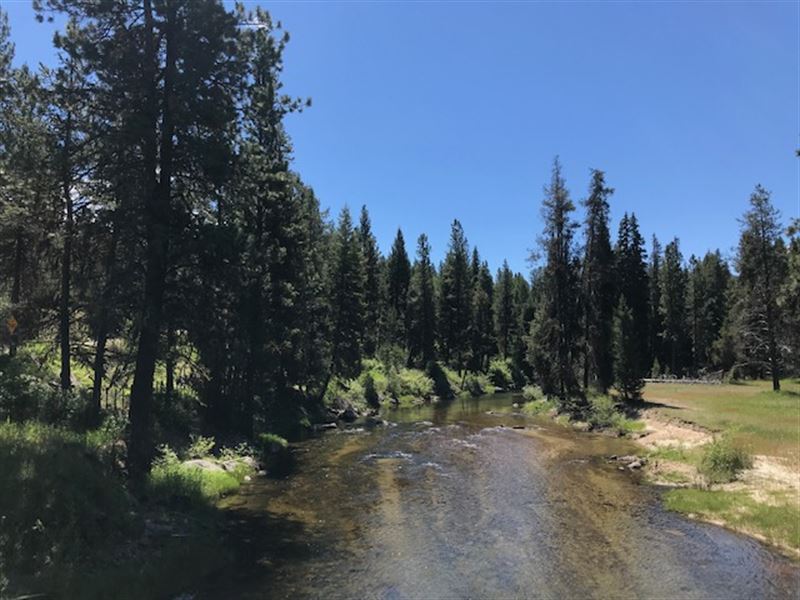 Land Description
Welcome to your dream recreational property. Nestled on 30 acres, this stunning riverfront retreat is a nature lover's paradise. Located in a serene and private setting, just minutes from Donnelly and Cascade Lake with easy access from Highway 55.

Land

The 30 acres of wooded and rolling property is the perfect waterfront oasis. The land highlights private river frontage access along the Gold Fork River and open pasture with an abundance of wildlife.

30.01 Acres

Gold Fork River Frontage

Irrigation Included

Wooded

Open Pasture

Improvements

Water and electric have been installed to 4 different RV spots. Percolation reports are available for the proposed septic system.

Recreation

Avid fisherman will enjoy direct river access. They will also appreciate being less than 10 minutes from Lake Cascade where there is additional fishing and water sport opportunities.

The land highlights open pasture and wetlands that attract waterfowl and area wildlife such as deer and elk, making this a suitable hunting retreat.

Gold Fork Hot Springs is a mere 17 minutes from the property. This developed geothermal hot springs is a great place to soak and relax in mineral-rich waters. It is open to the public and no reservations are needed so you can visit regularly.

3.3 miles from Lake Cascade

4.8 miles from Gold Fork Hot Springs

5.5 miles from Donnelly, Idaho

13.5 miles from Tamarack Ski Resort

19.4 miles from Ponderosa State Park

19.9 miles from McCall, Idaho

21.0 miles from Payette Lake

27.9 miles from Brundage Mountain Ski Resort

Water/Mineral Rights & Natural Resources

18 Shares of Gold Fork Irrigation is included. Ditch and flood irrigation is in use on this property.

Region & Climate

Located close to Donnelly, Idaho in Valley County, this waterfront estate is just minutes from the local restaurants and stores. Donnelly is midway between 2 Idaho resort towns. It is 16 miles from Cascade, ID and 13 miles from the resort town of McCall, ID. Cascade, ID is a small mountainous town situated along Highway 55 and Lake Cascade Recreational Area. This state park is popular for the water sports it offers such as sailing, boating, swimming and windsurfing. It also has several developed campsites and hiking trails. Some of the local annual events in Cascade include the Valley County Fair, the Winter Jamboree, Cascade Thunder Mountain Days, the Buckskin Bill Rendezvous and Howdy's Fishing Derby. Valley County is also host to some of Idaho's most beautiful waters. Among these are the Salmon River, Payette Lake and Lake Cascade. These rivers and lakes are known for their tremendous fishing. These bodies of water boast diverse species including rainbow trout, Kokanee trout, salmon, steelhead and small mouth bass.

To the North is McCall, Idaho which sits along the banks of Payette Lake. It is an outdoor recreational hot-spot especially for many residents from the Boise metro area who are looking for a weekend escape. Besides Brundage Mountain, McCall is also central to both the Little Ski Hill and Tamarack Resort thus making McCall known for its winter recreation. Visitors and residents enjoy activities such as Nordic skiing, cross country skiing, snowboarding, snowshoeing and tubing. In fact, one of the its most vibrant events is the annual Winter Carnival held every January which exhibits intricate snow sculptures throughout the community. People also escape to this charming mountain town during the summer months to enjoy activities such as river rafting, kayaking, fishing, boating, jet skiing, camping, hiking or soaking in the one of the area's natural hot springs. The spectacular mountain scenery and lake views can be appreciated from downtown McCall but for a more intimate and unspoiled view, many like to visit Ponderosa State Park. This public park is just on the northern outskirts of town and offers hiking trails, camping sites and beaches along the Payette Lake.