19.51 Ac in Kenai Peninsula Borough
Rowen Circle : Anchor Point, AK 99556
Kenai Peninsula Borough, Alaska
Expired Listing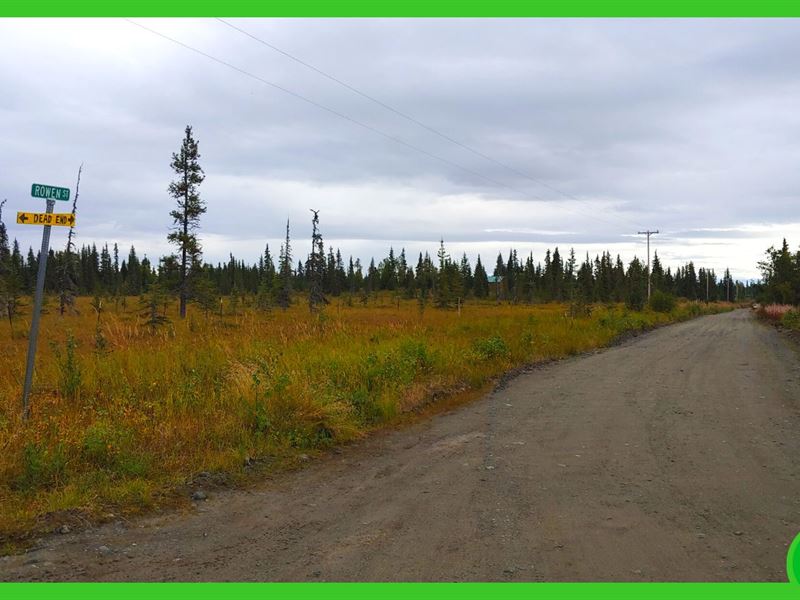 Land Description
There's plenty of space to spread out, enjoy nature, and unwind from your busy life in silence and pure relaxation.

There are no covenants or restrictions here - camping, mobile homes, and RVs are all permitted.

You will have complete privacy here, with no one bothering you. Enjoy nature at its best. There is plenty of wildlife in the area.

Stariski Creek is just in the back of your property, and it offers some amazing fishing opportunities.

World famous fishing in the Kenai River is just up north as well.

Anchor point is only 11 miles from the property. Homer is located 27 miles to the south while Kenai is 58 miles to the north. Lot is located pretty close to the ocean.

Reaching the property is a breeze thanks to well-maintained roads.

Payment notes

We offer no credit check owner financing starting at with just down at 8% interest OR you can buy with an All cash discount of There is no prepayment penalty. You can pay extra or pay it off at any time. The more you put down the lower your interest earnest money deposit to hold property (refundable for up to 3 days, less for credit card fees and processing).

GPS Coordinates

Paste this into your map app: 59.885361, -151.731389

All Property Details

County: Kenai Peninsula Borough, Ak

Street: There isn't an assigned address yet on Rowen Circle, Anchor Point, AK 99556

Size: 19.51 acres

Legal description: T 3S R 14W SEC 20 Seward Meridian HM 0970062 Stariski Meadows Lot 9

Terrain: Rolling

Access: Dirt road

Property zoning: No zoning

RV's: RVs are allowed

Mobile homes: Mobile homes are allowed

Camping: Camping is annually

Electric: Power is available near the lot - Homer Electric Association

Water: Would need to install a well - Smith Well Drilling Inc

Sewer: Would need to install a septic - Elevated Construction Llc

Utilities disclaimer: We do not make recommendations on any vendors. The utilities installer contacts listed are purely for your information. There may be other options available in the area. Please use this information at your own discretion.

Flood zone: Not in a flood zone area

Setbacks: None

Minimum build size: None

"Refer someone who buys land from us and we will pay a referral fee."

We are a real estate investment company. We buy and sell land throughout the country, so we are unable to meet you at the property. We are not utilizing the services of a realtor, so you are welcome to visit the property at any time. We encourage you to visit the property at your convenience to make sure the property suits your needs.

Disclaimer: We have not been to this property. Everything we know is in this ad. No warranties are stated or implied. Land is being sold as is. Buyer is responsible for doing all due diligence and verifying accessibility, utilities, buildability, and all other information contained herein prior to purchase.

Cheap Land for Sale.

Low Down payment.