Make This Wilderness All Yours
Leprechaun Ln : Winnemucca, NV 89445
Humboldt County, Nevada
Expired Listing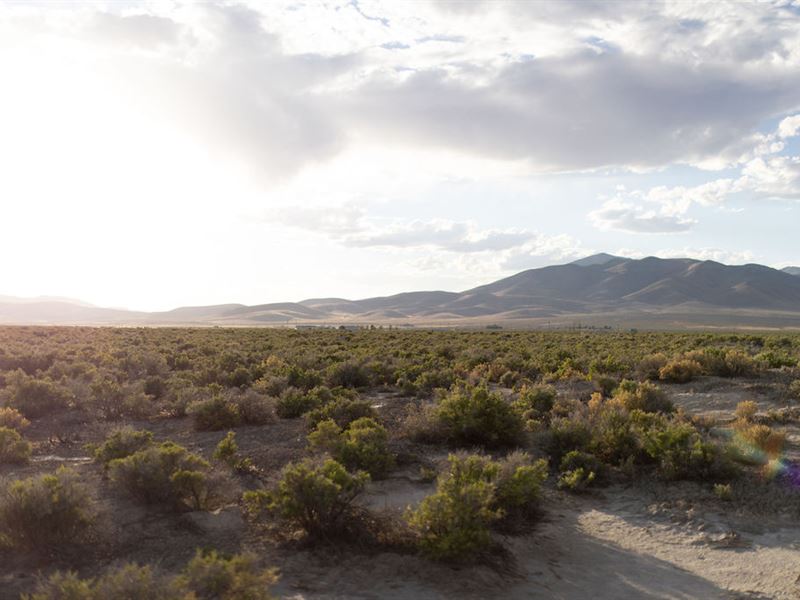 Land Description
Ready for Some Social Distancing? Escape to your 10 Acre Property in Humboldt County, Nevada and Forget About the Real World For a While…Own this 10 acre property outside of Winnemucca, Nevada and get out of the busy city and enjoy wide open spaces and stunning views. Forget about the craziness of the city and escape to beautiful northern Nevada. Check out all there is to do in the area at the bottom of the listing.

Want to see the full picture file and videos of the property? Call, text or email me.

The wide open landscape in rural northern Nevada has 24 hour gaming action, endless recreational opportunities and is rich in community history. The area has golf courses, fishing and hunting areas, and tons of biking, hiking and ATV areas to explore. Grab your camping gear and head out for the weekend to see what you can find, then come back to your homebase and relax for a few days before heading out again.

You can OWN this property for only a month. So escape the city on weekends and later in life make this your retirement dream home. Enjoy the culture, history and wide open spaces with family and friends for years to come.

This 10 acre property is just what you've been looking for in an escape from the hectic city. Finally get the quiet lifestyle you've dreamed about and enjoy the Basque culture, parks, museums, and golf courses. There is always something going on in Winnemucca including car festivals, Winnemucca Wheels the west's premiere photography symposium, and Shooting the West. You are going to love the small town feel and will love calling the area home, even if it is only on weekends.

Make this property your own personal campground, build a dream home, or pull in with your Rv.

Get in touch for all the details and find out how easy it is to become a property owner.

The high desert of northern Nevada is full of classic charm and is known as the crossroads of the west. Make this property your jumping off point for tons of outdoor recreations.

You'll be close to fabulous hiking, hunting, biking trails and miles of ATV and off-road adventures. The area is also home to several diverse restaurants and casino gaming, so there is truly something here for everyone to enjoy.

Enjoy the beautiful weather, the peace and quiet, and the abundant sunshine when you buy this property. Despite its relatively rural setting, those buying land here will find a surprising amount to do in Northern Nevada. In addition to the town of Winnemucca, there's also the Rye Patch State Recreation Area, just down the highway outside of Lovelock, the Blackrock Desert Conservation Area, home to the annual Burning Man events, Lahontan State Recreation Area just outside of Fallon and Pyramid Lake just north of Fernley. In addition, the Reno/Tahoe Metro Area, home to plenty of resorts, casinos and world-class skiing is only two and a half hours west of the subject property and may prove an excellent resource for weekend getaways.

Check out the pictures of the property and its views and imagine getting to spend all your free time enjoying these stunning mountain views and wide open spaces.

Have questions? Want to see the full picture file and videos of the property? Call, text or email me.

It's not too far from town when you need to stock up. 15 minutes to Paradise Valley. Winnemucca is located just a quick 25 minute drive away from the property. With a population of a little under 8,000, this quaint western town is home to a number of amenities including big box stores such as Walmart and Ace Hardware as well as fast food restaurants, casinos, stores and bars. In addition, this town is also home to a number of government services, schools, parks and churches, which should be a benefit for anyone looking to raise a family here.

There's a Sinclar gas station about 7 minutes up the road.

Winniemucca (27.3 Miles / 29 min)

Weso (30.5 Miles / 36 min)

Fallon (156 miles / 2 hr 21 min)

Fernley (161 miles / 2 hr 22 min)

Address: Leprechaun Ln, Winnemucca, Nv

Subdivision: None

Notes from our photographer: Access to the road was tricky. Google maps wants to take you down a dirt road to nowhere but if you follow the gravel road there, it is the most successful. Gravel/dirt road.

4 Corner GPS Coordinates:

Nw Gps: 41.28561, -117.608162

Ne Gps: 41.285614, -117.605871

Sw Gps: 41.2838, -117.608162

Se Gps: 41.2838, -117.605855

Zoning: Ag Residential - No time limit or minimum square footage to build. Mobile homes allowed.

Camping: Up to 30 days in a calendar year

RVs: In land zones AG or M3. A recreational vehicle can be occupied for 30 days cumulative before a permit is required. After the 30 days a permit is required and the recreational vehicle shall be connected to well, sewage disposal system & tied down.

PRICING: Discount Cash Price: plus a document fee, or alternatively…Owner Financing Price: down for the doc fee ( non-refundable ) and in equity for a total of down. Monthly payment: /Mo.

No prepayment penalties and NO hidden fees. We are flexible and can make this fit any budget if you can meet our minimum downpayment and monthly payment for this property. Eric and I are family men and enjoy making land ownership available to families like ours who want to make memories for years to come. we can owner finance with a land contract. If paying in cash, we can transfer with a warranty deed and guarantee a clean title.

CONTACT Helen.