2.40 Acre Pine Treed OR Retreat
Golden Eagle Dr : Bonanza, OR 97623
Klamath County, Oregon
Expired Listing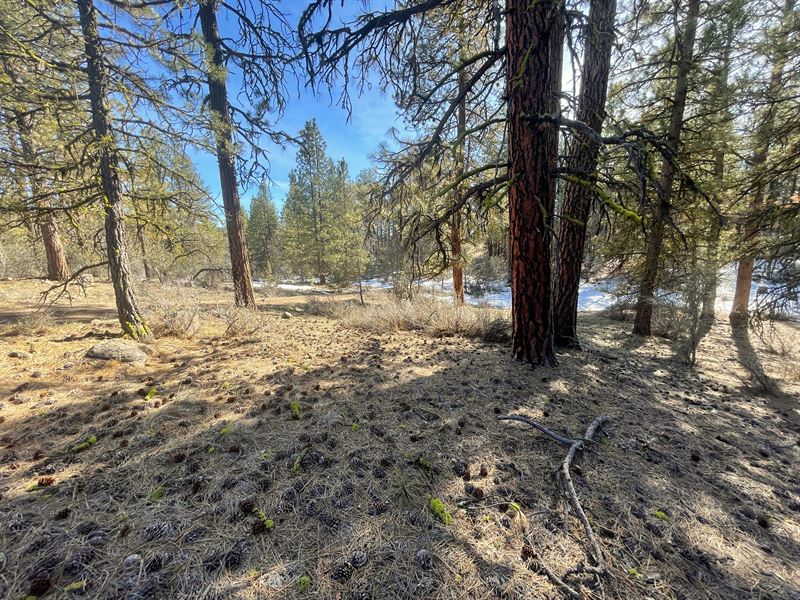 Land Description
Will finance. No credit checks. Call/text Shannon to start your investment.

Outdoorsman's Dream Property: Close to thousands of acres of Public Lands for the ultimate backyard playground. This massive public acreage is part of the Klamath Falls 32 Game Management Area for hunting of big game.

Just an hour north of the California border sits the rural (but not remote) community of Klamath Falls Forest Estates near Bonanza, Oregon.

Featuring some of the greatest treasures of the Pacific Northwest.

The fur trade brought the first settlers to this area in the early 1800S, and they marveled at what this land had to offer.

Hunting and fishing are just a taste of what this region is famous for. And it all sits in the backyard of this Klamath Falls Forest Estates community.

Whether it's waterfowl hunting for duck and geese in the 23,000 acre Upper Klamath National Wildlife Refuge, or big game hunting of deer and elk in the Klamath Falls, Keno, or Sprague Game Management Areas, Klamath County has it all on the menu.

It's also home to Oregon's top trophy fly fishing waters: the world-famous Williamson and Wood Rivers.

Where "lucky" fishermen are routinely rewarded with 10+ pound Rainbow trout.

And it's just east of the massive 61,543-Acre Upper Klamath Lake, embraced by the majestic Western Cascade Mountain range.

The views from this Klamath Falls Forest Estates property are something you'll never tire of.

But sportsman activities are not the only options around here.

With Crater Lake National Park a little over 1 hour away, all-season recreational activities abound. You'll lose yourself in the miles and miles of hiking, biking, backcountry camping, and cross-country skiing.

Crater lake is America's deepest (1,943 feet) and cleanest lake. Revered for its intense blue color and fed entirely by rain and snow. You'll return often for the serenity this national treasure provides, and why not?

And with so much pristine water around, it's no surprise this region is also famous for kayaking, canoeing, and drift boat fishing. One run through the 9 1/2 mile Upper Klamath Canoe Trail, and you'll be hooked.

The Klamath Falls Forest Estates community features rural but not remote living.

Only 12 miles away, the Lost River runs right through the nearby town of Bonanza (population 421), a former Modoc Indian village.

Named after the Spanish word for "great prosperity," Bonanza features restaurants, groceries, a coffee shop, a gas station, and the Bonanza General Store. There are elementary and high schools. It even has its own winery.

Bonanza is a small, friendly place known for its pleasant atmosphere to work and live. Getting to know people is easy and making life long friends is common.

But just in case you need a taste of the City life, Klamath Falls (population 42,000) is only 43 minutes away.

Sporting 300 days of sunshine a year, Klamath Falls offers big-box shopping (including a Walmart Supercenter and Home Depot), nightlife, plus many dining options.

The Klamath Falls Farmer's market is your best bet for delicious farm-fresh produce, bakery goods, meats, dairy, honey, and handicrafts.

Klamath Falls is home to the Oregon Institute of Technology (Oit) and the ultra-modern Sky Lakes Medical Center. It has plenty of culture with museums, antique shops, and even the historic downtown trolley.

And when your outing is over, you'll love coming home to this exceptional 2.4-Acre lot in the Klamath Falls Forest Estates community.

Situated close to the Klamath Falls Lakeview Forest State Park, you're in good company.

And what's not to love with relaxing views of the cascade mountains and the valley at your feet.

Whether it's morning coffee or dinner with family and friends, you'll be savoring that million-dollar view for a lifetime.

And with a 2.40-Acre parcel, you have everything you need to draw up plans for a retreat, full-time residence, or retirement dream home.

When it comes to self-sufficiency, Bonanza gets an above-average 214 sunny days each year. This is sure to boost your mood while generating decent power, should you decide to go solar.

But a million-dollar view doesn't have to cost a fortune.

Offered below market value, the future steward of this land enjoys instant equity while turning their dream of an accessible mountain-view home into a reality.

What can make this property even better?

This is truly the perfect community for all the right reasons.

So let's add it all up:

- Close to thousands of acres of Public and Game Management Area lands for the perfect outdoor paradise.

- A beautiful residential parcel with stunning mountain views and perfect southern exposure.

- Tremendous value (instant equity).

- 17 minutes to town (Bonanza).

- 41 minutes to bigger City services (Klamath Falls).

- Access to year-round recreational activities, including big game hunting, trophy fly fishing, kayaking, canoeing, hiking, biking, and cross-country skiing.

Will finance. No credit checks. Call/text Shannon to start your investment.