Monarch Hideaway Ranch Lakehouse
7354 W Boulder Blvd Cr 146 : Roosevelt, UT 84066
Duchesne County, Utah
Expired Listing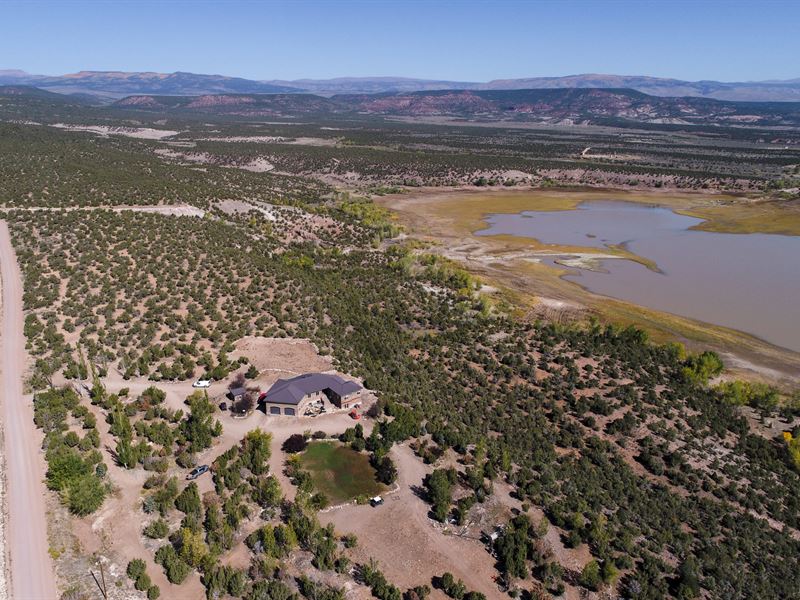 Land Description
Located just outside of Neola, Utah, Monarch Hideaway Ranch and Lake-House is truly a one-in-a-million property. The ranch covers 922 acres of pristine Utah Wilderness to explore, hunt and fish in and includes a beautiful, lakefront home that totals 6350 square feet. Sellers reviewing All offers from qualified buyers.Land The ranch is a sweeping 922.39 acres of lakefront, bluffs, and desert plains that combine to make a property whose variety and beauty is difficult to match. Much of the land is relatively flat, with mild rolling hills covered by juniper and sage. The contrast between the vibrant green junipers, their bright blue berries, and the iron-rich, rocky earth is stunning, making the property feel almost Jurassic. There are also groves of cottonwoods and more water-loving plants sprinkled throughout this hilly terrain which provide shade and a terrific place for a family picnic.

Toward the far end of the ranch the topography shifts over to steep, rocky hills cut through by winding canyons and draws. These mysterious canyons are the reason behind the Hideaway' in the ranch's name. The ranch itself is quite isolated, but inside these canyons, your privacy is absolute. There is no better place for an adventurous getaway. The tops of the desert hills provide a clear view of the beautiful neighboring town of Neola, and gives the onlooker an incredible sense of scale, depth, and majesty.

Improvements The monarch lake-house is country living at its finest. It sits at two stories with 3 bedrooms, 4.5 baths, and stunning panoramic views of the adjacent Browns Draw Reservoir, which is why it has come to be affectionately known as the lake-house. The home includes extensive storage space and amenities including a steam shower and 3 different fireplaces located throughout the home. It is heated using ground source geothermal energy and fed by well water, making it ideal for the buyer interested in self-sufficiency and independent living. The home also comes equipped with an attached two car garage.

There are two detached well-houses located on the property, and two water wells with the potential to add more. The first well and house is located next to the lake-house and the second is located deeper inside the property.

Recreation Monarch Hideaway Ranch is perfect for the avid hunter, outdoorsman, or wildlife enthusiast. Turkeys, elk, and mule deer can all be found on the property. There is even a wildlife pond fed by an additional water well nestled into the landscape. The back side of the ranch borders the Northern Uintah and Ouray Reservation. This provides additional privacy for the ranch and improves hunting in the area as game within these areas is not hunted by the public.

The neighboring Browns Draw Reservoir is excellent for fishing and is home to Rainbow Trout, Tiger Trout, and Brown Trout. The reservoir is also perfect for swimming, kayaking, canoeing, or stand up-paddle boarding, and even offers a small public boat ramp for watercraft. All of these grand features are just a short hike from the lake-house.

The property is also incredibly well suited for horse-back riding, mountain biking, ATV or motorcycle riding, hiking, and exploring. There are already several pre-existing trails throughout the landscape, and plenty of room to add-on.

Water/Mineral Rights & Natural Resources There are two water wells on the property, each of which is capable of pulling 20 gallons of water per minute GPM. There is also existing infrastructure to build a third well, though it is currently unfinished. The owner of the property is in the process of permitting a 4th well, which will be used to feed 4 additional wildlife ponds which are also currently under construction.

Region & Climate About a half an hour drive from Roosevelt, UT, and 45 minutes from Vernal, UT, Neola is a small, tightly knit community that will make you feel like you have been transported back in time. From the quaint gas station on main street, to the beautifully maintained churches and spunky farm houses around the corner, every square inch of this small town breathes character and charm. Plus, the surrounding area is filled with activities and adventures. World-class mountain biking, motorcycling, and ATV riding can be found in both Vernal and Roosevelt, in addition to several large reservoirs if your boat or fishing line ever outgrows the lake next to the ranch. The nearby Uintah Mountains are perfect for camping, backpacking, and day trips as well. As far as weather goes, Neola's climate is temperate and dry and all four seasons can be experienced there, making it an old fashioned paradise.

Location Monarch Hideaway Ranch and Lakehouse is located -half hours by car from Salt Lake City International Airport, and 45 minutes from the small Vernal Regional Airport.

Call Brecken Beers or Bill Rodgers for your private tour today.