Huge Trees Hunting Property
San Luis, CO 81152
Costilla County, Colorado
Expired Listing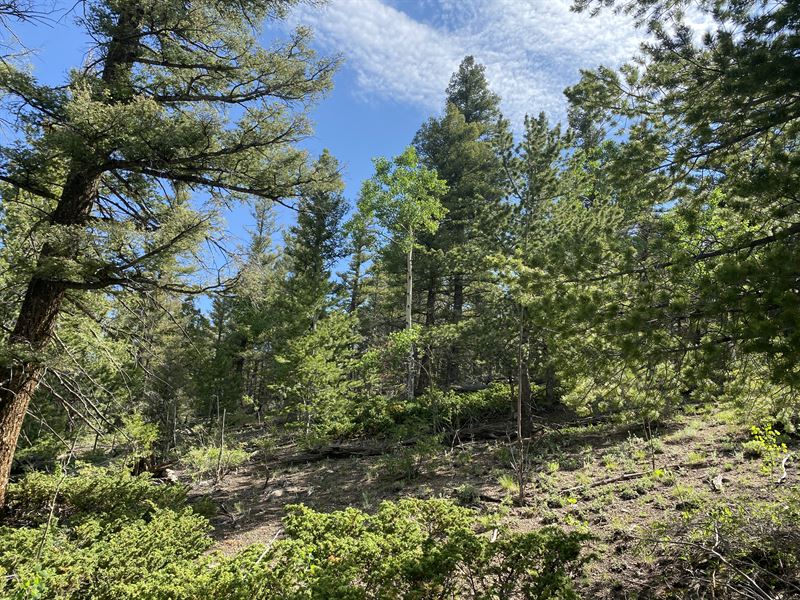 Land Description
We are excited to showcase this amazing 5 acre fully treed property.

This one is a drive up into the woods of the Sangre de Cristo mountains. The property is a U shape around the road and is slope up from the road, but there is an area to the South that is more level you could put a driveway up for an off the grid hunting or a peaceful escape cabin Tons of big trees and wildlife up here and gorgeous views the higher you go up the property. Great access during the dry months, but access during the winter months will be limited due to snow.

Assessor's Parcel Number: 70263330

Address: Follansbee Rd, San Luis, CO 81152

Subdivsion: Sangre de Cristo Ranches

Lot number: 5634

Legal Description: S.D.C.R. Unit T-2 BLK 252 Lot 5634 ) Cont

Parcel size: 5.019 acres

Terrain type: Mountain/ Fully Treed

GPS Coordinates: 37.2767,-105.3213

GPS Coordinates (4 corners):

37.2776,-105.3219 Nw

37.2769,-105.3202 Ne

37.2759,-105.3216 Se

37.2767,-105.3222 Sw

Access to property: Follansbee Rd. Winter access would be limited

Road surface/type: Dirt

Who maintains roads: County

Closest highways: CO-159

Closest major city: Pueblo, Colorado (202 miles; 2hour, 2 minutes)

Closest small town: San Luis, Colorado 81152 (14.9 miles; 35 minutes)

Closest gas station: Conoco, 513 Main St, San Luis, CO 81152 ( 14.8 miles; 34 minutes)

Property Tax Information

Annual property & Restriction Information

Zoning / Property use code: Estate Residential (Er)

What can be built on the property? House Only, No agr, No farm, No business (Please check the attachment for more details - Article 4 Zone District Regulations - Section 4.10 - Use Tables)

Time limit to build? One Year and can be renewed after permit expires

Is camping allowed? Yes

Camping restrictions if any: 14 days every 3 months

Are RV's allowed? Yes

RV restrictions if any: 14 days every 3 months

Are mobile homes allowed? yes

Mobile home restrictions if any: Mobile Homes manufactured prior to 1976 are prohibited in unincorporated Costilla County.

Is property part of an HOA or Poa? Optional must fill out form and decide to be part of Sangre de Cristo Ranches Hoa

Hoa or POA dues if any: Optional HOA annual

Utility Information Water: Would have to drill a well or haul water. Would have to contact Fort Garland Water & Sanitation )

Sewer / Septic: Septic would have to be installed

Electric: May use Solar, or contact Xcell Energy ) or San Isabel Electric Association Inc )

Gas: There is no natural gas, can use propane. Would have to contact AmeriGas Propane), Conejos Propane) or La Veta Propane )

Waste: Would have to contact G T Trash Services ) or Cortez Sanitation )

Info on the Subdivision: The Sangre de Cristo Ranches were developed, by Malcolm Forbes (founder of Forbes magazine), in the heart of the Sangre de Cristo Mountain range. Mt. Blanca towers at over 14,000 feet, highlighting the views from many properties in the area. To the west, the San Luis Valley is a fertile High Plains Desert, roughly 7,500 feet above sea level. The landscape within 44,000-Acre Ranches varies from sagebrush and Pinon at the lower elevations, and Aspen and various tall pine varieties above 9,000 ft. The Ranches are located about 5 miles to the south and east of Fort Garland, Colorado.

The property is near the over 5,000 acres of greenbelt that were set aside for hunting and recreation exclusively for landowners in this area. Like to fish also? There is also great fishing and boating in the nearby Mountain Home Reservoir and Smith Reservoir.