Randolph County In Land Auction
8646 S Arba Pike : Lynn, IN 47355
Randolph County, Indiana
Expired Listing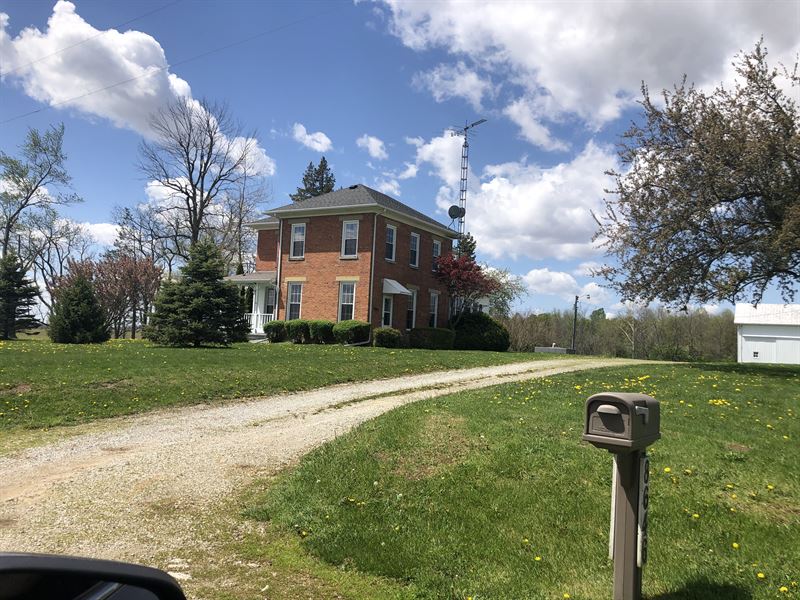 Land Description
• Quality Soils with 195.58 +/- FSA Crop Acres • 2022 Crop Rights to the Buyer • Picturesque Farmstead with 1800'S Brick Home & Buildings • 5 Miles East of Lynn, IN & 5 Miles West of Palestine, OH • Wooded Recreational Land with 49 +/- Acres in the Indiana Classified Forest Program • Abundant Frontage Along 3 Roads, Including US 36

Open House/Inspection Dates

Tuesday, July 27th, from 11 AM - Noon

Saturday, July 31st, from 10 AM - Noon

Tuesday, August 10th, from 11 AM - Noon

Property Location

8646 S Arba Pike Lynn, IN 47355

The property lies South of US 36. Tracts 1-4 have frontage on Arba Pike & CR 900S. Tracts 5 & 6 have frontage on the South side of US 36, 1/4 mile East of the Arba Pike

Auction Location

Randolph County Fairgrounds - 1885 US 27 Winchester, IN 47394

Tract Descriptions

Tract 1: 46± ac w/ 44.26+/- FSA tillable acres. Productive tillable tract farmed as 1 field. Good mix of Treaty, Patton & Losantville soils. This parcel has an open ditch running along the west side for a great drainage outlet. Frontage along Arba Pike & CR 900 S.

Tract 2: 41± ac w/ 39.85+/- FSA tillable acres. Farmed as one field. Frontage on Arba Pike & CR 900 S.

Tract 3: 7± ac w/ an 1800'S 2-story brick home featuring 2,286 sq. ft. You will find lots of character in this home w/ original woodwork & a vintage staircase. The property includes 23 ft x 40 ft metal sided garage built in 1990 & 30 ft x 42 ft barn w/ an 16 ft x 42 ft lean-to. This is a picturesque setting w/ a nice size yard & a small group of mature trees at the rear of the property. Consider combining this w/ Tract 4 to create an outstanding country property.

Tract 4: 25± ac w/ 12+/- FSA tillable acres & 12+/- acres of Classified Forest. This is a great combination tract. Examine the possibility of making this a rural building site.

Tract 5: 105± ac w/ 96.27+/- FSA tillable acres w/ the balance in woodland. This is farmed as one field w/ frontage along US 36. The tract lies relatively flat & has a nice mix of quality soils. Add this to your current farming operation.

Tract 6: 21± ac w/ 19.5+/- acres of Classified Forest along w/ 1+/- acre of tillable. This is a nice wooded tract w/ trails & paths throughout. Consider this for recreation or a potential home site.