1.41 Acres In Cocke County, TN
Cosby, TN 37722
Cocke County, Tennessee
Expired Listing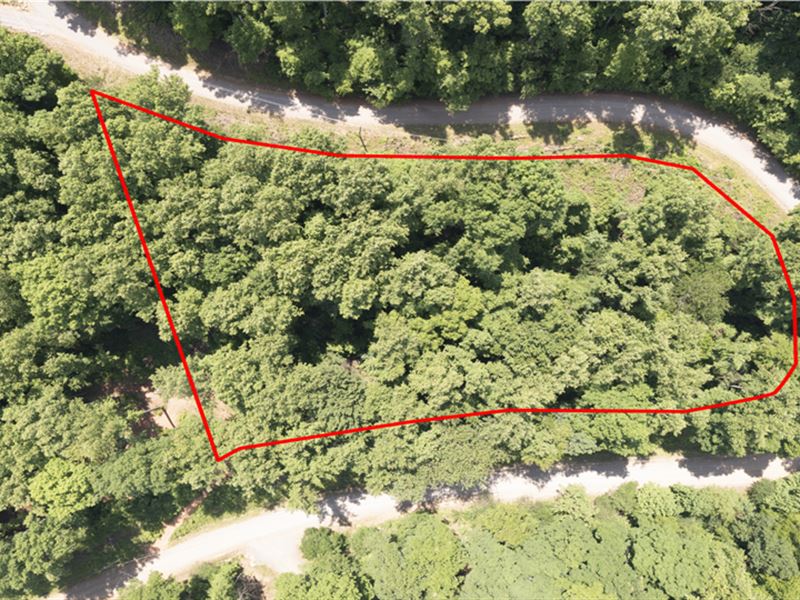 Land Description
Want a great place to build your new home? Then you came to the right place. Surrounded by the beauty of the majestic Great Smoky Mountains, Cocke County, TN is truly the Heart Of The Smokies. This 1.41 acre property is ideal for investment and future cabin site with a welcoming residential atmosphere, educational opportunities, and recreation, all set on a serene, country landscape. This property is just an hour away from cities like Knoxville and Jefferson City. If you're looking for an adventure, Cocke County has your back. There's a bunch of stuff you can do and visit in the area. One of the favorites is Adventure Park Ziplines, a 41 minute drive from the property this adventure is situated right off the Parkway in Sevierville. Sitting on 70-acres, this nature park offers zipline and horseback riding tours. Aerial Adventure Park is another fun place to visit, only 43 minutes away from the property, and is ready for you when you want to get an adrenaline rush or have some fun in the sun at the swimming pool complex that includes a pool, splash pad, and a lazy river. There are also plenty of other outdoor activities, plus a bark park for your four-legged family members. You don't want to miss the Adventurous Side of the Smokies, the community involvement and the sense of pride felt by residents contribute to making Cocke County the place to stay and the place to play in Eastern Tennessee.

Property Details

Property ID: Tennessee001

State: Tennessee

County: Cocke County

Nearest Town: Knoxville, Tn

Zip Code: 37722

Apn: 111-019.17

Title: Purchased w/ Title Insurance

Property Taxes: Hoa: N/A

General Elevation: 1600 Ft

Terrain: Level to Sloping

Zoning: Residential

Acreage: 1.41 Acres

Square Feet: 61,420.00 Square Feet

Access: Gravel Road

Subdivision: N/A

Power: Power Is Available

Water: Water Is Available

Sewage: Sewage Would Be By Septic

Gas: Gas Is Available

Phone: At&T, Verizon, T-Mobile

Internet: ATT & Planet Connect

Stick Build Homes: Yes

Alternative Homes: No

Tiny Homes: No

RV: No

RVing While Building: No

Tent Camping: Not Permitted

How To See The Land

Simply enter any of these GPS coordinates in your favorite maps software to find it. See below for approximate coordinates:

Center: 35.823180, -83.233830

Northwest Corner: 35.823720, -83.234140

Northeast Corner: 35.823220, -83.233320

Southeast Corner: 35.822840, -83.233840

Southwest Corner: 35.823070, -83.234370

Nearby Towns From The Property

Knoxville (1 hr and 4 min from the property), Jefferson City(48 min from the property), Sevierville (37 min from the property)

Nearby Points of Interest

Sunsphere | 1 hr and 6 min. from the property

Lakeshore Park | 1 hr and 16 min. from the property

Knoxville Museum | 1 hr and 7 min. from the property

Centennial Park | 49 min. from the property

Mossy Creek Wildlife Viewing Area | 49 min. from the property

Aerial Adventure Park | 44 min. from the property

Adventure Park Ziplines | 41 min. from the property

Buying Process

Once you have picked your property our team will prepare a standard contract that we use for all property sales.

Our team will send the contract for your signature via signnow and once fully executed we will send a copy for your records.

Next our team will engage the title firm that closed the property when we acquired it. Due to the fact that the title firm we engaged recently issued a title policy they are best fit to complete the transaction as quickly as possible. All title and closing fees are Buyer's responsibility. Note: All title firms we engage are licensed in the state where the property is located and are either a national title agency or recommended by a national title agency that our company works with on a regular basis.

Within 72 business hours after the contract has been signed, the earnest deposit will need to be deposited with the designated title firm.

Once ready to close, the title firm will arrange for funds, paperwork and subsequent signings to take place. Any questions regarding the closing will be sent to the title firm in charge of the closing, but our team will be here to help assist where we can be of help.

Enjoy your property once the closing is complete.

Cash + Closing Costs.

Financing + Closing Costs. Financing quotation available upon request.

About Us

What makes us different? We are Debrosland, a land company that prides itself on giving you a superior land buying website and customer experience. Our company was built on the foundation of our family farm and we are proud to continue on the legacy of land ownership. Small-town values of hard work, integrity and respect are what we stand for.? The American Revolution was fought over the right to control our own destiny and we do not take that right for granted. It is an absolute privilege to live in the United States of America and we are proud of our country. We are excited to discuss land investing or any of our properties with you, please contact us anytime or you can check out our inventory online.

Disclosure Statement

Debrosland, its managers, employees and all other affiliates do lengthy research on all properties prior to listing them, in all cases we have not seen the property. All prospective buyers are encouraged to conduct their own due diligence to verify the information provided is accurate and contact the county to confirm that whatever plans you as the buyer have for the property in question are in fact legal, feasible and permitted. Due diligence is the buyer's responsibility and all sales are final. To see a full list of our disclosure statement and other notices please visit our Terms & Conditions page.