Green River Equestrian Farm
642 Waynesboro Highway : Waynesboro, TN 38485
Wayne County, Tennessee
Expired Listing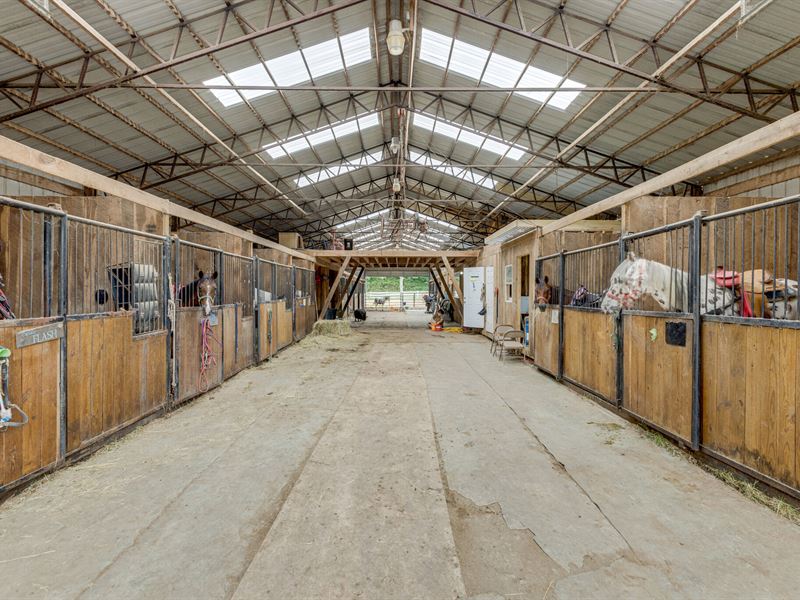 Land Description
This nicely situated income producing riverfront property has 4 homes, fenced pastures and a large barn. It is currently being operated as a full service horse boarding facility. The 4800 sq. ft. barn is nicely equipped with 16 individual 10x10 stalls, plus newly renovated living quarters in the barn that includes 1 bedroom, 1 bath, living, dining, kitchen area, plus a large loft.LandStarting high atop the west side of this 33 acre +/- property and facing east, you will find one of the most beautiful valley views in the entire county. A gorgeous, open and rolling hilltop meadow flows down into the heavily wooded timber, and then gracefully down to the beautifully fenced pastures where the Green River Equestrian Farm sits. You'll fully realize that this property literally has a little bit of everything as you go towards the eastern border of the property where you'll enjoy over 1/2 mile of the the crystal clear Green River. This property is comprised of two separate parcels being sold as one. West property is 057-022.00 and East property is 057-014.02

Improvementshouse 1 - 4 bedroom, 3 bath manufactured home estimated at 2650 sq ft owners currently reside

House 2 - 3 bedroom, 2 bath manufactured home estimated at 1700 sq ft currently rented month to month

House 3 - 4 bedroom, 2 bath ranch style home estimated at 1200 sq ft available for rental

Cabin - 1 bedroom, 1 bath estimated at 400 sq ft currently rented month to month

Barn - 4800 sq ft with cement floor, 16 gated stalls, plus newly renovated living quarters with 1 bedroom, 1 bath, large living and dining area, and a very nice sized loft that currently sleeps 3 currently rented month to month

Each living structure including the barn living quarters has city water or a well along with septic, broadband cable, and or satellite

Several nicely wooded fenced pastures, a large corral, plus storage sheds

RecreationThis property is currently set up nicely for boarding horses and taking them on beautiful trail rides that include the variety of starting off riding down the crystal clear Green River, then cutting across the beautiful pastures up into the heavily wooded hills. The nicely groomed horse trails provide a relaxing way to spend a couple of hours on horseback. If desired, the property is also well suited for hiking, atv's and hunting. The ideal Hobby Farm.

The Waynesboro area is a place of natural wonders. From the Buffalo and Tennessee Rivers to the winding Natchez Trace, it's an outdoor enthusiasts dream come true. Enjoy boating, fishing, camping, golfing, hiking, plus southern cuisine at one of the local restaurants.

AgricultureThe current owners generally get 2-3 cuts of hay each year that they keep for their animals. However, the majority of the level property is fenced pastures for the horses. The west side of the property is heavily timbered with a large number of mature hardwood trees.

Water/Mineral Rights & Natural ResourcesThe natural flow of the beautiful Green River along 1/2 mile of the eastern border makes this property extra special.

General OperationsConservative Income Summary

Barn Horse Boarding - 16 stalls averaging a very conservative per horse on a monthly basis per month. Barn Living Quarters - per month. Annual Income - 1 - Owners or Caretaker live onsite and take care of the animals

House 2 - per month rent. Annual Income 3 - per month rent. Annual Income - per month rent. Annual Income Annual Income & ClimateWaynesboro, Tennessee enjoys a moderate weather pattern with 4 distinct seasons. The population growth in this rural community over the past 20 years has been impressive largely due to the very comfortable and peaceful quality of life, plus the low tax rates and living costs in Tennessee.

HistoryWaynesboro, Tennessee was founded and named after General Anthony Wayne in 1821 as a county seat for the newly created Wayne County. The city initially consisted of a 40 acre plot that included the courthouse and jail. A school, Ashland Academy, was established in 1843. The city incorporated in 1850.