Kingman County, Kansas 275 Acres
Spivey, KS 67142
Kingman County, Kansas
Expired Listing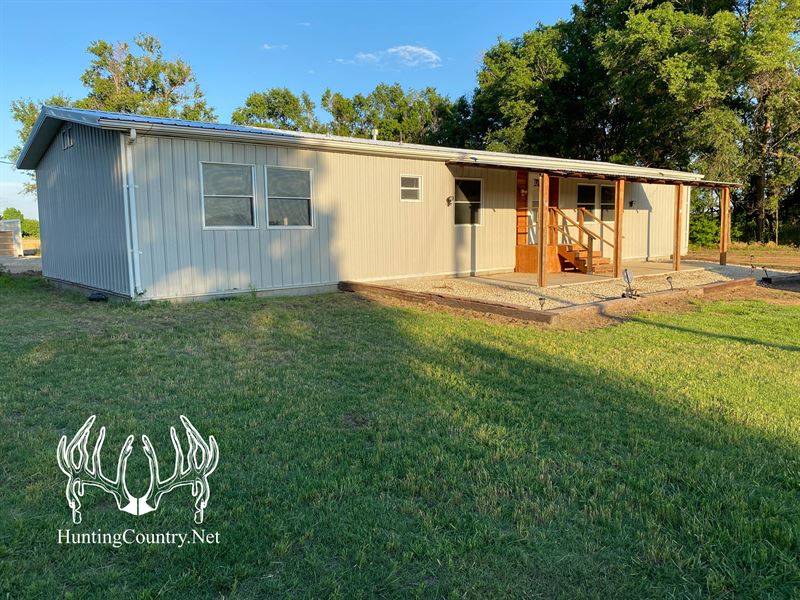 Land Description
Listing Ks-508

Price: turn-key recreational farm that sits in deer management unit 15 in Kingman County, KS. This 275 acre M/L farm has been meticulously maintained and managed since 2016. With over a mile of Wild Horse Creek winding through the heart of the property, it is primed to harbor mature whitetail bucks. There are 3 BossBuck feeders strategically placed, along with 4 Millenium ladder stands and 3 box blinds that will stay.

3 established food plots with nearly 5 acres of alfalfa that provide great forage for deer and many other species of wildlife. A 15 acre hay field provides an incredible bedding area for deer and great habitat for wild turkeys and multiple coveys of bobwhite quail

Management practices on this farm have been top notch, with only 1 deer being harvested over the last 5 years. With phenomenal age structure and genetics, it is likely to encounter Boone and Crockett quality whitetails.

Property access is one of the most important aspects of hunting mature whitetails, this property has mowed trails throughout and road access on 3 sides, including blacktop access on the south and east sides.

Included in the sale of this incredible recreational property, is a lodge-style residence that sits directly East of the property. It boasts a whopping 8 bedrooms and 3 bathrooms and sits on nearly 3.5 acres. Along with the lodge, there are two 2 car garages, a covered patio, and a canine shed with houses and outdoor runs. Also on the property is an "A-Frame" for processing game and a walk-in game cooler.

This property is located 1/2 mile West and 1/2 mile North of Spivey Kansas on Ball Park Road. The land lies North of State HWY 42 RoW in E/2 of section 10-T30s-R08w.

The residence lies in Nw/4 and Sw/4 of section 11-T30s-R08w

This property will be shown exclusively by appointment only. For more information or to schedule a showing, please contact Land Specialist.