.37 Acre Property, South Bend, IN
South Bend, IN 46614
Saint Joseph County, Indiana
Expired Listing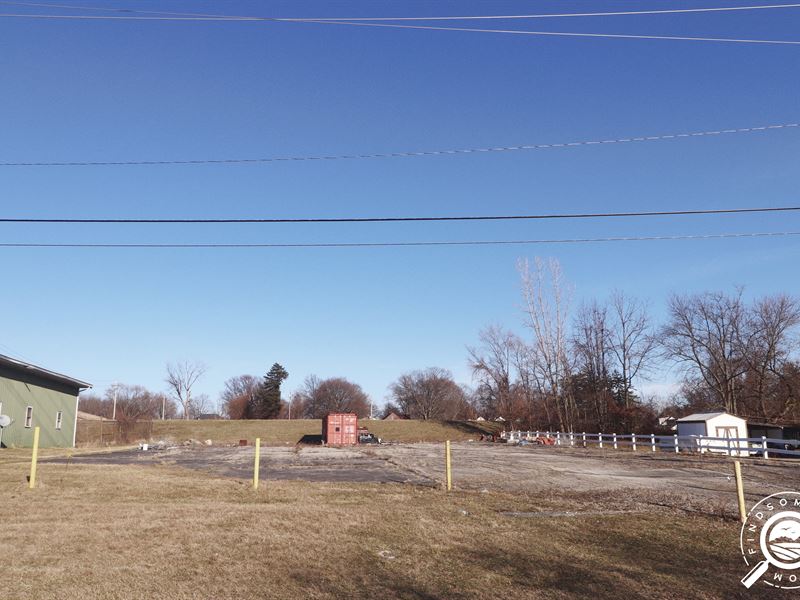 Land Description
0.37 acres for sale in St. Joseph County, IN. Invest in this 0.37- Acre commercial property with access to city water, electricity and municipal sewer. This 1 parcel property is accessible by well-kept paved roads. It's located off Highway 31 which gives you easy access to South Bend City. This area has a population of 102K and boasts an overall welcoming environment. South Bend City is known for its amazing education and healthcare system with schools such as University of Notre Dame and Memorial Hospital, just 20 minutes away. This amazing property is situated near some of the finest attractions in South Bend Indiana. Grab this once in a lifetime opportunity.

You are welcome to visit the property. Maps, directions, and specific location information are all available on our website.

Purchasing Options:

Seller Financing: w/ down. Please see website for additional details.

Discounted Cash Price: Attractions:

Visit Chicago:

Chicago, on Lake Michigan in Illinois, is among the largest cities in the U.S. Famed for its bold architecture, it has a skyline punctuated by skyscrapers such as the iconic John Hancock Center, 1,451-Ft. Willis Tower (formerly the Sears Tower) and the neo-Gothic Tribune Tower. The city is also renowned for its museums, including the Art Institute of Chicago with its noted Impressionist and Post-Impressionist works.

Indiana Dunes State Park:

Indiana Dunes consists of 2,182 acres of primitive, beautiful, historic and unique Hoosier landscape. It lies at the north end of State Road 49 in Porter County, and includes more than three miles of beautiful beach along Lake Michigans southern shore. In the early 1900S scientists, recreationists and nature enthusiasts, recognizing the value and potential of the Indiana dunes area, fought to have the region preserved. As a result, in 1925, the state park was established.

Rum Village Park:

Rum Village is a 160 acre park on the south side of South Bend, with 3 miles of hiking trails, 5 miles of mountain bike trails, a Free disc golf course, playground, picnic areas, & Nature Center. Rum Village Aerial Adventure Park in South Bend Indiana is a self guided treetop adventure with over 60 obstacles and zip lines from 16' to 70' in the air.

Property Details:

NEAREST Large City: Chicago, Il

State: Indiana (In)

County: St Joseph

Address: 5608 S Main St, South Bend, In, 46614

Size: 0.37 Acres

Gps Coordinates: 41.61602646,-86.25344636

Taxes: No back taxes, approximately per year total

HOA Dues: Approximately per year total

ACCESS: Paved

ZONING: Commercial

SEWER: Municipal Sewer

WATER: City Water

UTILITIES: Available on the road

FEMA Flood Zone: No

TERRAIN: Gentle Slope

CONVEYANCE: Special Warranty Deed

TITLE: Free of Liens and Encumbrances

Other Nearby City Distances:

South Bend City, IN- 13 Minutes

Elkhart City, IN- 25 Minutes

Goshen City, IN- 37 Minutes

Dunlap City, IN- 24 Minutes

Bristol City, IN- 32 Minutes

About Llc

LLC scours the country throughout the year to find the very best properties available for sale. The methods used to locate such property includes local contacts, auctions, and other investors. Tens of thousands of property records are analyzed every year in order to bring the very best to market.

Everything began several years ago while helping clients locate land to build homes in our local area. The process of locating suitable land to purchase was both time consuming and frustrating. Locating the perfect parcel at a decent price and also having adequate financing is a rare event indeed. Over the years we have been fortunate to develop the resources that allow us to do this source quality properties at fair prices and offer guaranteed seller financing.

Thank you for reviewing this property listing and please feel free to visit our website.

The Fine Print

Any property information (including, but not limited to, all real property images, descriptions, pricing, locations and availability; hereinafter referred to as Real Estate Information) made available by or through this website is provided solely for informational purposes and is not guaranteed or warranted by Llc. LLC believes the Real Estate Information to be accurate and complete; however it is subject to change and/or correction without notice. All information regarding the real estate advertised herein has been assembled through various sources and independent investigation should be conducted by all prospective buyers. Please verify all Real Estate Information through public records available through the County Clerk or Registrar in the county where the property is located. Buyer is responsible for conducting due diligence.

If purchasing with installment sale terms, the installment land contract stipulates that the property may not be improved until balance is paid in full. Please feel free to contact us if this is an issue for you so that we can discuss your specific situation and plans.