.367 Acres Lot in Wayne County, PA
Newfoundland, PA 18445
Wayne County, Pennsylvania
Expired Listing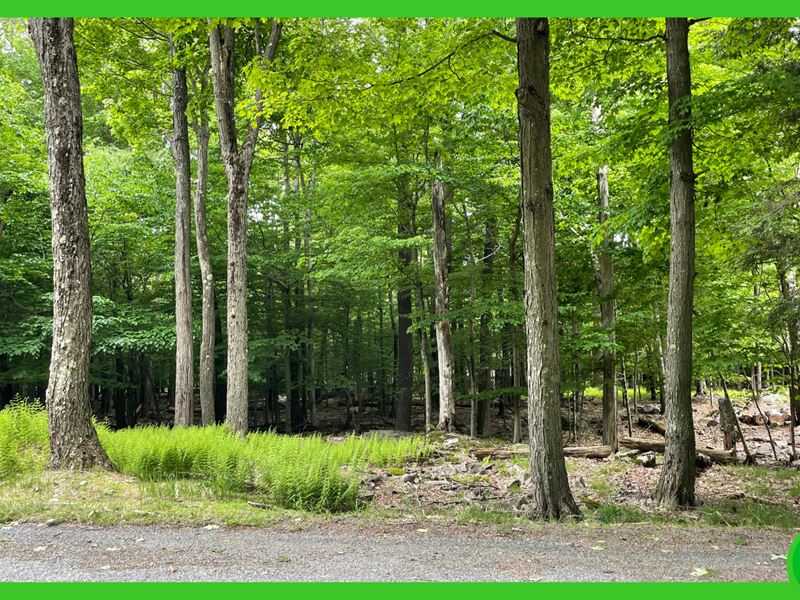 Land Description
If you are an outdoor lover and enjoy wildlife and nature, then you will enjoy this neighborhood. Build your residence or weekend vacation getaway in this quiet setting. You will have your privacy but still be close to many amenities nearby, including a clubhouse, swimming pool, basketball, handball, and tennis courts.

This is a perfect place for the home you always dreamt of. Crystal Lake is just around the corner and it is stocked annually for fishing enthusiasts. The are several refuge areas that make it a haven for wildlife. You can find dear, eagles, turkey. There's something for everybody here, and we are sure this community will meet all your expectations.

Owner Financing Available. 0.367 acres for down and per month at 7% interest. OR for all cash. No Credit Check. We accept credit cards.

All Property Details

County: Wayne County

Street: Newfoundland, PA, 18445

Size: 0.367 acres

Apn: 16506

Legal Description: M-0011/0075, Lot 127

Terrain: Fairly level

Access: Paved rd

Property Zone: Residential

Is the property buildable? Yes

RV's: No structure of a temporary nature (trailer, basement, tent, shack, garage, barn, boats, RV's, or other building) shall be used on any lot at any time as a residence, either temporarily or permanently.

Mobile Homes: No mobile homes or trailers are permitted as permanent residency.

HOA: Hookup contact: Pennsylvania Power & Light Electric Utilities

Water: Would need well or tank water/cistern

Sewer: Would need to install septic system

Taxes: (2020)

Elevation: ~2000 ft

Flood Zone: Not in a flood zone area

What is the minimum build size / square footage for a home? Psca will ensure that the building plan has at least 1000 sq. Feet of livable area (1200 feet on the lakefront). If Covenant differs from this rule, the Covenant will take precedence.

Any setbacks to be followed? Psca will inspect the proper setbacks for conformity to requirements. (15-Ft side and rear and 40-ft front setbacks from property lines and parts of the building). This includes overhangs.

GPS Coordinates:

Nw 41.288152, -75.393369

Ne 41.288186, -75.393007

Sw 41.287717, -75.393299

Se 41.287751, -75.392936

"Refer someone who buys land from us and we will pay a referral fee."

We are a real estate investment company. We buy and sell land throughout the country, so we are unable to meet you at the property. We are not utilizing the services of a realtor, so you are welcome to visit the property at any time. We encourage you to visit the property at your convenience to make sure the property suits your needs.

Disclaimer: We have not been to this property. Everything we know is in this ad. No warranties are stated or implied. Land is being sold as is. Buyer is responsible for doing all due diligence and verifying accessibility, utilities, build-ability and all other information contained herein prior to purchase.

Cheap Land for Sale.

Low Down payment.