.37 Acres in Los Lunas, NM
Los Lunas, NM 87031
Valencia County, New Mexico
Expired Listing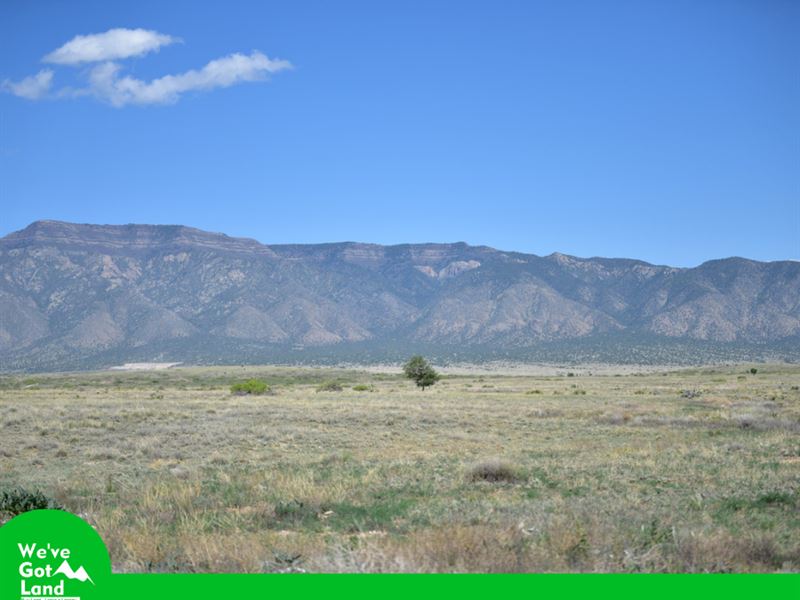 Land Description
0.37 Acres for Sale in Valencia County New Mexico for a month.. Owner Financing Available. Price: includes all interest, all closing costs, all loan servicing fees and we pay taxes while the property is being financed. Owner Financing Terms: down and per month, no interest or fees. OR Purchase for an all-cash discount of We accept credit cards.

Enjoy the majestic landscape and warm weather of Valencia County, New Mexico on your 0.37-Acre lot.

You'll love the diversity of wildlife, many species of deer and elk roam free in the area. This could be your hunting ground, ATV paradise, or the perfect spot to rest under the stars and enjoy nature. Do you hear that? Me either. No traffic.

Experience the starry sky at night on your OWN land in your RV or tent. Set up a bonfire and have a cold drink, refresh your mind, and escape from the stressful city. Off-grid but still close to the amenities you need - Dollar General is only 5 miles away.

There are so many things to explore and discover near Valencia County. Feel the rich history of the area at El Cerro Tome, just a 19 min drive, or hike Capilla Peak and enjoy the beautiful Manzano Mountain views. This is your chance to own a slice of New Mexico paradise.

All Property Details

County: Valencia County, Nm

Size: 0.37 Acre

Parcel Number: R144882

Legal Description: Rio Del Oro Lot 38 Block 69 Unit 15

Terrain: Flat

Access: There is a trail road

Property Zone: Rural Residential

Is the property buildable? Yes

Camping: Yes using a tent

Electric: Would be solar

Water: Need to drill a water well for 475 ft. deeper. Tank Water or Cistern possible.

Taxes: / No back taxes / No lien taxes / Annual property tax dues: None knew.

Flood Zone: Not in a flood zone

Elevation: 5245 ft

Center Gps: 34.749592, -106.570572

Gps Coordinates

34.384,-106.570275025251-Nw

34.18,-106.570336252973-Ne

34.813,-106.570393158794-Se

34.342,-106.570445055171-Sw

Area Attractions:

High school Approximately 5 miles away from the property

Dollar General Store approximately 5 miles away from the property

Heritage Park, Los Lunas- 24 mins away

"Refer someone who buys land from us and we will pay a referral fee."

We are a real estate investment company. We buy and sell land throughout the country, so we are unable to meet you at the property. We are not utilizing the services of a realtor, so you are welcome to visit the property at any time. We encourage you to visit the property at your convenience to make sure the property suits your needs.

Disclaimer: We have not been to this property. Everything we know is in this ad. No warranties are stated or implied. Land is being sold as is. Buyer is responsible for doing all due diligence and verifying accessibility, utilities, build-ability and all other information contained herein prior to purchase.

Cheap Land for Sale.

Low Down payment.