Amazing Lot for Dream Home
227 White Oak Way : Gadsden, AL 35652
Lauderdale County, Alabama
Expired Listing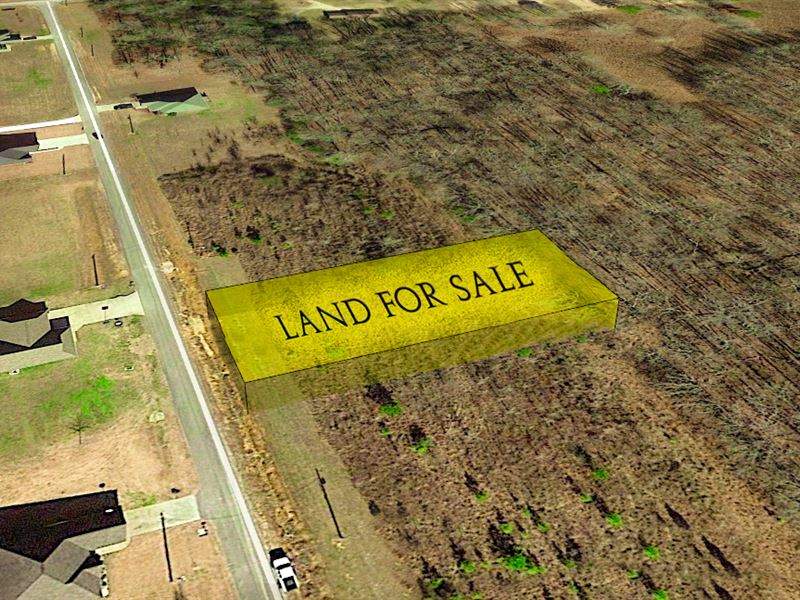 Land Description
Amazing 0.52 Acre Joint Parcels in Lauderdale County, OR a month.. Owner Financing Available.

This 0.52 acre lot is two Separate parcels of 0.26 acre adjacent lots and we sell them together. Lot numbers are 18 and 19.

Own It Today For Just (OR Down/ Per Month).

Do you wish you could buy a property for your home and not have to pay the full market value? Or an amazing property that you could buy at a great discount just to call it your own? Whether you are a seasoned investor, homeowner wanting to buy a lot in another location, or just someone looking for a place to call their own this may be the opportunity for you.

This amazing 0.52 acre in White Oak Way is a vacant land located in Rogersville, AL 35652. It is a lot on cul-de-sac in a nice subdivision, Situated on a dead-end road that is a great location to build your dream home.

For the surrounding community of Rogersville, AL 35652, the nearby schools are great and include Lauderdale Co High School, Underwood Elem School and Allen Thornton Career Tech Ctr. The overall crime risk for this area is low.

This residential property could be used for multiple purposes. Less than 37 min drive through access to 72 Hwy with 4 major lanes which is a high traffic area to reach Interstate 65 in Athens. This property is within 30 min of Florence and 44 min of Decatur & 1 hour of Huntsville. Birmingham and Nashville are only 2 hours away. Easy access to Hwy 20 which is a major 4 lane across North Alabama with easy access to Decatur and Memphis Tennessee.

The estimated Market Value of this land is currently priced at Therefore, you can own it today for . Please compare our price with sold properties in this area.

Unbelievable opportunity abounds on this pristine Rogersville acreage. Less than 9 minutes from this property to Joe Wheeler State Park. This Park, located on Wheeler Lake, offers something for everyone; a resort lodge, a restaurant, cabins, lakeside cottages, camping, fishing, golf, tennis, swimming, convention/banquet facilities, transient slips and a marina.

This property is within about 10 minutes of the Killen Time mini Golf and Adventure Park. It is the only putt/mini-golf course in the Shoals area. The park includes a 36 hole miniature golf course with traditional features such as a lighthouse, windmill, water obstacles and more. The real adventure comes with watching the wild and aquatic life throughout the course. There is a habitat for giant tortoises, ducks, chickens, turkey, emu, exotic birds and lots of coy fish, small turtles and frogs. Concessions are available and the park can be rented for parties. Large covered deck and umbrella-covered picnic tables for parties.

Did I mention that we offer NO Credit Check Payment Plan with most purchases? That's right, you do not need to secure an outside funding source - See purchase options below for more details.

Don't miss out on this opportunity to stake your claim on this beautiful piece of property.

Buying land has never been so easy.

Purchase Options:

We are currently offering 2 ways to buy this beautiful property.

1- Discount for cash buyers: Cash Price:

2- Payment Plan: Monthly Principal Payment

NO Banks, NO Credit Checks.

- Min Down Payment:

- Monthly Principal Payment:

- Number of Payment: 48 Months

State: Alabama

County: Lauderdale

Lot size: 0.52 Acre

Zip Code: 35652

Electricity: Available in Street

Road Access: Yes

One Time Document Fee: 499

Annual Tax: 70

Gps Coordinates: 34.854564, -87.382523 & 34.854711, -87.382526

Corner and Boundaries:

Southeast corner: 34.85448, -87.38215

Northwest corner: 34.85479, -87.38289

Northeast corners: 34.85478, -87.38215

Southwest corner : 34.85449, -87.38289

East Joint corner: 34.854639, -87.382156

West Joint corner : 34.854645, -87.382899

You may pay off the property at any time with no pre-payment penalty.

A Document fee of 499 is added to all down payments.

How to visit the property?

If you would like to walk the lot you can input the above GPS Coordinate or this Address ( 227 White Oak Way, Rogersville, AL 35652 ) and ( 215 White Oak Way, Rogersville, AL 35652 ) into the Google Maps on your phone for Directions to the property.

You are welcome to visit our property anytime you like. Just Contact Us to ensure the property is still available before you drive out to it. We operate an eCommerce land business, and we usually do not accompany property visits.

Disclaimer

The buyer is responsible for verifying all information with the County as to what can and can't be done with the property. The buyer will need to work with the County to obtain the proper permits if needed. The buyer will also need to confirm the availability of any utilities needed or serviced on the property. Seller makes no warranties or representations about the land, its condition, or what can be built on the property.

Deed will be transferred as a Special Warranty Deed.