Cedar County Missouri Country Home
1515 E 50 Rd : El Dorado Springs, MO 64744
Cedar County, Missouri
Expired Listing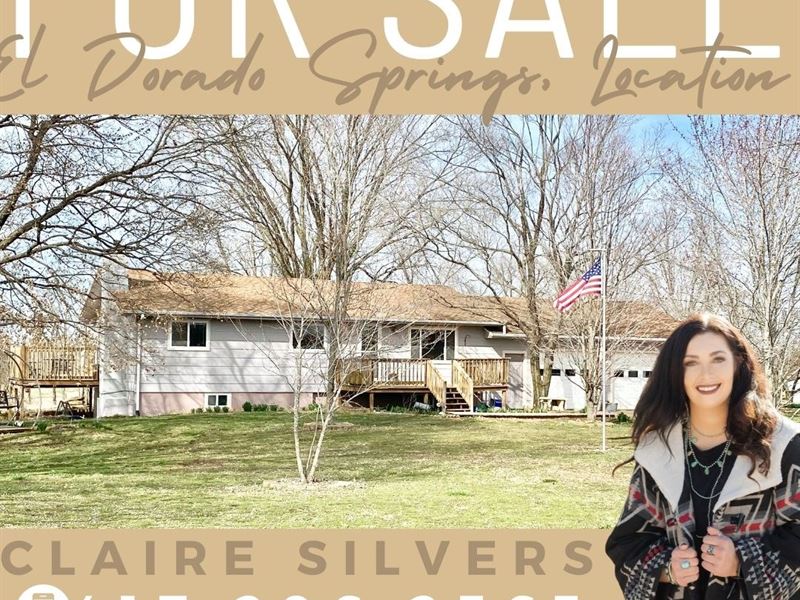 Land Description
Missouri Country Home For Sale

Come home to this charming country property. This one of a kind property is perfect for those looking for seclusion, space and country living. With a full walkout basement, wood burning fireplace, and updated kitchen. Abundant kitchen storage is available in this eye appealing custom kitchen, granite counters are the cherry on top of beautiful custom cabinetry. This home has been well cared for and is ready for new ownership. Four bedrooms, 2 bathrooms, bonus room, two living spaces and large dining space await you.

Country Home in El Dorado Springs,Missouri

Country living with almost the entire commute being paved. Your closest neighbors are on all fours. Cattle and livestock graze quietly next door. Fenced paddock behind the house is ready for you to take advantage of the country living. Large, lofted, portable building and attached 2 car garage provide plenty of space for storage. With a combination of tile and carpeting, this home is low maintenance. This home is a unique opportunity to move to the country. While the epitome of seclusion and country living, this home is still outfitted with high speed internet.

Rural Home for Sale Near El Dorado Springs, Mo

El Dorado Springs is a progressive community located in Southwest Missouri. People come here to raise their families, start or relocate their business, or just retire because of the location, mild climate, fresh air, low cost of living, slow pace of life, access to hunting and fishing, and area shopping.El Dorado Springs is ideally located between Kansas City, Springfield and Joplin on US Highway 54 between US Highway 71 and State Highway 13. Excellent hunting, fishing and outdoor recreation opportunities are plentiful. Truman, Stockton and Pomme de Terre lakes are all in close proximity. The Conservation Department has Schell Osage and Four Rivers conservation areas nearby. The agricultural lands to the west provide a good soil base for crop production such as corn, soybeans, milo and wheat, The mild climate and long growing season make it possible to run cow/calf pairs on two to five acres per year. Southwest Missouri leads the state in cow/calf production and the state ranks second in the nation.

Country Living Near Nevada, Missouri

Just minutes North of Sheldon, MO on I-49 is Nevada, MO. According to the Nevada Chamber of Commerce, Nevada was cited by 417 Magazine as a Top Ten Best Community to Live based on its green space amenities - There is more dedicated space to recreate per capita in Nevada than almost any known MO community. Whether you are an avid outdoorsman, historical enthusiast, insatiable shopper, or a newcomer to the area, come experience what Vernon County has to offer. We would love to give you a tour of the property, so call or message United Country American Heartland Real Estate today for your private showing.

Who is United Country American Heartland Our real estate office is located in El Dorado Springs, Missouri and serves the surrounding counties of Cedar, St Clair, Vernon, Bates, Benton, Barton, Dade, Polk, and Hickory. We closed 126 transactions in 2020, with over million in real estate sold, and serve as one of the top listing and selling companies in the area. We would love to serve you in buying or selling a property. This listing is offered by. Claire is a newer member of the United Country team, bringing with her a vast background in residential and rural property sales.

We would love to give you a tour of the property, so call or message United Country American Heartland Real Estate today for your private showing.