Unrestricted 4.5 Acres
Crossville, TN 38572
Cumberland County, Tennessee
Expired Listing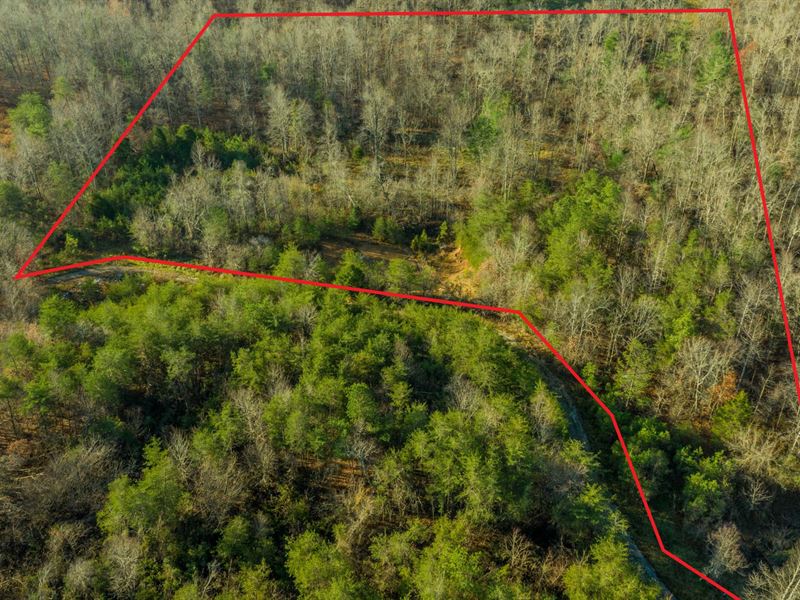 Land Description
An incredible and spacious 4.5 acre property has just hit the market in Cumberland, Tennessee. Now is your chance to capitalize on this incredible unrestricted investment property, with access to power, water service, and a recently completed Soil Map. Located right between Crossville and Sparta, you'll never be more than 20 minutes from a grocery store, gas station, natural parks, and the Smoky Mountains. With over 700 feet of newly refinished road frontage, you won't want to pass up this opportunity to stretch your feet on your own slice of the south on this shaded property. Let's check out some adventures we can have in the area, and then go into more detail about this beautiful 4.5 acres.

Property Info

The lot dimensions are 675' x 490' and the property features 740 feet of road frontage along Charlie Brown Road. This expansive and wooded retreat is perfect for your new home, as it is ready to start the permitting process. You heard that right. The long and arduous process of obtaining a soil map has already been completed for this property, meaning you'll be ready to apply for a septic permit, and won't have to wait months for a soil survey.

You can see the incredible road frontage, and the trees blanketing most of the property. This cleared area the remnants of an old sandstone quarry. The property has nearby neighbors and all these houses have a water line that connects to Deck Road. West Cumberland Utility District quoted us to get a water line installed onto the property + for water tap, which gives you an idea on the costs associated with building on this 4 and a half acres.

The land is gently rolling, and offers incredible opportunities for quiet privacy under the canopy, or large and spacious yard for your kids to play in, you could probably have both on this picturesque retreat. Local engineers also recently refinished Charlie Brown Road, so you'll have well maintained access to your expansive property. Taxes on this unrestricted property were dollars last year, so even if you aren't ready to build today, this investment won't be a burden to maintain while you get your plans in order.

Soil Map Completed and Ready for Septic Installation

This land has a record of a passed perc test and has recently been soil mapped. This means this property is almost ready to start the permitting process to get septic installed and the building process started. The process to obtain a soil map can take months. However, the soil map is ready for you now. This map is a vital process for the septic application and will significantly speed up your timeline of enjoying your new property.

Escape onto this 4 and a half acres in Cumberland Tennessee. If you're looking for enough space to stretch your legs, the beautiful countryside of the Cumberland Plateau is calling your name.

Utility Details

Water Service: West Cumberland Utility District Note: They close every day at 2:30 PM Cst

Electric Service: Volunteer Electric Co-Op

Sewer Service: Gary Cox Septic Installations

Area

Catoosa Wildlife Management Area encompasses 82,000 acres of wild land on the upper Cumberland Plateau, and offers some of the best hunting in east Tennessee. This area is home to deer, wild turkey, wild boar, fox squirrels, gray squirrels, and many many more. Fishermen visit to experience the Obed river, and can catch smallmouth bass, rock bass, and bluegill. But don't think you only need to visit during hunting season, as this area is a great place to go backpacking, or white water rafting.

Explorers to Lost Creek State Natural Area come to explore the countless trails, and iconic cave hidden within the forest. With 7 miles of mapped tunnels, and a 40 foot waterfall, this destination is a popular exploration site for locals. This is one of the largest caves in Tennessee, and hikers love traversing the trails surrounding the cave, and visiting its 5 entrances.

Lake Tansi Village

Who doesn't love a day out at the lake with the family? Lake Tansi is a great family escape featuring sandy beaches, boat rentals, a golf course, and delicious restaurants and snacks. People from all over the country come to relax at Lake Tansi, usually renting the cabins, or moving into the community. With so much to do, this vacation destination is the perfect place to relax with your loved ones, only 22 minutes from the property.

Closest Town & Major Cities

Crossville is the nearest town to the property, and features incredible selection and some fun places to shop and eat. Shop for your groceries at Kroger and Walmart, and snack at many national favorite fast food locations, as well as local restaurants. They also feature local baseball games and other fun activities at Centennial Park.

Only 17 miles from the property, Sparta Tennessee offers equally great selection, and also has a Walmart, as well as a Walgreens, and many local and national restaurants and fast food. Just a few more miles up the road in any one direction you'll hit a major city. Nashville is located about 125 miles to the West, Chattanooga is located about 80 miles to the South, and Knoxville is about 80 miles to the East. The property is in great proximity to each destination.

How To Find The Land

To best help you find the property and any of the boundary line corners, please copy and paste any of these GPS coordinates into Google Maps on your computer or smartphone with your GPS turned on:

NW Corner: 35.956547, -85.203947

Ne Corner: 35.955099, -85.202815

Sw Corner: 35.954801, -85.204799

Se Corner: 35.954300, -85.203331

For example: copy and paste "35.956547, -85.203947" (with the comma and the dash) into the search bar in Google Maps to find the exact location. We recommend this method as the best way to locate the property because the land will be un-marked with no signs or survey stakes. Please understand we do not normally accompany property visits due to our low-cost business model

How To See The Land

Call Us to make your appointment to see the land and to ensure it's still available before you make the drive. We do our best to give you as much information as possible upfront.

Pricing

Our discounted-cash price is with no closing fees and only down to secure the property until closing.

Financing is available with a down payment + doc fee. We offer Flexible monthly terms with payments as low as per month. Choose your term at 12, 24, 36, 48 or 60 months depending on what you can afford each month. There are no pre-payment penalties, no closing expenses, and you choose the monthly pay date. Interest and processing fees apply, qualification required with proof of income.

We offer several ways to pay including debit, credit card, cashier's check, money order, bank transfer and PayPal. Each of our properties also includes a "Buy Now" link on our website to put down a deposit or to pay in full. If paying online, you will receive an auto-mated receipt confirming your deposit upon payment.

We cover all closing costs when you close direct with us. Title Insurance and Surveyor referrals available if you prefer to pay to close through an escrow service.

Call us anytime to chat or if you have any questions.

How to Buy

We offer several ways to pay including debit, credit card, cashier's check, money order, bank transfer and PayPal. Each of our properties also includes a "Buy Now" link on our website to put down a deposit or to pay in full. If paying online, you will receive an auto-mated receipt confirming your deposit.

After you've made your payment, please be sure to send me your full name, address, and marital status so that I can prepare our sales contract for closing and draft the deed to your property.

You can also call us anytime for a walk-through of the payment process.

Thank you for your business.

BBB Accredited Business

We believe you should only have to do business with a reliable, transparent seller. That is why we are proud members of the Better Business Bureau of Greater Houston & South Texas. As a member, we uphold the BBB Code of Business Practices that form the foundation of how we do business. Our goal is to ensure our customers have a seamless buying experience built on mutual trust. To verify our BBB credentials, please visit our member webpage.

Who We Are

- Real Estate Dreams made Affordable

My name is and I live in Houston, Texas the multi-cultural center of the country. I live here with my wonderful wife and family in one of the more affordable metropolitan areas you can find in the country. I started about 3 years ago after learning about land investing when I started to search for alternatives to traditional investments like Stocks and Savings Accounts. I wanted a place to store my hard-earned savings that could be protected from the high volatility and uncertainty on Wall Street and the dangerously escalating national debt. So I found land. I was really attracted to it because it's a fixed resource and Still relatively cheap compared with other high-cost investments like rental homes, apartment buildings, and so forth. But I really love it because land is like a blank slate - You can really do anything with it. And this is how my passion grew into a business because it gives me a connection to other people that share in my excitement for endless possibilities.

Our business model is all about acquiring vacant land at wholesale prices and passing along the savings to you (our customer). This helps us to keep the costs low and bring additional savings through our unique marketing channels and streamlined sales processes. Our goal is to get you the best deal possible and we provide a 90-Day Exchange Policy - if you decide one of our properties you bought isn't what you wanted, we will exchange it for any another property in our active inventory - you only need to cover for any differences in the price.

Call us today to get the ball rolling, ask any questions about our ad or business processes and what we can do to help you find the land of your dream.

Buyer is responsible for performing their own due diligence in researching the property for sale. All buyers should verify all information, contained herein or not, for themselves and satisfy themselves as to its accuracy. Seller is not responsible for any misinformation in this ad. All information is deemed reliable but not guaranteed. Property is sold "AS Is".

is a land investment company. If you are interested to become our business lending partner, contact us for more information.