1 Acre Property in Rio Rancho, NM
Rio Rancho, NM 87144
Sandoval County, New Mexico
Expired Listing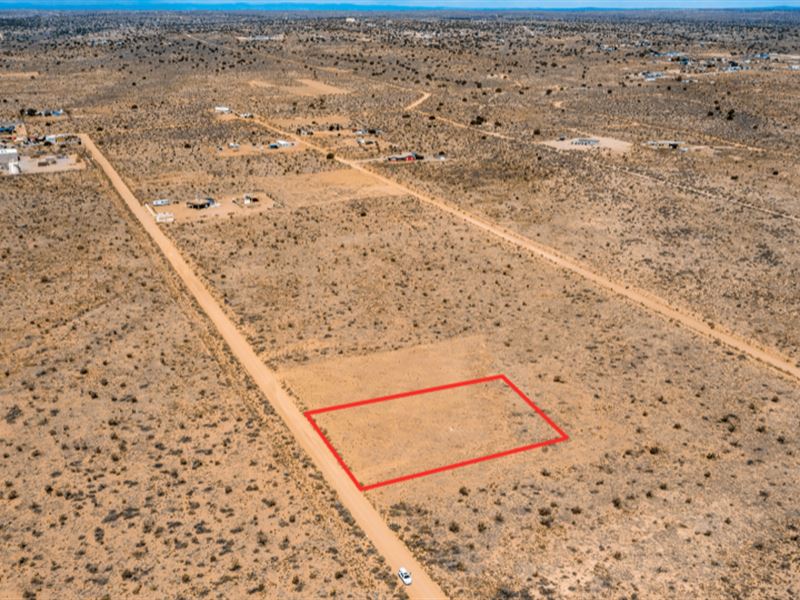 Land Description
This property is located just 17 minutes away from downtown Rio Rancho. This area is surrounded by scenic desert landscapes and majestic mountain ranges. Rio Rancho is also considered as one of the safest place to live in the State of New Mexico, living here gives you the security and peace of mind you've been looking for. The privilege of the views of the surrounding area, while observing changes to the landscape and watching the wildlife, is an unparalleled experience to anyone who might own a property down here. Just within driving distance to some of the best skiing destinations in the area, one of them being Sandia Peak Ski area, just about an hour drive from the property. Not just that, hiking trails are found all over the area too. Now, with all that adventure and outdoor extravaganza that you just had, treat yourself to a sumptuous meal to replenish your energy and one place to go to for that would be the Campo at Los Poblanos restaurant in downtown Rio Rancho, just 34 minutes from the property, this place is highly recommended by locals for having a very delicious - not break your wallet type - meals, and super friendly and accommodating staff. If you're looking for a good place to retire, or maybe just a summer hideout where you can relax, enjoy a different environment then this property is definitely worth your while. Better hurry up while it's still available, you might miss the opportunity of a lifetime to own this wonderful 1 acre lot.

How To See The Land

Simply enter any of these GPS coordinates in your favorite maps software to find it. See below for approximate coordinates:

Center: 35.263230, -106.766980

Northwest Corner: 35.263540, -106.767260

Northeast Corner: 35.263540, -106.766720

Southeast Corner: 35.262900, -106.767260

Southwest Corner: 35.262900, -106.766720

Property Details

State: New Mexico

County: Sandoval

Apn: 87144

Conveyance: Warranty Deed

Title: Liberty Land Group, Llc

Address: Tbd

Size: 1 Acre

Zoning: Rural Residential

Access: Dirt Road

Power: Power Available On Street

Water: Well Would Need Installed

Sewage: Would Need Septic Installed

Gas: Propane

Phone: Xfinity, Centurylink, Viasat

General Elevation: 5,282 Ft

Terrain: Flat

Camping/RV: Not Permitted

Mobile Homes: Must be connected to adequate utilities, provided with skirting of a durable material, and stabilized and anchored to standards equivalent to and/or in accordance with regulations established pursuant to the Manufactured Housing Act of New Mexico, Section 60-14-1 to Section 60-14-20 Nmsa 1978]

Property Taxes: Approximately Hoa: None

Nearby Towns From The Property

Rio Rancho (17 min from the property), North Valley (27 min from the property), Corrales (25 min from the property), Bernalillo (30 min from the property), Albuquerque (39 min from the property)

Nearby Points of Interest

Dragon House | 17 min. from the property

Western Winds Park | 14 min. from the property

Casa San Ysidro | 25 min. from the property

Rio Rancho Bosque Preserve Trail | 20 min. from the property

Anderson Abruzzo Albuquerque International Balloon Museum | 29 min. from the property

Cliff's Amusement Park | 34 min. from the property

Sandia Peak Ski Area | 1 hr 11 min from the property

Cash + Doc Fee. Deposit to secure the property. All payments are made via our PCI compliant provider, or via check, money order, or other options.

Financing + Doc Fee. Deposit to secure the property. for 36 months. All payments are made via our PCI compliant provider, or via check, money order, or other options. We offer Flexible financing options. Financing quotation available upon request.

Buying Process

1) Reach out to the Debrosland Team and we will help answer all your questions prior to purchase.

2) Once ready, our team will secure your down payment and doc fee for the property and get the information needed to start the process and paperwork.

3) We will take care of the paperwork and title transfer in-house.

4) Once we have finished preparing the paperwork, we will send it over for your signature and review. For cash sales this includes: a sale agreement and deed. For financing sales this includes: a sale agreement, promissory note, land contract, and debit/credit card authorization form for automated monthly payments. The deed will be prepared once the property is paid in full.

5) Once the deed is signed and approved, we will get it notarized and recorded with the appropriate county, transferring title to you.

6) Enjoy your land.

About Us

What makes us different? We are Debrosland, a land company that prides itself on delivering an experience like no other in the land investing space. Our mission is simple, to democratize the ownership of land. You are doing business with the owners of the company, two small town men that stand on the principles of small town Usa; not some big corporation based in New York that doesn't care about you and your unique land investing needs. If interested, check out our inventory.

Disclosure Statement

Debrosland, its managers, employees and all other affiliates do lengthy research on all properties prior to listing them, in all cases we have not seen the property. All prospective buyers are encouraged to conduct their own due diligence to verify the information provided is accurate and contact the county to confirm that whatever plans you as the buyer have for the property in question are in fact legal, feasible and permitted. Due diligence is the buyer's responsibility and all sales are final. To see a full list of our disclosure statement and other notices please visit our Terms & Conditions page on our website.