1st Class Duck Lodge Potential
5599 Main Street : Waldenburg, AR 72475
Poinsett County, Arkansas
Expired Listing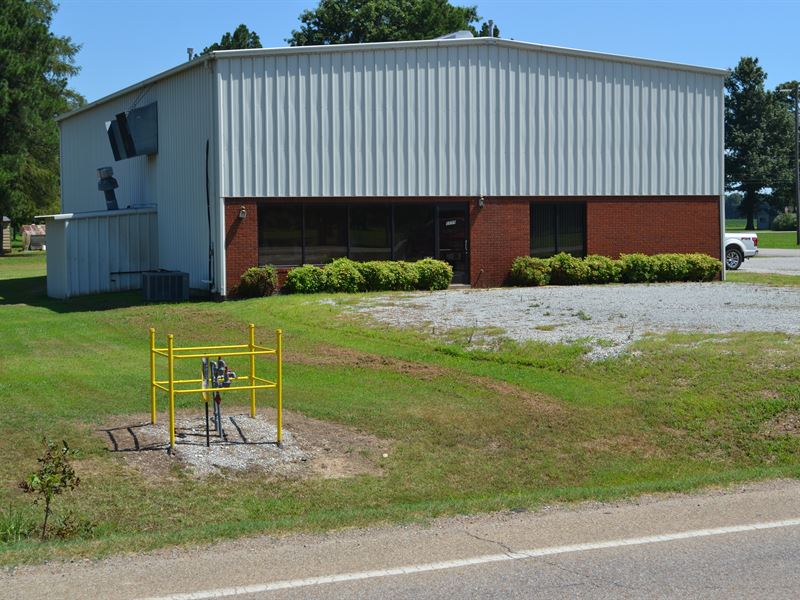 Land Description
This Steel Building was the home of Woody's Bar-B-Q. No expense was spared in the construction of this structure.

On the first level, there is a large bedroom with a built-in John Deere Gun Safe, (Model Fr-35) that is bolted in the concrete foundation.

There is a full Bath with a Jacuzzi Whirlpool Tub, sink/vanity, commode and a walk-in closet.

There is a large office area with a half bath that can easily be converted into another large bedroom. Both of these rooms are finished with hickory paneling.

In 2020, all of the lights in the bedroom, bathroom and office areas were replaced with new LED lights.

Behind these rooms is a large, commercial kitchen. It includes commercial gas stoves/ovens, three side by side steel sinks, a large commercial vent-a-hood, a large commercial refrigerator/freezer and an additional cleaning station/sink.

In the kitchen and shop, there are (3) three floor drains. The concrete was finished with a 1/4" per foot slope which drains the floor area well but the slope is so gradual, you don't notice it when walking across the floor.

Utilities include city water, city sewer, natural gas and electricity, (208, 3 phase). There is also a septic system. The grease trap and septic empty into the city sewer system.

There are (2) two, fifty gallon water heaters on the second floor. Hot water is available in the finished areas, in the shop area and outside. Washer and Dryer hook ups are in the shop area, under the stairs, against the kitchen wall.

There is a large electric fan installed near the top of the shop area wall. There are two ceiling ridge vents that can be manually opened/closed, and a natural gas heater installed at the top of the ceiling, near the center of the shop area.

The shop area has 120 amp outlets throughout and also several 220 amp outlets.

The building has 20 foot sidewalls which allow plenty of room for a second floor. A second floor was added to the front section of the building which was floored.

The insulated ceiling structure is reinforced with steel strips against the contact insulation and steel cross members were installed to keep the ceiling rafters straight.

There are two, (2), fourteen, (14) foot garage doors on the side of the building facing North Arkansas Street. These will accommodate truck tractors and/or large RV's.

If you are looking for an extremely well constructed, first class building to convert into a hunting lodge in the heart of Great Arkansas duck hunting and goose hunting country, take advantage of this offering.

Call , Jr. anytime at (five zero one two zero seven three three two three) to schedule a tour.