Prime Hunting & Timber Tract 1 of 3
Valley Rd : Lumpkin, GA 31815
Stewart County, Georgia
Expired Listing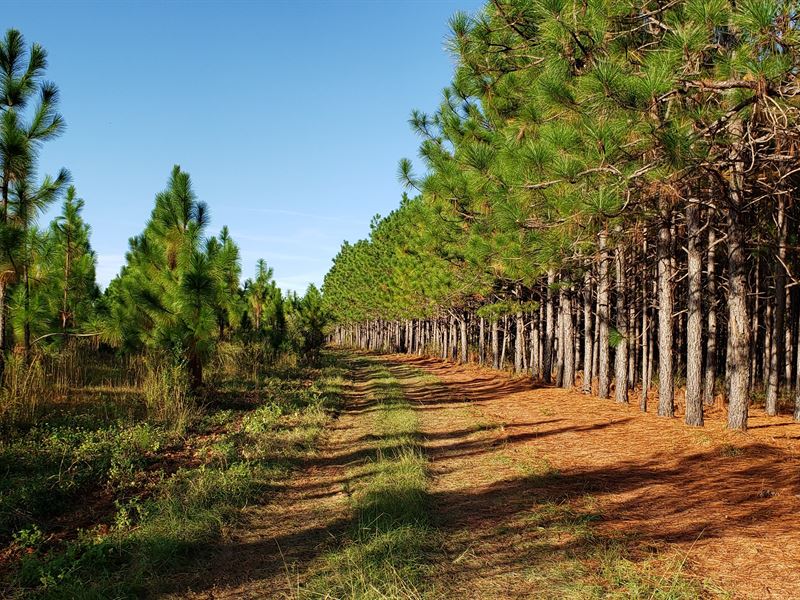 Land Description
Hodchodkee Creek Tract 1 of 3: Tract 1 of 3 is the southwest +-543 acres of the larger +-1408 contiguous acre tract. Tract 1 includes the headquarters and paved road frontage. Below is our description for the entire +-1408 acres.

The Hodchodkee Creek Tract is +-1408 contiguous acres of prime hunting and timberland located just +-1 mile NE of Lumpkin GA in Stewart County. Will divide (See Tracts 1, 2, and/or 3). Available for the first time in generations. See more detail and helpful files at the Matre Forestry website.

One of the most intriguing hunting and timber properties we have been on in a long time. It has everything the serious outdoorsman and land investor requires: timber, fields, food plots, creeks Hodchodkee Creek and tributaries), ponds, power, paved and dirt road frontage, dividable, cash flow ( longleaf straw ready to rake, timber, fields), power, prime farmland soils present, large steel storage shelter (50x100'), stables, fencing, gas line for long range shooting, enough acres to actually manage the deer herd, homesites, lake sites, excellent opportunity for deer, turkey, ducks, fishing, and maybe even some wild quail. Timber cruise available to serious prospects, after signing a non-disclosure agreement.

GIS Acres from timber map:

Merchantable Planted Lob: 364 acres +-

Merchantable Longleaf ready to rake or thin: 112 acres +-

Pre Merch Planted Lob: 104 acres +-

Pre Merch Longleaf (will soon be ready to rake): 75 acres +-

2008 Upland Natural Hardwood/Pine Regen (to be clearcut via a fuelwood chipper in 2020): 152 acres +-

Mature Upland Hardwood (mostly oak)/Pine: 276 acres +-

Mature Bottomland/Cove Hardwood: 203 acres +-

Misc Non Timber (Fields, Open, etc): 64 acres +-

Gas & Power Lines: 41 acres +-

Water (pond, and natural ponds): 28 acres +-

Headquarters: 2 acres +-

Headquarters consists of 50' x 100' steel frame shelter/barn, stables, outhouse with sink and toilet, RV hookup, well, septic.