Reduced, 11.6 Acres of Residentia
Hayes, VA 23072
Gloucester County, Virginia
Expired Listing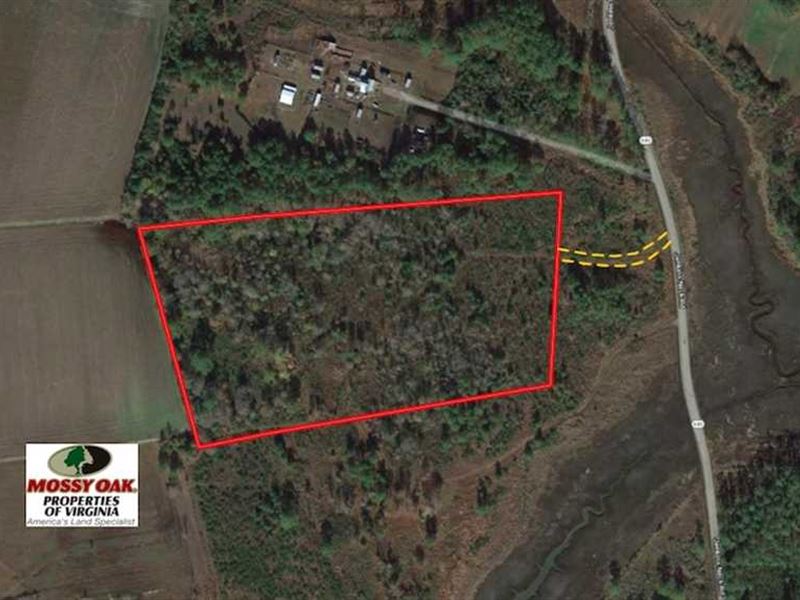 Land Description
Great wooded recreational tract with a cleared home site within view of the head waters of Mill Creek and out to the Chesapeake Bay.

Great opportunity for an 11.6-Acre water view tract. Septic system certification letter on the cleared home site and awaiting a custom home. If you are not ready to build yet, it will still make a great recreational property, weekend getaway, or an investment property. Trails scattered with hardwood and pine timber make it a great property for deer hunting. Set in sight of the headwaters of Mill Creek, it gives you the opportunity to gaze out to the Bay and enjoy all the wildlife that comes with the water. Crown Point Marina is only minutes from this property allowing you to put your boat over or even rent a slip if you wish. Minutes to the river and then the Bay. Survey available. Just waiting on you and your house plans, trees stands, and boat.

Gloucester County is rich in history and farmland. Its fishing industry is important to the state as well. It has a retail center located around the main street area of the county seat. Gloucester County and adjacent York County are linked by the George P. Coleman Memorial Bridge, a toll facility across the York River carrying U.S. Route 17 to the Virginia Peninsula area. Gloucester County is self-nicknamed the Daffodil Capital of the World it hosts an annual daffodil festival, parade and flower show. During the 17th and 18th centuries, Gloucester was developed as a major tobacco-producing area this was the chief commodity crop and the basis of the wealth of major planters. Many of the old plantation houses and private estates have been preserved in good condition. These establishments are periodically open to public visitation during Historic Garden Week. Examples of colonial architecture are the Episcopal churches of Ware 1690 and Abingdon 1755, where Presidents Washington and Jefferson worshiped. Some early colonial buildings at the county seat on Courthouse Green continue to be used for public purposes. During the 17th century, the tip of land protruding into the York River was named Tyndall's Point by Robert Tyndall, mapmaker for Captain John Smith. In 1667, colonists built fortifications there, at what was then called Gloucester Point. These defenses were rebuilt and strengthened many times from the colonial period through the American Civil War. This site is also known for the Second Surrender by General Charles Lord Cornwallis to General George Washington at Yorktown.

For more information on this and other Residential and Recreational Land For Sale in Gloucester County VA, contact at, email Email listed above, or visit our website Web Link listed above.