Reduced, 41 Acres of Waterfront
Morattico, VA 22523
Lancaster County, Virginia
Expired Listing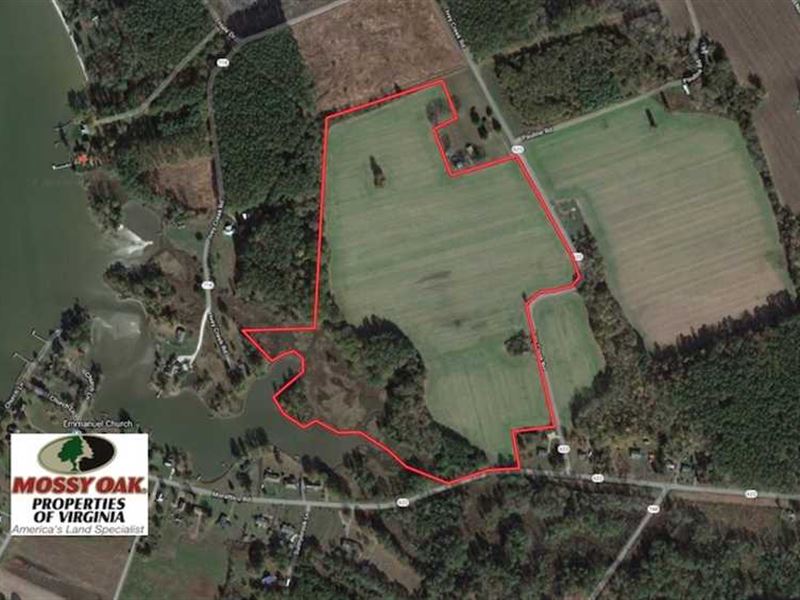 Land Description
Reduced. Waterfront property with direct access to the Rappahannock River - Tillable Farmland - Excellent waterfowl desitination

A 41-acre, waterfront property on Virginia's Northern Neck is a great opportunity to invest in a piece of land that can provide you with pleasure year-round. Whether you want to go fishing in the warm months or hunting in the cold, this is a property that you can enjoy throughout the year.

The waterfront aspect of this property cannot be overstated. Located in the wonderful little town of Morattico, you could build a brand-new home right by the water with immediate access to the Rappahannock River. It's a quiet community that has wonderful history, which is displayed in the Morattico Waterfront Museum.

For all you waterfowl hunters, this property is slammed with geese, both residents and migrators. The soybean field provides ample food sources for the geese and given its close proximity to the river and creek, the geese have no reason to leave once they settle in. The addition of a pit blind would make this field tons of fun to hunt out of. Given how wet this year has been, the natural low-lying areas of the field have held significant amounts of water, making this land ideal for building an impoundment to attract ducks. Not only is this property a proven waterfowl destination, it also is great for both deer and turkey hunting too. The property is easily found on the left South side of Ivey Creek Rd in Morattico, Va.

For more information on this and other Waterfront Farm Land For Sale in Lancaster County VA, contact at, by email at Email listed above, or visit our website at Web Link listed above.