Fabled Farmstead & Hunting Land
W1148 Proksch Coulee Rd : Stoddard, WI 54658
Vernon County, Wisconsin
Expired Listing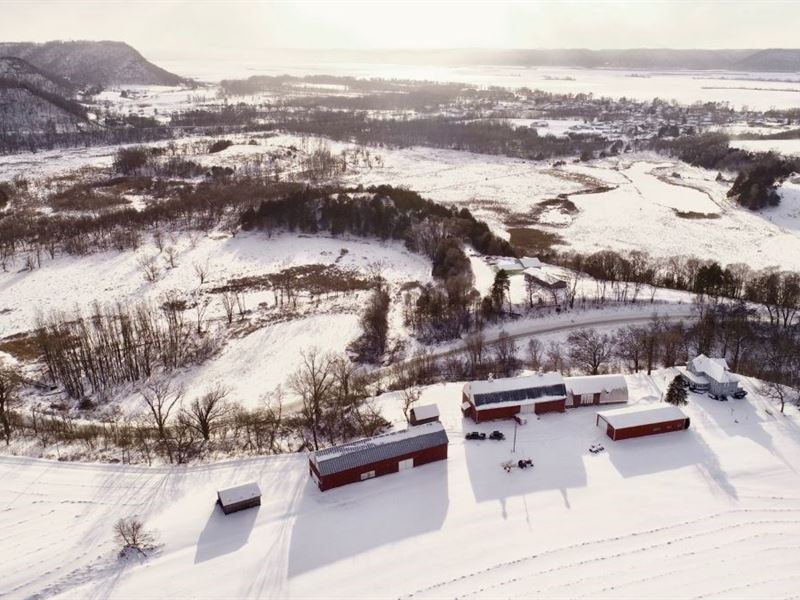 Land Description
You are looking at one of the most insurmountable real estate tracts to ever splash the market in Southwest Wisconsin. This marquee 387.16+/- acre farmstead in Vernon County is currently both the largest and closest block of contiguous acreage available from the proximity of downtown La Crosse - 12 minutes away. This incredibly rare estate has been family owned for over 150-Years and for the first-time ever, it's available on the public marketplace for all to aspire.

Nestled in the serene bluff laden Mississippi River town of Stoddard, you'll find a heavenly place that speaks of rich history. A charming 3,537+/-Sq ft farmhouse features 5-spacious bedrooms, 2-baths and a large living area. The kitchen and upstairs bathroom received a recent upgrade. This handsome home is the centerpiece of an elaborate mosaic painted with brush strokes of pure majesty. The farm setup is not only wildly expansive, but also endures some of the most awe-inspiring scenic masterpieces one will ever find. From the very heart of this property, you'll echo in a whimsical fairytale of sky-high cascading bluffs that bellow into sights of the Mighty Mississippi River. The land has been warped into a picture-perfect panoramic setting that outdoor enthusiasts will find mesmerizing.

Whether this becomes your very own hobby farm, hunting paradise or investment retreat, the options are totally endless. The hub of the farm is decorated amongst historic barns that are in excellent shape. Several of the buildings are constructed of hearty oak logs that were both harvested and milled on the premise. An oversized dairy barn, which is 40x100ft once lied home to a thriving milking operation. A timber built 32x126ft tobacco shed still proudly stands after years of air-curing tobacco grown on-site during the industry's peak. Amongst the hand-hewed beams of yesterday, a newer machine shed provides ample storage for tractors and toys along with an additional storage shop.

This sprawling countryside expands the total width of the famous Coon Valley. In fact, Coon Creek runs through the southerly region across the road from Proksch Coulee Road. This cold-water creek is classified as a Class 1 Trout Stream teeming with a variety of trout species. There's really nothing this property doesn't have when it comes to robust character. A diverse mix of hardwoods fall into long stretches of cropland. There's even fenced pasture ground adjacent to marshland home to flocks of waterfowl. Within the marsh, you'll find some of the greatest deer hunting you've ever seen. Secluded patches of brush and gnarly tangles of thickets hold premium cover that hide world-class trophy bucks. The fertile agriculture land is devoted to 54-acres, which rents for an annual income of When you put it all together, this is one of the most dynamic estates you'll find in the Midwest.

There's an array of stunning spots for additional building sites throughout the property. Exceptional road access meanders through the center, easterly and southerly boundary for easy ingress and egress. In addition, only a very small portion of the land is currently enrolled in Managed Forest Land-Closed. Taxes are around annually.

These hills and valleys of Wisconsin's notorious Driftless Region offer a magical feeling of whimsical proportion. With the deer hunter in mind, this area is a hotbed for exceptional trophy whitetail. Massive cattle-like deer trails penetrate the fertile ag ground as large undeveloped neighboring timber ground surround the parcel in privacy. This sought-after region has produced a number of Boone & Crockett behemoths. The composition of ag land that fades into heavy wooded ridgetops create numerous options. A well-groomed trail system penetrates throughout the rolling terrain for superb entry routes. The most notable highlights are a massive ridge system with a half-mile deep valley offering extreme privacy. Hidden fields offer an array of inside corner hot-spots and edges, which whitetail are instinctively drawn to. Numerous funnels and pinch-points are naturally occurring due to the topography of the property, which is precisely illustrated on the map.

You won't find many properties that offer such a wide-variety of recreational freedom. From duck hunters to fisherman, this estate is truly in a league of its own. If you are looking for the ultimate investment property or scenic retreat, look no further than this dreamy estate. For more info, please contact Southwest Wisconsin Land Specialist at or email him at Wikman & Joe Nawrot is Southwestern Wisconsin's 1 Land Specialist Team.