Commercial Industrial Bartow, Fl
Sr 17 : Bartow, FL 33830
Polk County, Florida
Expired Listing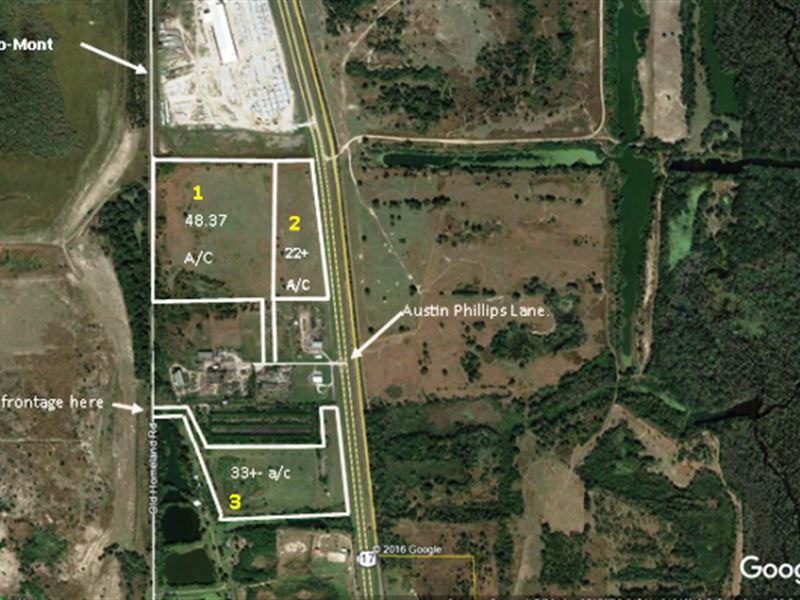 Land Description
These 3 parcels are located on the West side of 4 Lane State Road 17 South of Bartow, FL. There is extensive highway frontage and about 14,500. Vehicle trips per day.

Future land use is Bpc-2 on the 2 Northern parcels and Industrial for the Southern 33 acres. The property is not within the City limits of Bartow but could be annexed. 1-2 or 3 parcels can be purchased as package or individually.

This is a great area for operations such as light manufacturing, fabrication, warehouses, etc. (Bpc-2 Land use) The industrial land use can be for storage of concrete products, manufacturing and "heavier" industrial uses. The flexibility of use can permit operations that might not be as acceptable in city limits. The owners would consider some division of this 33 acre South portion.

The property is fenced and currently leased for cattle. There are signs on the Highway frontage.

Access is either from SR 17 extensive frontage or from Austin Phillips Rd. This county maintained road is paved and dead ends at an organic processing plant.

It is just South of 2 large concrete processing operations, Valmont (power poles) and Metro-Mont (highway barriers, etc.) It is getting harder to find commercial and industrial zoned land that is not in conflict with residential neighborhoods. Owners are flexible and will try to accommodate the needs of a Buyer.