1 Ac with Mountainous View & Power
151 Desert Rd : Tularosa, NM 88352
Otero County, New Mexico
Expired Listing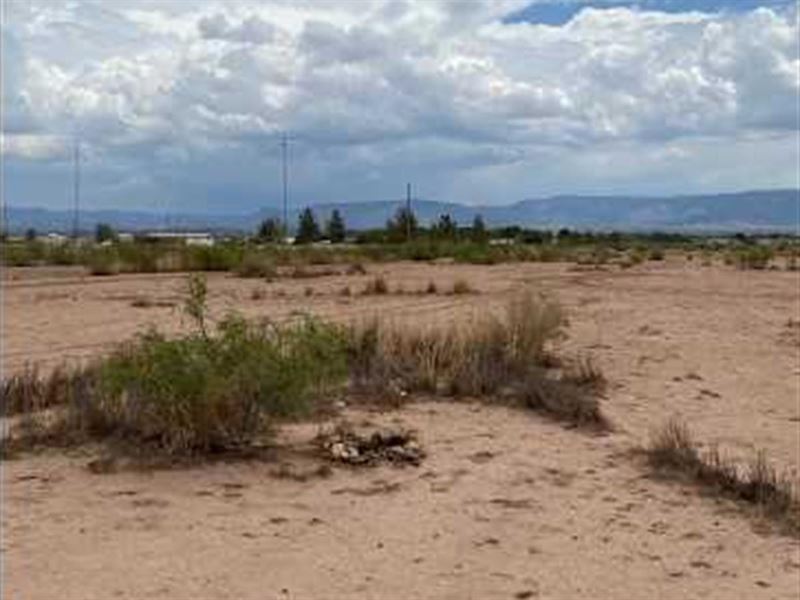 Land Description
1 Acre Desert, Mountainous View, and Power in Tularosa, New Mexico for Otero County, New Mexico

Have the experience of a lifetime when you purchase this 1.00 acre property that is located in Tularosa, New Mexico. Tularosa is located in Otero County, which is fifty-one minutes away from Ruidoso and a 1 hr 26 min commute to and from Las Cruces, NM. You'll be surrounded by the beautiful New Mexico landscape and wildlife. If you love nature and the outdoors, this off-grid property is the one for you. There is power located at the cross section of River and Desert Road - about 500 feet. There are mountainous and desert terrain nearby the property, great for hiking and other outdoor activities. The property has gravel road access that is well maintained along with level terrain. You'll even be permitted to have a single family residency as well as a mobile home on the property. For as little as and down, make Tularosa, NM home today.

Check out pictures and video of the property to get a feel for how you can start spending your weekends.

When you need to stock up on essentials, Ruidoso is only a fifty-one minute commute. The rest of the time you can be alone off grid with the wildlife, star filled night sky, and panoramic views. Unwind from a busy work week in silence and pure relaxation.

Ruidoso - 51 min (41 miles)

Las Cruces - 1 hr 26 min (82.9 miles)

Sunland Park - 1 hr 56 min (113 miles)

Truth or Consequences - 2 hr 22 min (152 miles)

Pricing:

Discount Cash Price: or alternatively…

Owner Financing Price: Only a down payment required. in equity and non-refundable document fee. Payment as low as per month.

We are a small family business. Because our owner, Dave Denniston, enjoys making land ownership available to families like yours who want to create memories for years to come we are flexible and can make this property fit any budget. We offer owner financing with a land contract. We will transfer with a warranty deed and always guarantee a clean title.

Property Details

Subdivision: TRAILS West

Street Address: 151 Desert Rd.

City: Tularosa

State: NM

County: Otero

Zip Code: 88352

Size: 1.00 ac

Apn: R055356

Legal Description: TRAILS West Lot: 35 Block: 2

Coordinates: Nw Corner: 33.078600, -106.055700 (Road), Ne Corner: 33.078600, -106.055300 (Road), Sw Corner: 33.077700, -106.055700, Se Corner: 33.077700, -106.055300

Annual Taxes: Taxes are or Residential. Permitted to build a house; single family residential - no minimum square footage found. Mobile homes are permitted. RV living/ recreational use and camping is prohibited. Unless during the construction of a home is RV living permitted.

HOA/POA: None

Access: Gravel road

Sewer: Septic can be installed

Water: Would be well

Utilities: Power at the cross section of River and Desert Road - about 500 feet

Contact today.