Rv / Mobile Lot, Major Utilities
Terlingua : Livingston, TX 77351
Polk County, Texas
Expired Listing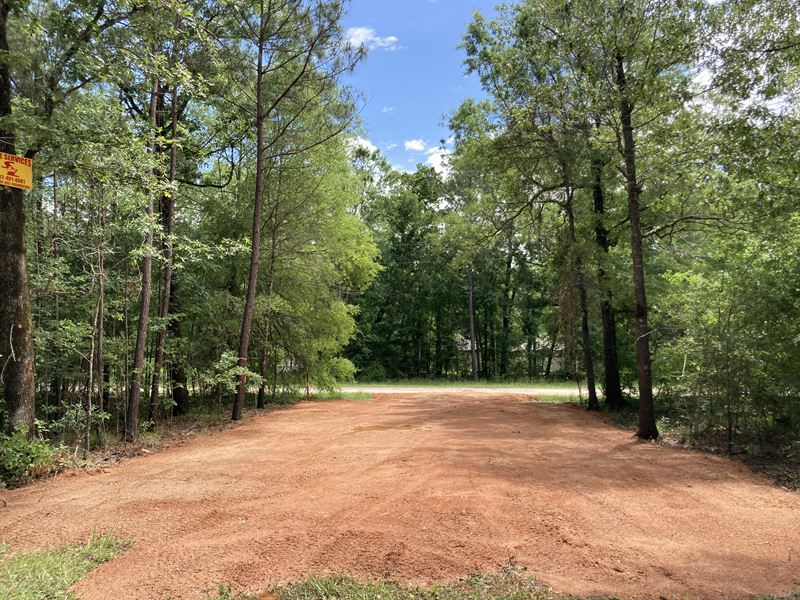 Land Description
Owner Financing Available. down, then for 60 Months.

(Plus service fee)

Cash Price: non-refundable deposit secures this property. Deposit will be counted toward purchase price.

Title of Property: Title will be delivered Free and Clear once property has been paid in full.

BBB A+ Rating Business: We are a Better Business Bureau Greater Houston Accredited A+ rating business. We ensure our customers have a seamless buying experience built on mutual trust. Call or email us today, ask any questions about our listings or purchase processes. We will help you find the right land.

Property Overview:

Gorgeous Lot in Lake Livingston Village with access to city utilities ready for meter installation at the road including power, water, and sewer.

The total lot size is 36 ft x 62 ft - 2,232 sq ft.

We Just Finished Clearing the Lot and it's ready to go. We cleared all of the brush, performed stump grinding, installed a culvert, set a gravel driveway, and hauled 8 loads of fill dirt onto the lot to evenly grade it and to raise the elevation for improved drainage (Note: This Neighborhood is NOT in a Flood Zone).

A spot has been carved out to immediately park your mobile or RV. This space will fit any RV or Fifth Wheel. This space is also suitable for a 10' x 40' Mobile Home, although you may want to consider additional tree removal to make it fit the way you want. Take a look at our photos so you can see the work and boundaries of the property.

The land is ready to tap into Water, Power, and Sewer that are available at the road. As of July 2020, Aqua America (the Water and Sewer provider) has just finished installing brand-new line casings in the ground in front of this property to better service the lot and prepare for future expansion.

Lake Livingston Village offers several amenities including a pavilion, swimming pools, public parks, and a boat ramp launching onto Lake Livingston.

Light Restrictions: The property is situated in Section 5, which allows:

Full-Time RV Living & Permanent Storage

Full-Time Mobile Campers (travel trailers)

Full-Time Portable Campers

Full-Time Motor Homes

Full-Time Mobile Homes

Full-Time Tiny Homes

Full-Time Barndominiums

Year-round Camping

600 sq ft minimums on permanent structures

Mobile homes only need to 10' x 40' in size (photo approval required with the Hoa).

Cheap HOA Fees. For you get:

Weekly Trash Pickup (a to value on its own.)

Access to the Boat Ramp - Directly on Lake Livingston.

Access to Log Cabin Rentals in Section 5. Only per night.

Access to Community Pavilion for Outdoor BBQs.

Access to RV Pads - Need to move Right Now but Need time to work on your Lot? No problem. Use the Community Pads.

Bonus Feature: Furnished Log Cabins in Section 5 available for rent at .00/Night to property owners. They are 30' x 15' featuring two 15' x 10' bedrooms.

Taxes are only per year; HOA fees are per year.

Utility Information:

Power Utility: Call Sam Houston Electric Company. Meter installs cost a deposit and connection charge. Does not include any extra costs for line extensions, transformers, etc. that may be required after the inspector checks out the site.

Water & Sewer Utility: Aqua America handles Water and Sewer. Contact Ashely. Cost is 0 to tap into Water and to tap into Sewer. Does not include any extra costs for line extensions.

Cable & Internet & Telephone: Call Lake Livingston Communications. Connection Fees are for Internet + Service Fee for installation with a Modem provided (You will need your own Wireless Router). Internet Speeds are available in a variety of packages up to 300 Mbps Down / 300 Mbps Up with Bundled Services for Cable, Internet and Phone available & priced separately.

Upon closing on the property, we recommend establishing a permanent 911 address as your first step before sending in applications for utility service. Utility providers will commonly require this and it makes your property easily searchable for emergency services.

Where to Obtain a 911 Address:

Polk County Office of Emergency Management602 East Church Street, Suite 165

Livingston, TX 77351

You'll want to call their number and provide the Parcel ID and Legal Description.

Buyer Due Diligence:

Buyer is responsible for performing their own due diligence in researching the property for sale. All buyers should verify all information, contained herein or not, including access and utility accessibility and costs, and perform physical visits to the lot in order to satisfy themselves as to its accuracy. Seller is not responsible for any misinformation in this ad. All information is deemed reliable but not guaranteed. Property is sold "AS Is".

Property Name: Tx_Riddle18070

State: Texas

Size: 0.05 Acres

County: Polk

Address: Terlingua, Livingston, TX 77351

Gps: 30.7235, -95.05567

Property ID: 41549

Conveyance: Fees Simple

Annual Taxes: /Year

Annual HOA / PO: /Year

Restrictions: Light restrictions require 600 sq ft minimums on permanent structures; mobile homes only need to 10' x 40' in size

Legal Description: Lot 73, Section 5 Lake Livingston Village Subdivision, Polk County, Texas, and further described according to the plat or map recorded in The Office of The Polk County Clerk, Polk County, Texas. Being the same property conveyed 2006-1629-426 and also known as Property Id 41549.

is a land investment company. If you are interested to become our business lending partner, contact us for more information.