Waterfront 2.5 Ac Cul-De-Sac Lot
Heather Hill Dr : Texarkana, AR 71854
Miller County, Arkansas
Expired Listing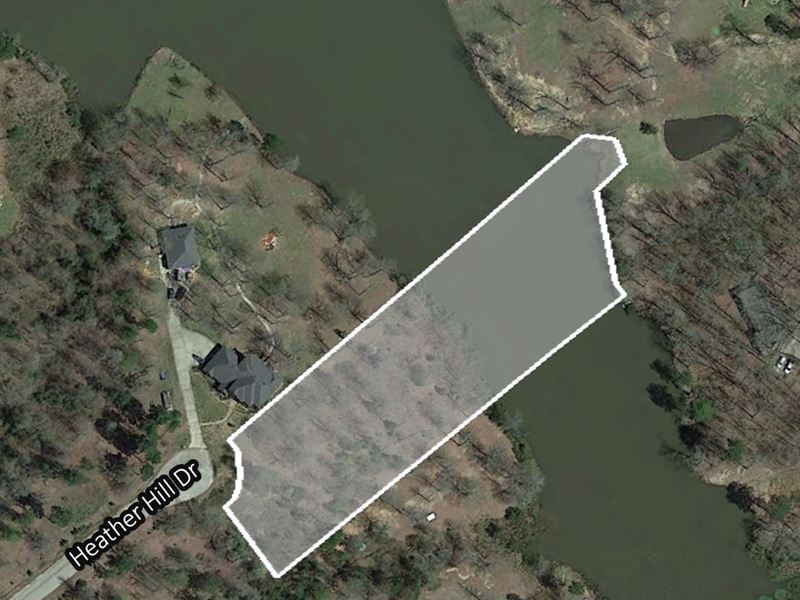 Land Description
Waterfront 2.5ac Cul-de-Sac Lot in Texarkana.

Contact to learn more.

Why Buy?

1. Private lake. Need we say more?

2. Imagine taking in the marvelous views of nature with deer roaming and of course the lake.

3. Multiple Purchase Options Available. Buy this Steal Today for only cash OR finance with 25,500 down and monthly payments over 5 years.

Community Details:

The current residents are ready to welcome you home. Texarkana is the perfect mix of a quiet country setting with fantastic amenities. This is a really nice town with plenty of things to do. From the great restaurants to the weekly events you'll never get bored. Also keep in mind this property is only 1.5 hours from Shreveport, LA and El Dorado, as well as just over 2 hours from Little Rock.

Usage Details:

- Single Family Residential Home

- Recreational Uses

- Unzoned, many usage options

Property Details:

- Lot Type - Land

- Sale Price -

- State - Arkansas

- County - Miller

- Assessor's Parcel Number - 0540140

- Property Usage - Single Family Residential Home & Recreational Uses

- Property Address - 0 Heather Hill Dr, 14, Texarkana, AR 71854

- Size - 2.50 Acre(s)

- Road Access - Yes, Paved

- Electricity - At the Street

- Well & Septic - Private

- Market Value - Similar sized lots in the area are listed for up to Details:

- Heather Hill Dr is a paved road.

- Lot GPS Coordinates: 33.441036, -93.926204

- 15 Heather Hill Dr is the address to the neighbors house, which is adjacent to the lot.

Popular Attractions:

- Holiday Springs Water Park, 16 minutes away - Holiday Springs is a great place for swimming if you don't have access to a pool. There's a variety of slides, a sandbar, a kids tower and more.

- Spring Lake Park, 19 minutes away - This park is packed full of trails, fields, playground equipment, a disc golf course plus a lake with fishing piers.

- Millwood State Park, 37 minutes away - This is a nice park, great place for some fishing and kayaking, the trails are few but enjoyable.

- Atlanta State Park, 45 minutes away - This is a large park with 3 campground areas. Each campsite is very spacious, with lots of trees and plenty of sites near the lake.

Purchase Options:

Don't forget we've made purchasing this land easy, with down and monthly payments over 5 years or cash.

Got Questions? We Have Answers.

- Call/Txt/Email.

- We may have other properties at bargain prices available. All you have to do is ask.

- Don't hesitate. Connect with us today while this deal is still Available.

Disclaimer:

Buyer must verify & work with County to know what can & can't be done with the land, obtain proper permits if needed & confirm the availability of any utilities needed/serviced on the lots. Seller makes no warranties or representations about the land, its condition, or what can be built on the parcel.