1 Ac in Rio Rancho, Power Nearby
59th St Nw : Rio Rancho, NM 87144
Sandoval County, New Mexico
Expired Listing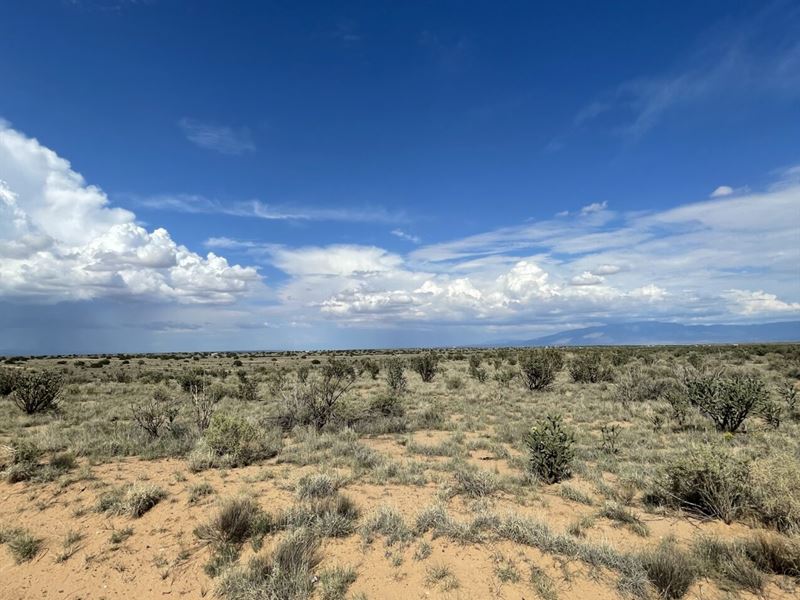 Land Description
Power IN The Area on this 1 Ac Near Rio Rancho. Come Build Your Dream Home or Camp Out on Weekends.

Rio Rancho, Sandoval County, Nm.

This property is the one you've been looking for. Get away on the weekends and spend time among the flora and fauna of the desert. Grab the dirt bikes, Atv's motor bikes or horses and spend the day exploring the area.

Rio Rancho is centrally located in the heart of New Mexico. History beckons with nearby attractions in New Mexico that evolved over the centuries, with the Anasazi Indians and visits from the Hispanic explorer Coronado, to create a unique cultural tapestry of traditions and legends.

The City of Rio Rancho began in the 1960S on 55,000 acres of land on the outskirts of Albuquerque. Today, Rio Rancho offers a cultural diversity within its population of 75,000. Every major attraction in the Land of Enchantment is accessible from Rio Rancho within a day's scenic drive, including Indian Pueblos, Santa Fe, Taos, and so much more. Rio Rancho's high-desert climate provides breathtaking vistas and plenty of room for high-altitude outdoor adventures year-round.

This 1 acre property is perfect for the weekend warrior that wants to get out of the hustle and bustle of the city. Here are a few of the attractions in the area that you can enjoy with family and friends:

Petroglyph National Monument - An archaeological site with prehistoric art

Kasha-Katuew Tent Rocks National Monument - Hiking among the cone-shaped rock formations

Valles Caldera - Elk, Volcano, hot springs, fly fishing and fishing

Spence Hot Springs - Hot springs & Outdoor recreation

Fenton Lake State Park - Lake with fishing, (rainbow trout and fly fishing) & camping

Santa Ana Star Casino - Casino, Golf & Hotel

Casa Rondena Winery - Wine tasting & Sales

West Mesa Volcano

Make Rio Rancho Estates your home away from home. It's so close to town you can have all the modern day conveniences without the traffic and pollution. Make this your escape from the big city.

Check out the pictures of the property.

Rio Rancho ( 26 Mins / 12.6 Miles )

Albuquerque ( 49 Mins / 29.7 Miles )

Santa Fe ( 1 Hr , 22 Mins / 68 Miles )

Grants ( 1 Hr , 48 Mins / 94 Miles )

Payment Option:

Discount Cash Price: or alternatively…

Owner Financing Price: non-refundable document fee plus in equity as a down payment. Monthly payment: As low as NO prepayment penalties and NO hidden fees.

I am flexible and can make this fit any budget. I am a family man and enjoy making land ownership available to families like mine who want to make memories for years to come. I can owner finance with a land contract. If paying in cash, I can transfer with a warranty deed and guarantee a clean title.

Property Details

Subdivision: Rio Rancho Estates

Street Address: 59th St Nw

City: Rio Rancho

State: NM

County: Sandoval

Zip Code: 87144

Size: 1.00 ac

Apn: R021185

Legal Description: RIO Rancho Estates Block: 74 Lot: 15 Unit: 2

Coordinates: Nw Corner: 35.264175, -106.854298 (Road) NE Corner: 35.264175, -106.853435 SW Corner: 35.263776, -106.854298 (Road) SE Corner: 35.263776, -106.853435

Annual Taxes: Taxes are or - No minimum square footage requirement. Mobile homes and camping are allowed. RVs are allowed only during construction.

HOA/POA: None

Access: Dirt road

Sewer: Septic can be installed

Water: Water would be well

Utilities: Power in the area

Contact Us Today.