Get Away From it All
Sanford, CO 81152
Costilla County, Colorado
Expired Listing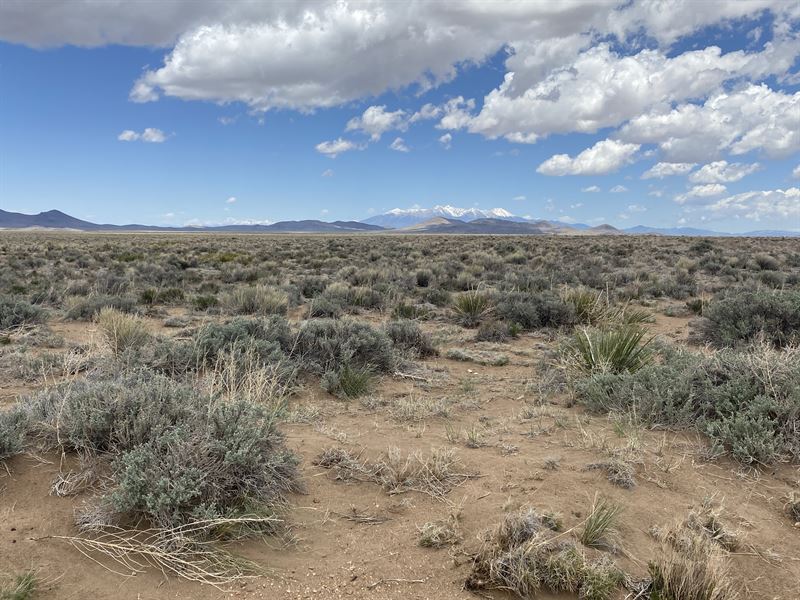 Land Description
Gorgeous Rocky Mountain backdrop near the Rio Grande River.

Good 2 wheel drive roads, not a far drive off of Highway 142 to County Rd 10 to County Rd M. to the property. Google Maps wants you to park and walk, but it isn't needed if you switch to satellite view and follow the road.

Awesome and level 5 acres with the normal for the area sagebrush, cactus and sand/gravel mixture for soil. This lot does have some cool looking Yucca type plants. There is a home across the road to the Southwest but looks nice and well maintained, no worries there. It is level ground and has some sagebrush and cactus but not much very common ground for the area. Great 360 mountain views all around.

Owner financing is available.

At this price, this property will be gone soon. Don't lose your chance to make it yours. Contact us today.

Assessor's Parcel Number: 71555630

Legal Description: R.G.R. Unit 48 BLK 3 Lot23. (WD 401-905)

Parcel size: 5 acres

GPS Coordinates: 37.160614,-105.640496

GPS Coordinates (4 corners):

37.161482,-105.641056 Nw

37.161478,-105.639935 Ne

37.159686,-105.639935 Se

37.159695,-105.64105 Sw

Access to property: Dennis Rd

Road surface/type: Dirt

Who maintains roads: County

Closest highways: CO-142

Annual property & Restriction Information

Zoning / Property use code: Estate Residential (Er)

What can be built on the property? House Only, No agr, No farm, No business

Is camping allowed? Yes

Camping restrictions if any: 14 days every 3 months

Are RV's allowed? Yes

RV restrictions if any: 14 days every 3 months

Are mobile homes allowed? yes

Mobile home restrictions if any: Mobile Homes manufactured prior to 1976 are prohibited in unincorporated Costilla County.

Water Would have to drill a well or haul water.

Sewer / Septic Septic would have to be installed

Electric May use Solar, or contact Xcell Energy or San Isabel Electric Association Inc

Gas There is no natural gas, can use propane. Would have to contact AmeriGas Propane, Conejos Propane or La Veta Propane

Waste Would have to contact G T Trash Services or Cortez Sanitation

The Rio Grande, one of Colorado's best-known rivers, snakes its way through southern Colorado. With many good access points to the river, the river attracts many fishermen and has a robust fly-fishing community. Not only is it a fun place to fish, but it's also home to some large trout, too.

The headwater of the Rio Grande starts at around 12,000 feet elevation in the majestic San Juan Mountains. The river runs through forest land for the first 25 miles and the water is mostly shallow. A large variety of trout live in these waters.

Traveling further down the river toward South Fork about 30 miles, there's a mix of public and private land. You can access the river, however, from the US forest and Colorado State Wildlife Areas. These spots are ideal for dry fishing in the summertime when hatches abound and the water is low.

The river continues down through Costilla County where several fishing spots are available right at the rivers edge.

To learn more about obtaining a fishing license, and fishing rules and regulations please visit Colorado Fish & Wildlife. At the time of this writing, you can fish in Colorado without a license during the first week of June. Aside from that week, a Colorado fishing license is required. Additionally, Colorado residents over 65 can fish without a license.

Whether you're looking to build your dream home, spend weekends camping, or just want to invest, there's never been a better time to own Colorado land. Contact us Now.