Boron with Public Water Option
Easy St & Carmichael Street : Boron, CA 93516
Kern County, California
Expired Listing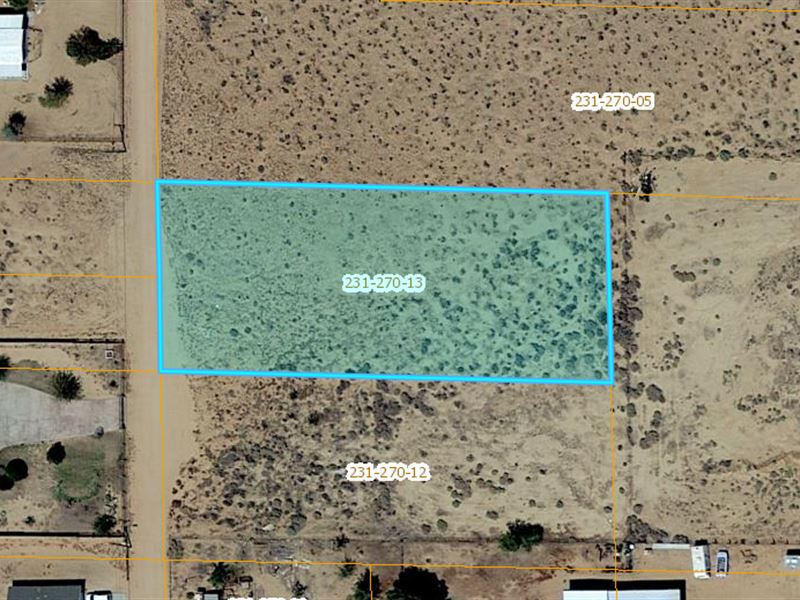 Land Description
Make an offer.

Public water available to connect. See details below.

Boron is a clean and simple town in San Bernardino county. Just because it is one of the smaller desert towns, does not mean it is insignificant.

This town is set in past and future. The strong past of the Borax mine just north of the town and Modern military might to the south along the mountain ridge.

A local restaurant like Domingo's Mexican Restaurant, frequented by local pilots and tourist a like for the food and cocktails served by the owner Domingo Gutierrez.

Boron is reached by Highway 58 until you reach 20 Mule Team Road on your left and takes you into the center of town.

It has the feel of a 1950 town with organized blocks and old street signs.

Has an old town community and it looking for new residences.

Boron is not isolated as you think, this property is close to these destinations:

25 mins - California City

30 mins - Mojave

39 mins - Barstow

51 mins - Victorville

Cash- / 72 months

No credit check, Can pay off early with out any penalty.

Public water info:

Utilities- Public Water utility questions.

Need to call about connection: Boron Community Services District

You will be required to pay directly to the Antelope Valley East Kern Water Agency for their Water Supply Capacity Charge.

You will also be required to pay the District a connection fee. Then you will have to hire your own contractor to do the work to get you connected to the District's system.

RV, Motorhome, Guns, Camping, Homestead, Farming, Livestock, Atv, Fourwheeler, Motorcycle, Dirtbike, Hunting, Vanlife, Off Road, Racing, Land, Vacant Land, Cheap, Jeep, paintball, off-grid.