Top Notch, Vista Del Mar, Utilities
1348 Red Sea Ave : Vista Del Mar, CA 92274
Imperial County, California
Expired Listing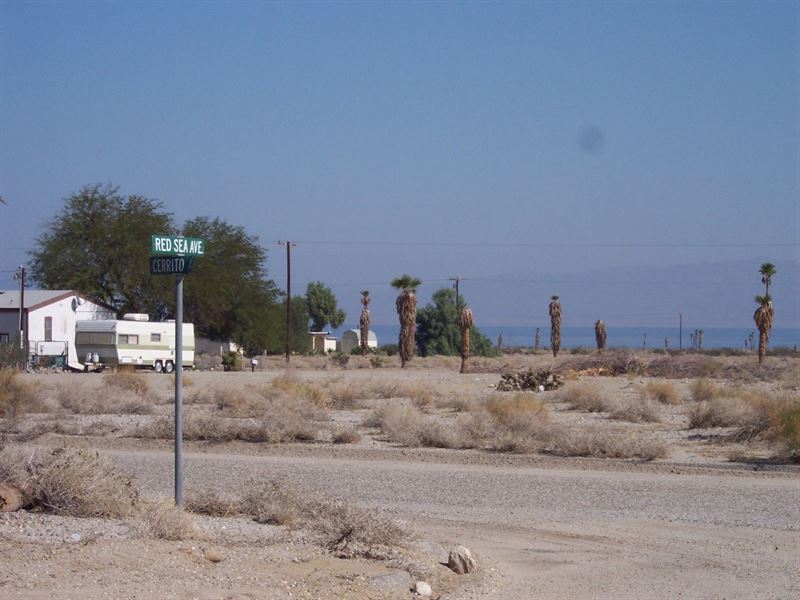 Land Description
Attention: Please read the entire description thoroughly to avoid redundant questions.

Here's a Top Quality Buildable lot in the community of Vista Del Mar.

Vista Del Mar is 25 miles south of Coachella and Indio.

This lot is on Red Sea Ave, just west of Cerrito Ave.

Please open all map attachments located at bottom of description.

I am retiring. This is a high quality lot at a giveaway price.

You will not find a good buildable lot in Southern CA at this price.

Please note, a further discount is out of the question.

If one needs short term owner finance, I am willing to do it for a period of no more than 16 months.

Property cannot be developed before being fully paid for.

Property is located 5 minutes from Hwy 86.

There are nice views from the property.

There are several homes near the lot, and many more throughout the area (as seen in pictures and maps).

Power & water are readily available, already serving the neighboring homes.

Public sewer may also be available, if not, then it'll be by installing a septic system.

Buy this for a nice future investment or to build on later.

Pictures were taken by me at the subject property.

Buy with confidence. I'm a Pro - not a novice. I've been in the land business for close to 20 years, with thousands of properties sold.

Legal Description: Lot 11 Block 12 Tract 716 F.M. 9-8

As always, free and clear marketable title is guaranteed.

Annual taxes are right under and paid up to date.

Site built home or a new manufactured home, are allowed.

Camping in RV is not allowed, that's what RV parks are designated for.

There is no Hoa, and no time limit to build by.

Lot dimensions: 75' X 125' feet.

Buyer will receive a purchase agreement upon notifying me they are "Ready To Buy" (not just "interested", etc).

Purchase price: get started: Buyer shall pay a down payment of + Closing Costs of via Paypal.

The remaining will be financed for 16 months at per month + for prepayment of property tax.

Free and Clear Grant Deed will be recorded at completion of payments.

No Back Taxes - No Liens - Guaranteed.

I will email the buyer an invoice upon being notified you are 100% ready and able to purchase this property and make the initial payment promptly.

When/if ready to buy, these are the steps of the purchase process:

1. Buyers email me their full name and address.

2. I then prepare the purchase agreement and email it along with the Paypal invoice for the initial amount noted above.

3. This initial payment must be submitted within 24 hours, and I then mark the listing Sold.

Note:

I am semi-retired and under no pressure to sell. Please take all the time you need, whether it's doing your due diligence, going see the property if possible, consulting with those you need approval from on buying, etc, etc...

P L E A S E don't send an email saying you are ready to proceed, if in fact you're not..."Drills" are unwelcome and unnecessary.