1 Ac, Upscale Alabama Neighborhood
Willow Dr : Andalusia, AL 36421
Covington County, Alabama
Expired Listing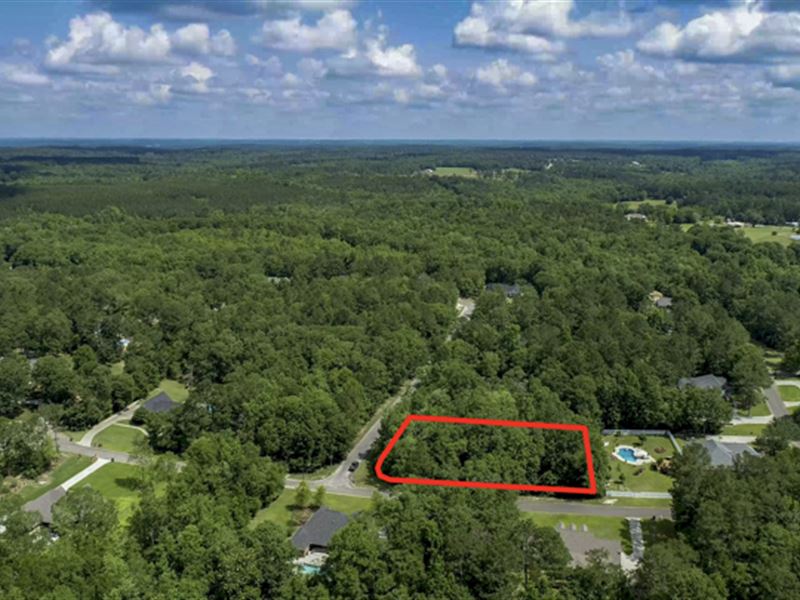 Land Description
Are you looking for a great location to build your dream home for you and your family? Then this is it, situated in a well-established neighborhood, great lot located in Woodlands Subdivision in Covington County, AL. This property is 1 acre and if you're looking to invest in residential lots, or if you're a builder looking for his next top project, then this property is just for you. The community boasts of a rural feel paired with tranquility yet it gives you a sense of sophistication which is apparent in the home designs found within the subdivision. This property is just minutes away from towns and cities like Andalusia and Opp. What's more interesting in this area is that there's a boatload of stuff you can do and visit, which includes these top attractions like Three Notch Museum that is 9 minutes drive from the property, this museum hosts a range of exhibits which tell the story of this charming Alabama town, displaying photos, military artifacts, historic cameras, model railways, and cabooses. Covington Center Arena which is 13 minutes away from the property, and Conecuh National Forest which prides itself on its beautiful emerald trees, winding trails, and a pond which is a natural sinkhole lake. It's a great place to see birdlife, and if you enjoy outdoor activities you can hike, bike, fish, or camp overnight here, just 35 minutes away from the property, and many more. What are you waiting for? Check this property out while it's still available, you don't want to miss out on this splendid property, remember they're not making any more land.

Property Details

Property ID: Alabama001

State: Alabama

County: Covington County

Nearest Town: Andalusia, Al

Apn: 23-13-02-03-0.064

Title: Purchased w/ Title Insurance

Property Taxes: Hoa: N/A

General Elevation: 348 Feet

Terrain: Level

Zoning: R-1

Acreage: 1.00

Square Feet: 43641 Square Feet

Access: Road Frontage

Address: Tbd

Subdivision: Woodlands Subdivision

Power: Power Available On Street

Water: Water Available On Street

Sewage: Would Need Septic Installed

Gas: Propane

Phone: At&T, Verizon, T-Mobile

Internet: CenturyLink, HughesNet, MediaCom

Stick Build Homes: Yes

Alternative Homes: Yes

Tiny Homes: No

RV: No

Tent Camping: No

How To See The Land

Simply enter any of these GPS coordinates in your favorite maps software to find it. See below for approximate coordinates:

Center: 31.341150, -86.433480

Northwest Corner: 31.341410, -86.433860

Northeast Corner: 31.341400, -86.433110

Southeast Corner: 31.340890, -86.433100

Southwest Corner: 31.340940, -86.433890

Nearby Towns From The Property

Andalusia (10 min from the property), Opp (17 min from the property), River Falls (13 min from the property), Red Level (20 min from the property)

Nearby Points of Interest

Andalusia Country Club | 14 min. from the property

Three Notch Museum | 9 min. from the property

Build A Dream Park | 3 min. from the property

Frank Jackson State Park | 16 min. from the property

Opp Country Club | 15min. from the property

Andalusia Town Square | 9 min. from the property

Old First National Bank| 9 min. from the property

Buying Process

Once you have picked your property our team will prepare a standard contract that we use for all property sales.

Our team will send the contract for your signature via and once fully executed we will send a copy for your records.

Next our team will engage the title firm that closed the property when we acquired it. Due to the fact that the title firm we engaged recently issued a title policy they are best fit to complete the transaction as quickly as possible. All title and closing fees are Buyer's responsibility. Note: All title firms we engage are licensed in the state where the property is located and are either a national title agency or recommended by a national title agency that our company works with on a regular basis.

Within 72 business hours after the contract has been signed, the earnest deposit will need to be deposited with the designated title firm.

Once ready to close, the title firm will arrange for funds, paperwork and subsequent signings to take place. Any questions regarding the closing will be sent to the title firm in charge of the closing, but our team will be here to help assist where we can be of help.

Enjoy your property once the closing is complete.

Cash + Closing Costs

Financing + Closing Costs. We offer owner financing options, quotation available upon request with a minimum down payment of Us

What makes us different? We are Debrosland, a land company that prides itself on giving you a superior land buying website and customer experience. Our company was built on the foundation of our family farm and we are proud to continue on the legacy of land ownership. Small-town values of hard work, integrity and respect are what we stand for.? The American Revolution was fought over the right to control our own destiny and we do not take that right for granted. It is an absolute privilege to live in the United States of America and we are proud of our country. We are excited to discuss land investing or any of our properties with you, please contact us anytime or you can check out our inventory online.

Disclosure Statement

Debrosland, its managers, employees and all other affiliates do lengthy research on all properties prior to listing them, in all cases we have not seen the property. All prospective buyers are encouraged to conduct their own due diligence to verify the information provided is accurate and contact the county to confirm that whatever plans you as the buyer have for the property in question are in fact legal, feasible and permitted. Due diligence is the buyer's responsibility and all sales are final. To see a full list of our disclosure statement and other notices please visit our Terms & Conditions page.